Kaiserslautern's Hicks having fun as she piles up the points
by
Rusty Bryan
January 16, 2003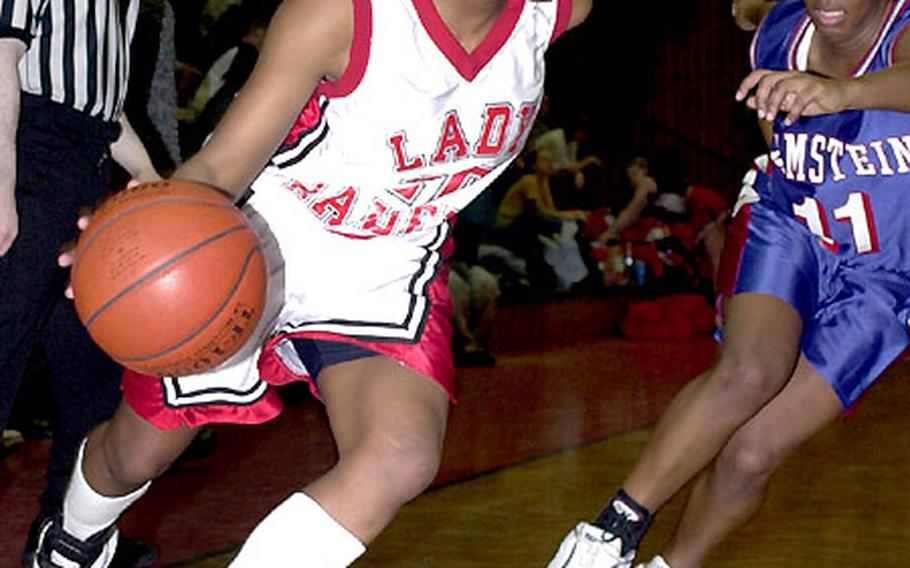 KAISERSLAUTERN, Germany — It's lucky Layla Hicks is female. Otherwise, Kaiserslautern's All-Europe guard might be open to a charge of sexism.
"When I was growing up, I always played boys basketball," Hicks said after Monday's practice. "At first, I hated girls basketball. It seemed unorganized and sloppy."
Of course, youth basketball might have appeared a bit sloppy to someone who has been around basketball since she was 4.
"My dad used to coach boys teams, and I hung around him," Hicks said. "I always had a ball in my hands."
As a result the Kaiserslautern senior is averaging 18 points a game.
"Her greatest strength is that she can change her game to fit the circumstances," said Kaiserslautern coach Corey Sullivan, who admits he occasionally has to remind his team not to stand around and watch Hicks perform.
"If she's not hitting the jump shot, she can take it to the hole."
Or do both.
Last year against eventual Division I champion Ramstein, for example, she hit jumpers, drove for impossible-looking layups and scoop shots, penetrated and dished off to her teammates for 32 points against a team that prided itself on its pressure defense.
"She makes everyone around her play better," Sullivan said. "She makes opportunities for her teammates off the drive."
Hicks said she and her father, Kenneth, are hoping her play will attract the attention of a few college recruiters.
"We've mailed tapes to 75 schools," Kenneth Hicks said.
Hicks played at Fort Meade (Md.) High School as a freshman and sophomore, but had to leave the States to return to the community where she played youth basketball as a seventh-grader in 1998.
She has compensated for her lack of exposure by going to summer showcases in the States.
"I've been to shootouts in the States [in Philadelphia and Maryland]. Those are big events where there are lots of college scouts looking at you," she said.
Hicks indicated she doesn't much care which scouts like her the most.
"We like everywhere," she said, "although I've got my eye on schools on the East Coast. I'd like to play there rather than in the South or Midwest."
Hicks said she plans to attend a few more postseason shootouts.
In the meantime, she's got her sights set on leading the Lady Raiders to their first European Division I title since 2000.
"That's our goal," Hicks said. "We're going to win it."
Hicks made the prediction after watching her teammates defeat Heidelberg 28-25 after she left with a high ankle sprain. The victory improved Kaiserslautern's record to 4-0.
Hicks makes a positive impact on her teammates even when she's on the sidelines, Sullivan said.
"Off the floor, they love her," he said. "She's always joking and laughing with them."
If a mirthful approach seems out of place for someone like Hicks, it shouldn't. Underlying all the hard work and practice, there's a theme.
"It's fun — always," Hicks said.