Europe track - Day 2
Kaiserslautern's Branch, Vilseck's Scott lead run on medals
by
Jennifer H. Svan
May 27, 2017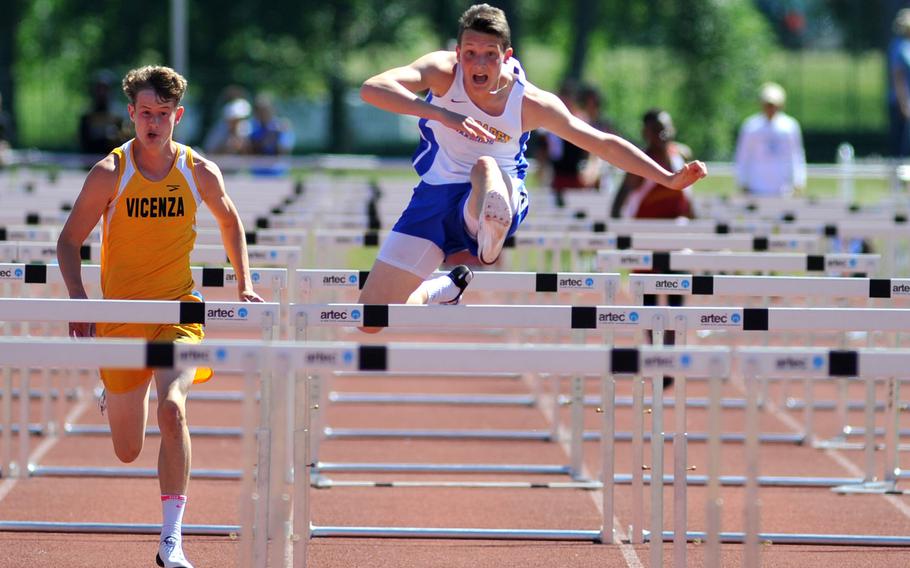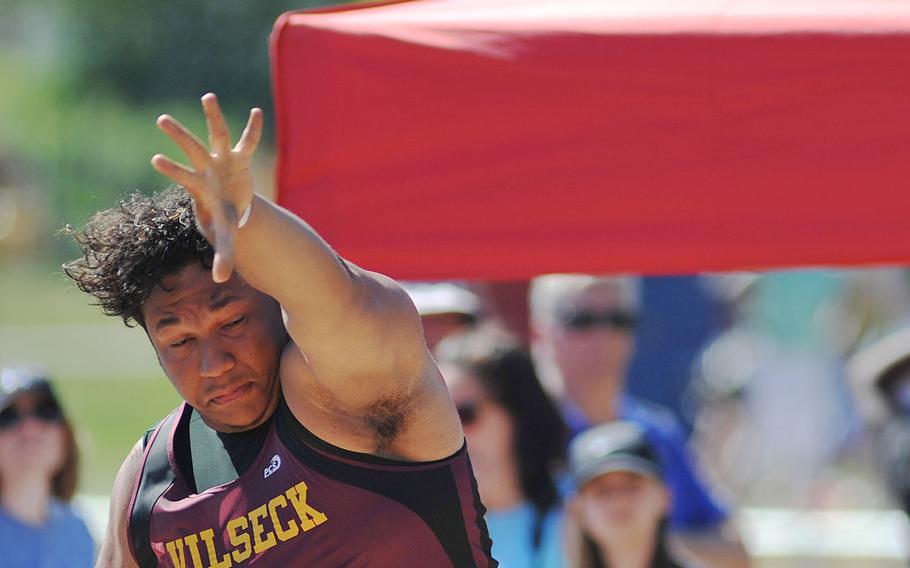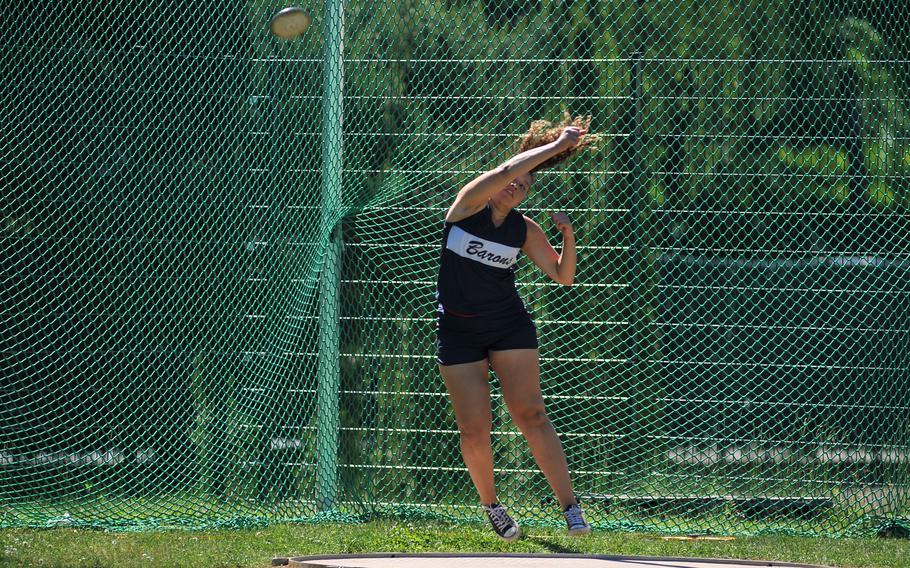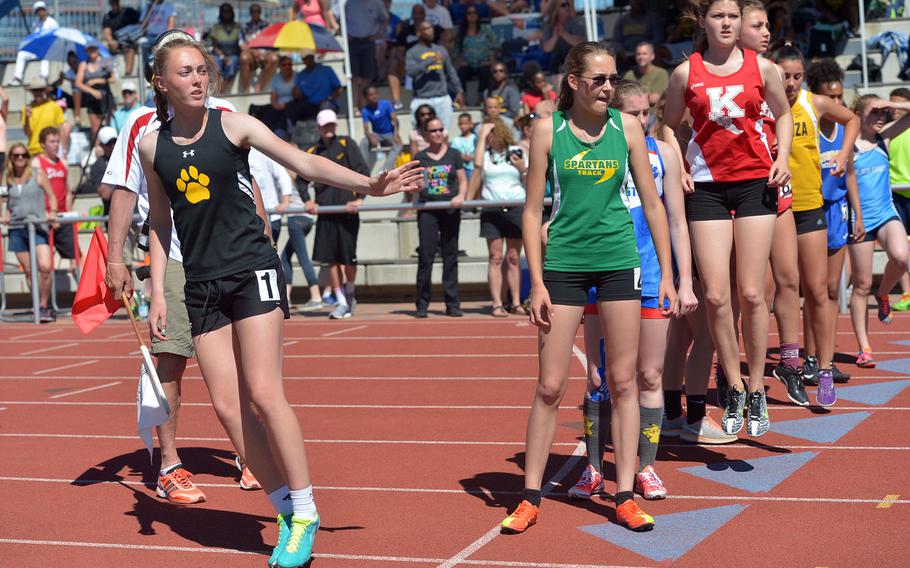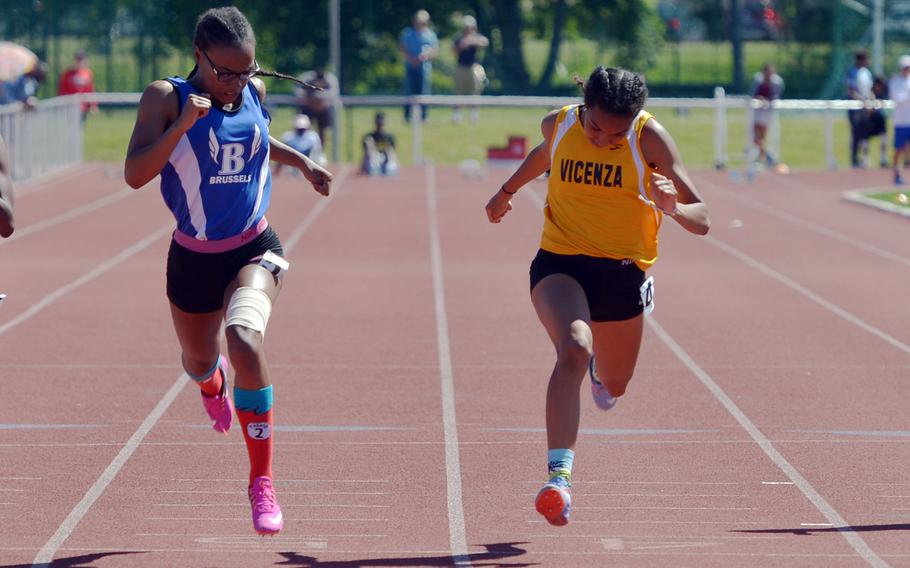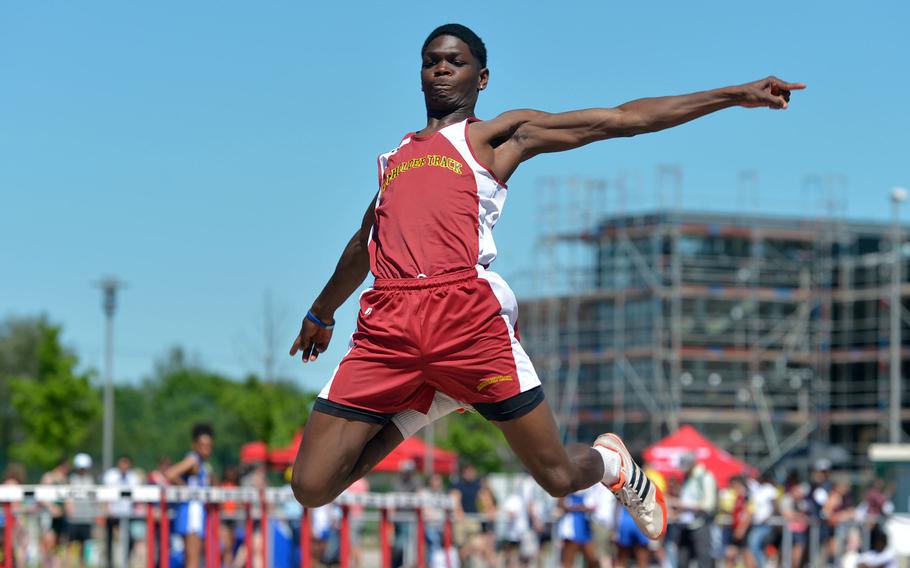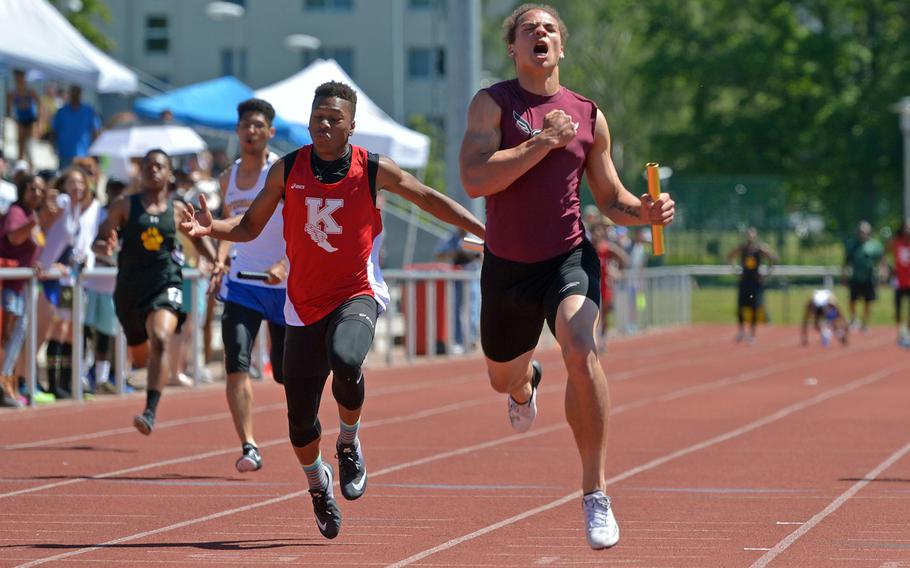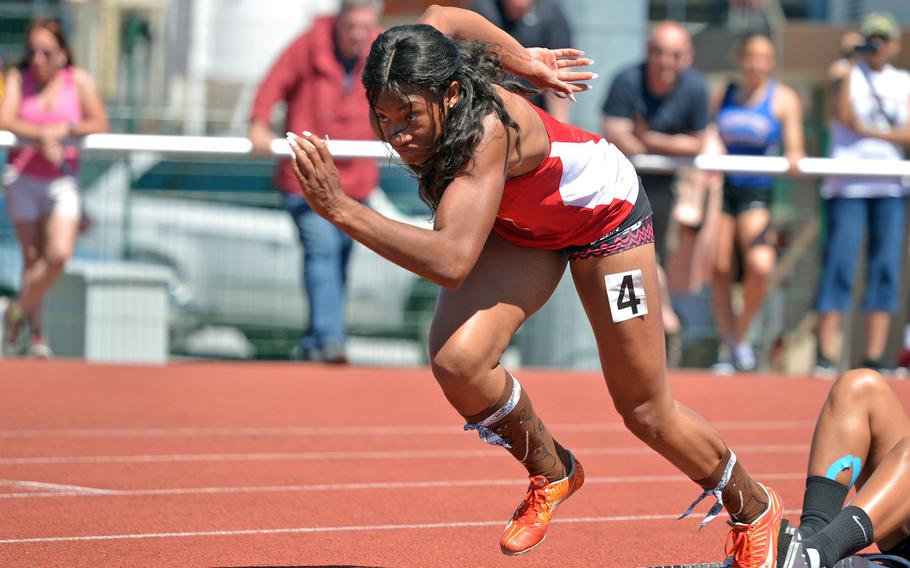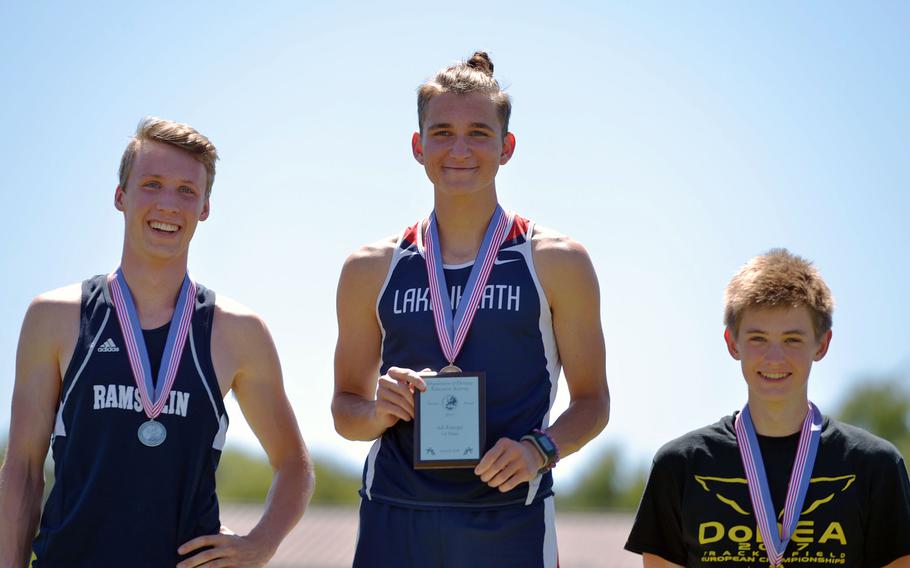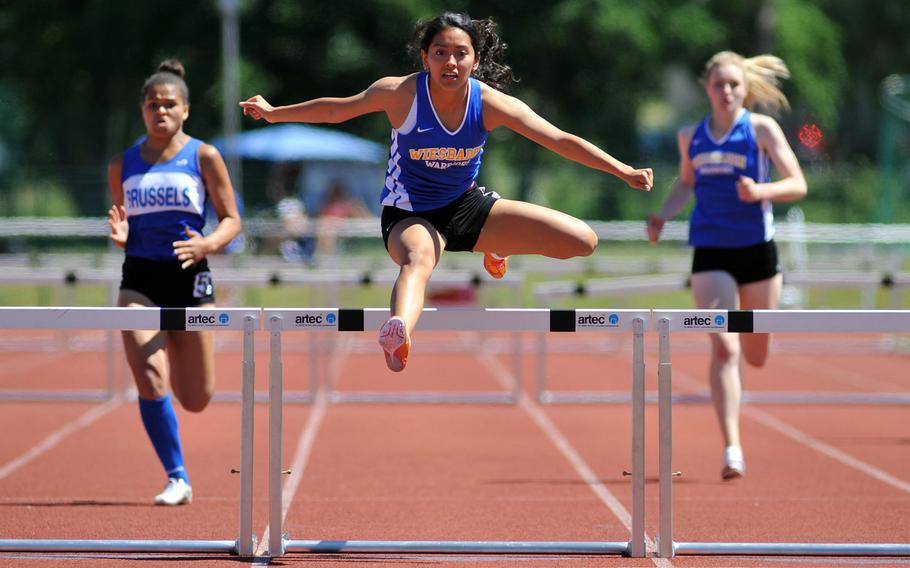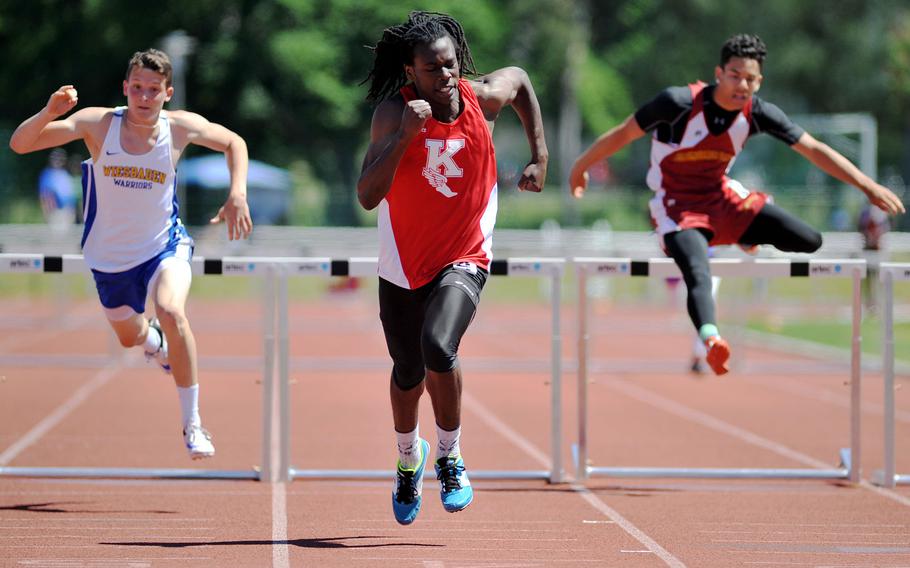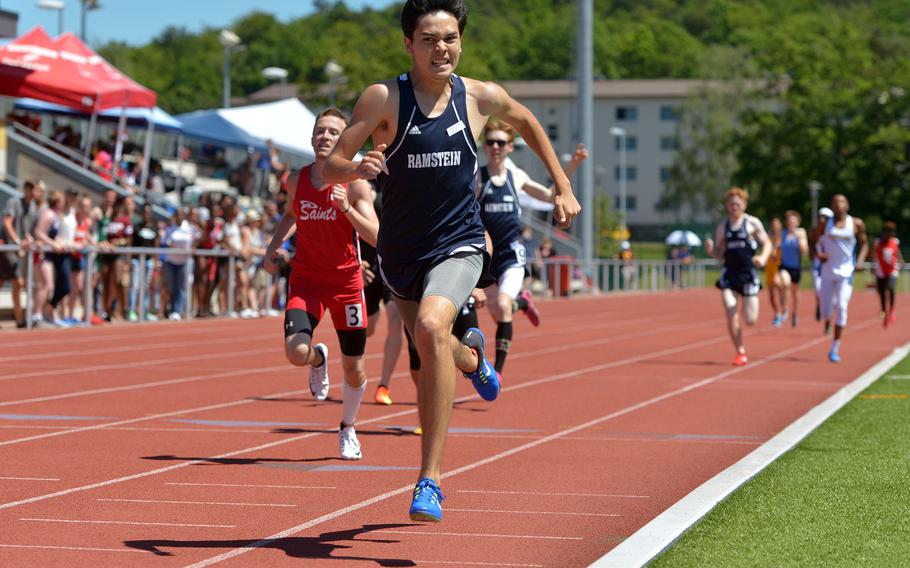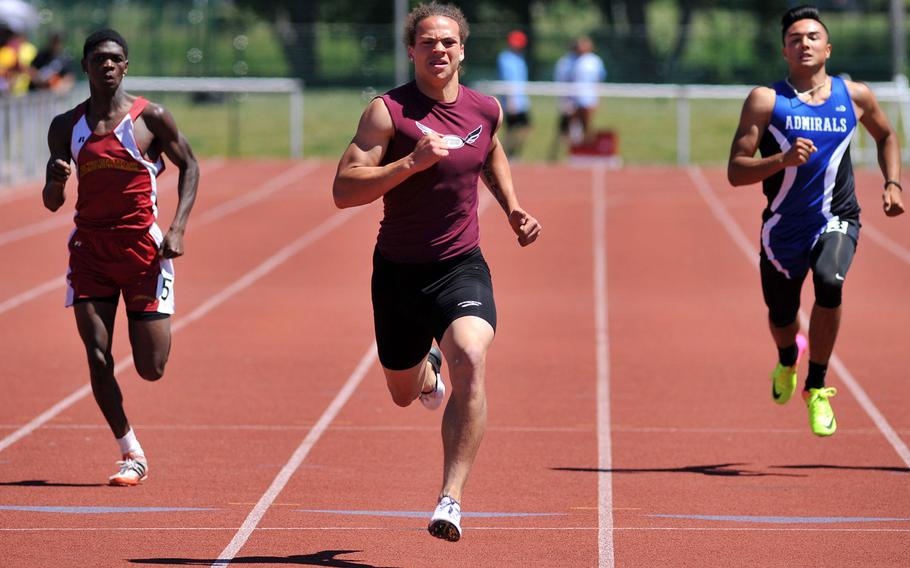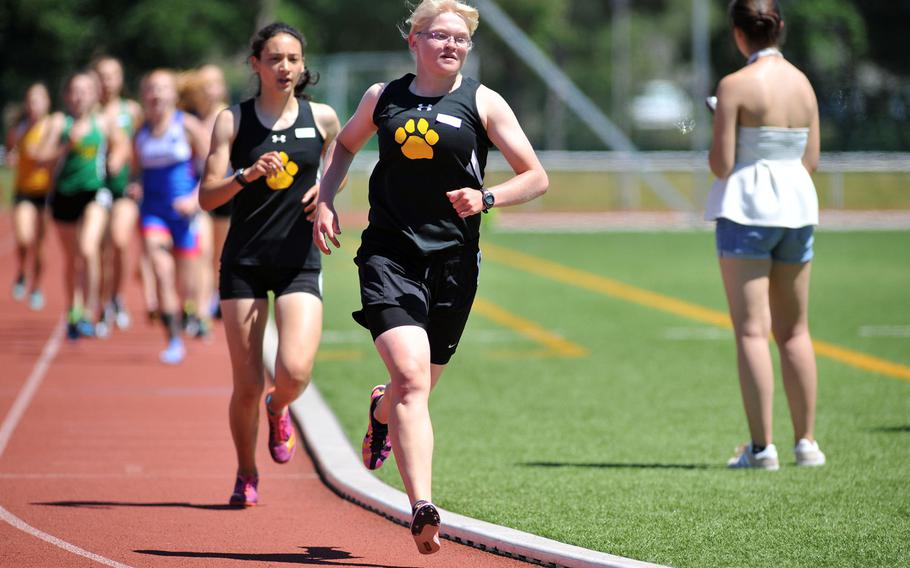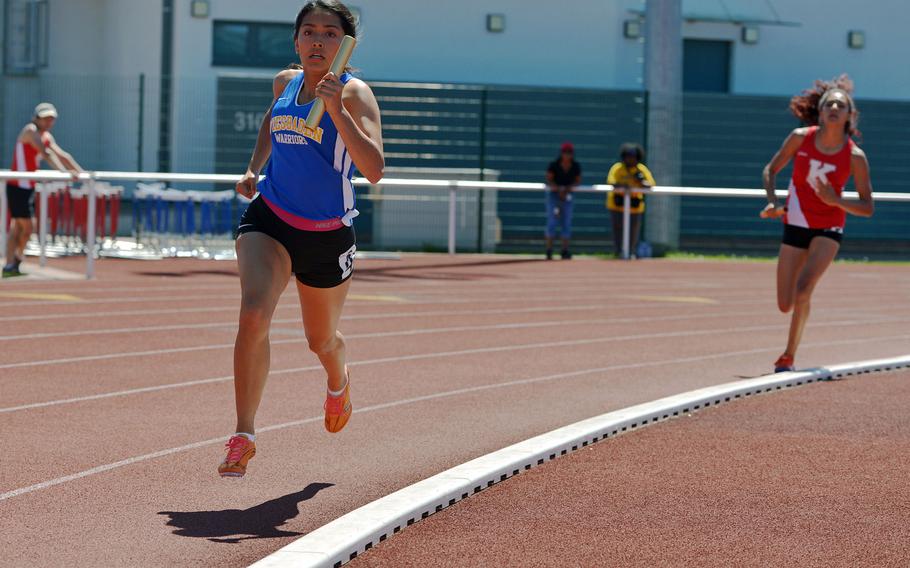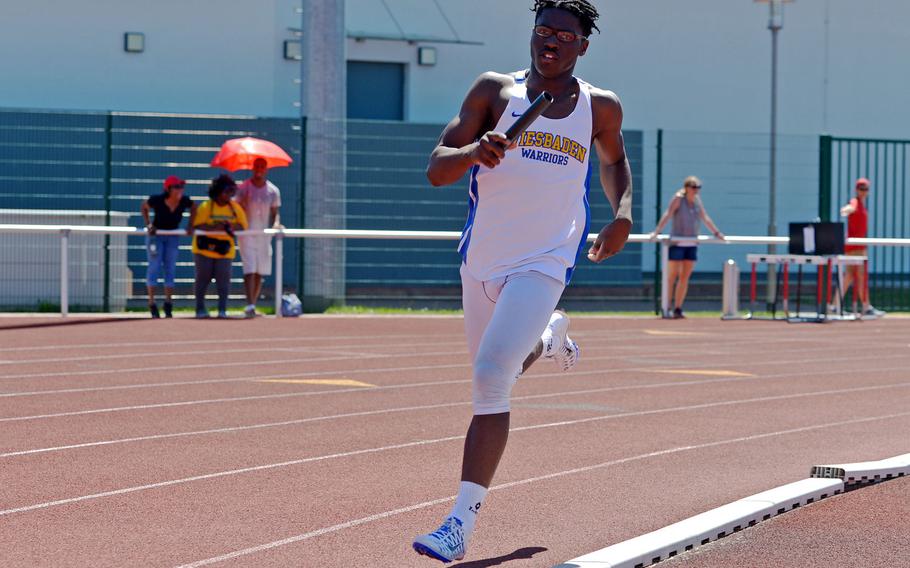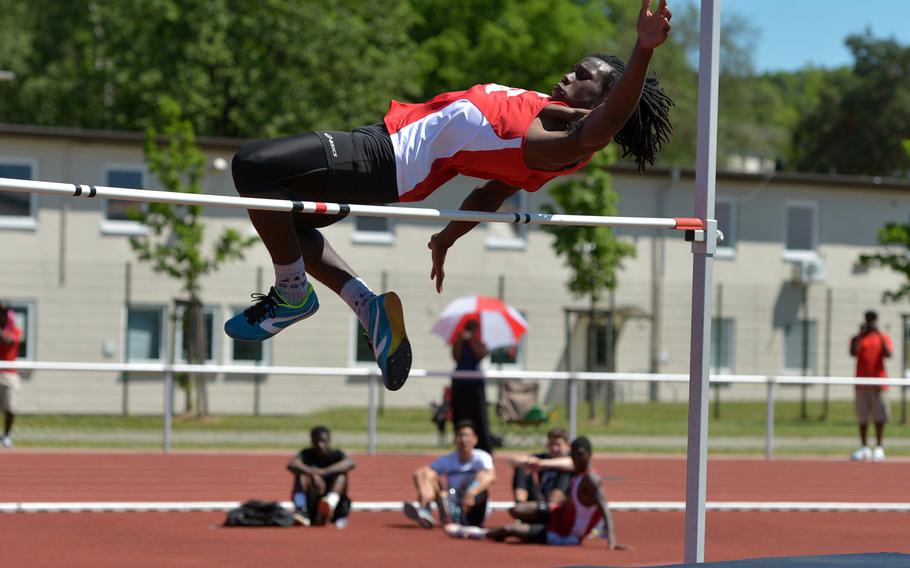 KAISERSLAUTERN, Germany – Two more records fell Saturday in the final day of competition at the DODEA-Europe Track and Field Championship - and two more barely survived.
The first record to go was in the sand pit. Kaiserslautern phenom Jada Branch soared 39 feet, 2.25 inches to obliterate the triple jump record of 38-6, set by former Raider Lynndsey Hyter in 2006. Branch, a junior, hit the mark on her second jump in preliminaries, leaping more than a foot farther than her winning jump at Europeans a year ago.
"It feels great," Branch said, after accepting her gold medal for the triple jump. "I love improvement. It just clarifies and justifies why I'm doing this and how it makes me feel on the inside. It motivates me to keep going and it lets me know this is where I'm supposed to be."
Branch would go on to collect two more titles on Saturday – adding to her win in the long jump Friday - but not before another record fell.
This time it was on the track, in the boys' 1,600 meters, where the stage was set for a classic duel between Lakenheath junior Austin Burt and Ramstein senior Colin McLaren, separated by only three seconds in seeding times going into the race.
McLaren, who on Friday set a new European record in the 3,200, was chasing a second. He shot out to an early lead, but with about 500 meters to go, Burt made a move and pulled ahead. McLaren regained the lead just as fast and Burt tucked behind him until the last curve on the bell lap. The two were neck and neck down the homestretch, with Burt outkicking McLaren by less than a second at the finish, 4:24.16 to 4:24.86.
The big digital clock display at the Kaiserslautern High School stadium wasn't on for the race but the gutsy effort by both runners left little doubt the former record of 4:27.28 – set in 2012 by Kaiserslautern's Michael Lawson – was history.
"It feels like I just got done running an 800 or a sprint," Burt said after the race.
Of McLaren, he said, "We both really won that. We set the record together."
It was Burt's first European title, coming a day after he finished second to McLaren in the 3,200 and a year after he placed third in the 1,600 at Europeans. "I wanted a gold. Something to take back home, to make my school proud, my family and friends proud," Burt said.
Stuttgart's Rachael Dickenson fell two seconds short in her bid to break the European record of 11:27.24 in the 3,200. Dickenson earlier in the season had run 11:25 in a combined race with boys and girls at Black Forest Academy. On Saturday, Dickenson was all alone. She crossed the line in 11:29.28, nearly a minute ahead of her closest competitor, teammate Tatiana Smith, but just shy of the record.
Throughout the race, Dickenson, a junior, said she focused on her pace, checking her watch to see "where do I want to be when I cross the next 200? How am I going to slow it down so I'm not too fast and burn out, and if I'm behind, how am I going to speed it up, make sure I get there."
"I'm happy because I know that I did what I could today," Dickenson said.
Like Dickenson, Branch missed the record in the 400, in this case by fractions of a second. Her winning time was 57.75, just short of the record of 57.30, set in 2000 by Christina McDuffie of Hohenfels.
Also having a "good day," in his own words, was Vilseck senior Zavier Scott.
Scott dominated the sprints, winning the 100, 200, 400 and anchoring the 400 relay team.
The impressive haul comes a year after Scott finished second in the 400 and fourth in the 100 and 200 at Europeans.
"I use that, what happened last year, as my drive for this year," he said. "Loss helps you … want to become better."
Scott was named the meet's most valuable track athlete for the boys. Ansbach senior Joxua Baughman was named the boys' MVP for field events. Branch swept girls honors on the track and on the field.
Baughman won the discus throw on Friday and took third in the shot put Saturday, behind Vilseck's Derek Davis and Ramstein's Eli Roberts, and third in the long jump behind Baumholder's Nathaniel Horton and Lakenheath's Kobe Cox.
In the team competition, scores were relatively close, except for Division I girls. Showing their tremendous depth, the Stuttgart girls won six of 17 events and scored points in 14 - everything except the 100, the long jump and the discus throw, prevailing over runner-up Ramstein and third-place Kaiserslautern by more than 50 points. Black Forest Academy was first in Division II girls, and Brussels toppled Ansbach in Division III.
For the boys, Ramstein beat out Vilseck and Kaiserslautern in Division 1. Rota took first in Division II and, in Division III, Baumholder came out on top.
Other notable performances Saturday included:
-Kaiserslautern's Oliver Powdar won both the 300 hurdles and the high jump. The latter was a tight competition between Powdar, Vilseck's Kenya Pinckney and Nathaniel Horton of Baumholder. Powdar cleared the bar at 6-2 on his third and final attempt at that height to get the win.
-The Wiesbaden girls and boys won the 1,600 relay. Clarissa Paniagua anchored the girls' team - after gutting out a win in the 300 hurdles. The boys, meanwhile, had been waiting to get another chance at gold, after the finals last year was rained out. The Warriors in 2016 had to settle for third, based on their finish in preliminaries. "We made it a mission this year to make it happen," said Wiesbaden senior David Williams.
-Bitburg senior Elise Rasmussen ended her stellar high school track and field career with victory in the discus. Her throw of 108-07 was eight feet farther than runner up Tiombe Long of Brussels.