Kadena wrestlers pin Kubasaki rivals, complete regular-season sweep
---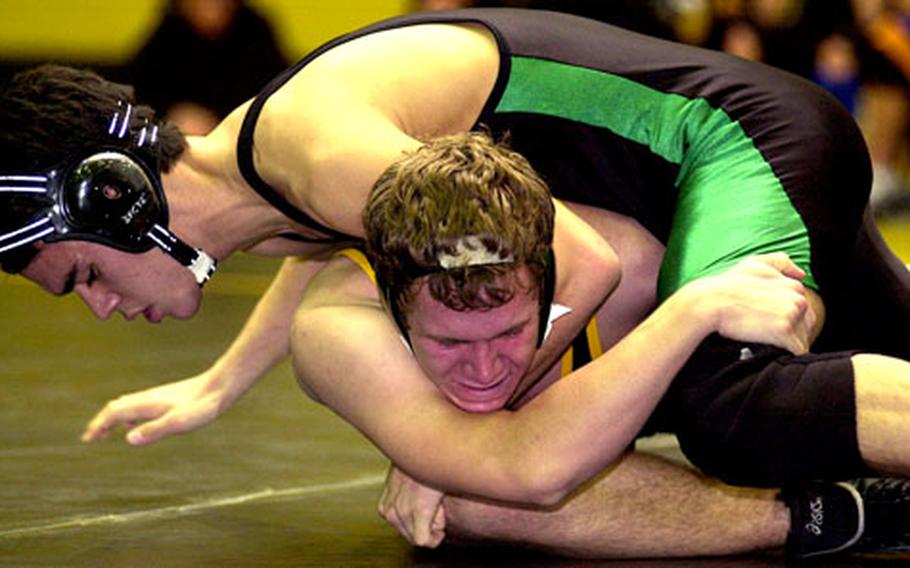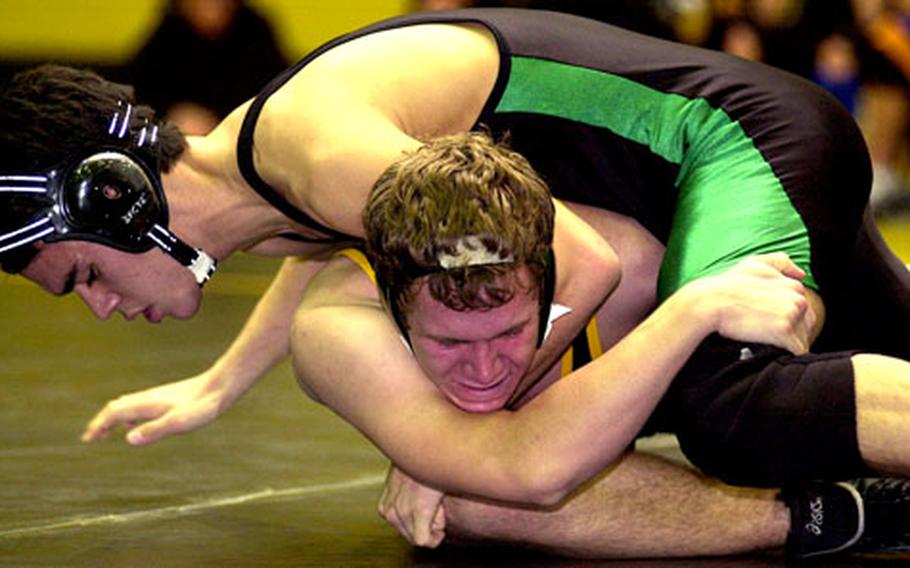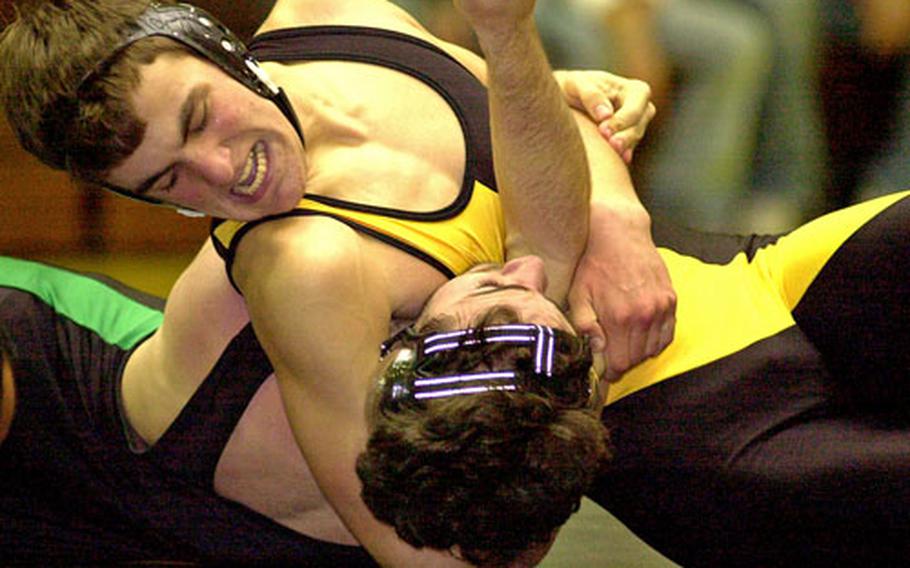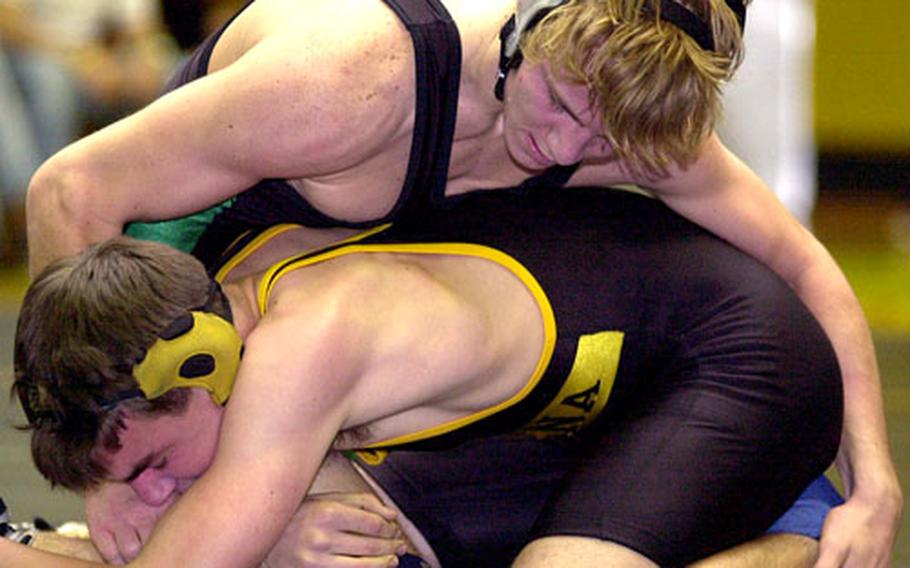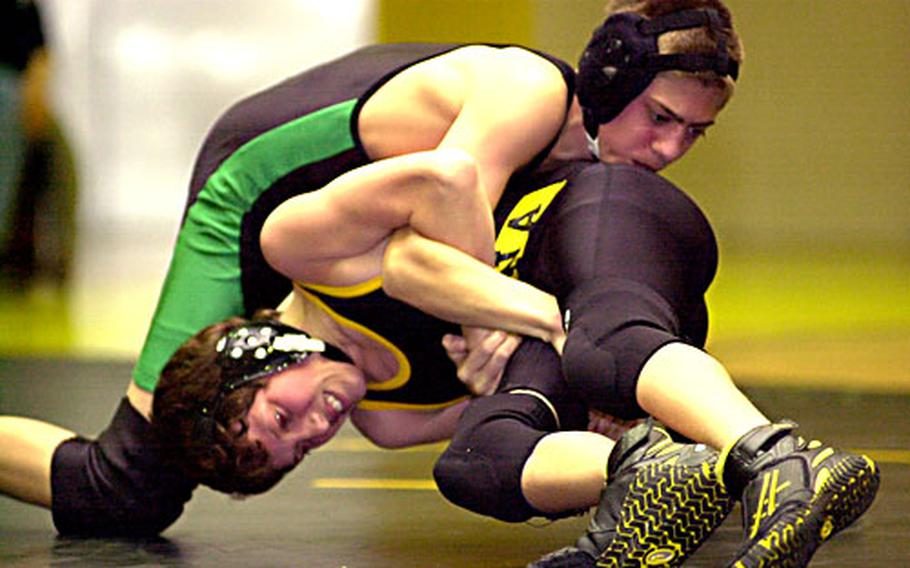 KADENA AIR BASE, Okinawa — Though Steve Schrock and his Kadena Panthers wrestlers completed their second straight regular-season sweep over Kubasaki on Friday, the coach said he realizes that nothing lasts forever.
"If you're in sports long enough, you learn that what goes around comes around," Schrock said moments after Kadena defeated Kubasaki 33-22 in an Okinawa Activities Council dual meet.
There were seven technical falls in 11 bouts, and the teams split two walkover victories.
No bout loomed bigger than a pinfall victory by Kadena's Chase Park, wrestling for the first time this season with the varsity at 158 pounds. Park concluded a back-and-forth battle with Jason Paul of Kubasaki in 5:00.
Schrock confessed to worry before the dual meet, having adjusted his lineup by moving Andrew Satterlee and Devon Copeland up one weight class each, to 168 and 180, and doing without regular 122-pounder Jake Bloom due to injury.
"We had to wrestle the best we could wrestle," Schrock said. "Everybody stepped up. I'm proud of them."
Matt Maza (122) and Jack Abate (101) scored superior decisions, sandwiching a pin by Cameron Daugherty (108) as Kubasaki roared ahead 13-4 after the first four bouts.
Pins by Brandon McCullough (129) and Austin Copeland (141) and a technical fall by Brenden Stanford (135) sparked the Kadena rally. Kubasaki's Steve Courtney earned a superior decision, but Park, Satterlee and Devon Copeland secured the victory, the latter two with technical falls.
Kadena has defeated Kubasaki in six straight regular-season meets. Prior to that streak, Kubasaki, which has won a record 18 Far East High School Wrestling Tournament team titles, had beaten Kadena in 90 of 91 dual meets dating back to 1982.
Even with the pendulum swinging in Kadena's favor, Schrock refuses to take anything for granted with the Far East tournament looming next week at Yokota Air Base, Japan. Kubasaki edged Kadena 28-26 in last year's dual-meet portion of the event.
"They have good coaching," Schrock said of Kubasaki, led by Terry Chumley and assistant Bobby Duncan. "And the kids are just fighters. Good coaching and kids who don't quit … won't make winning easy."
Thus, at some point, Schrock knows that the law of averages will catch up with Kadena. "It will cycle back and we'll have our hands full, especially with Terry and Bobby over there," he said.
---
---
---
---