Kadena tunes up for Far East with gold in Rumble
---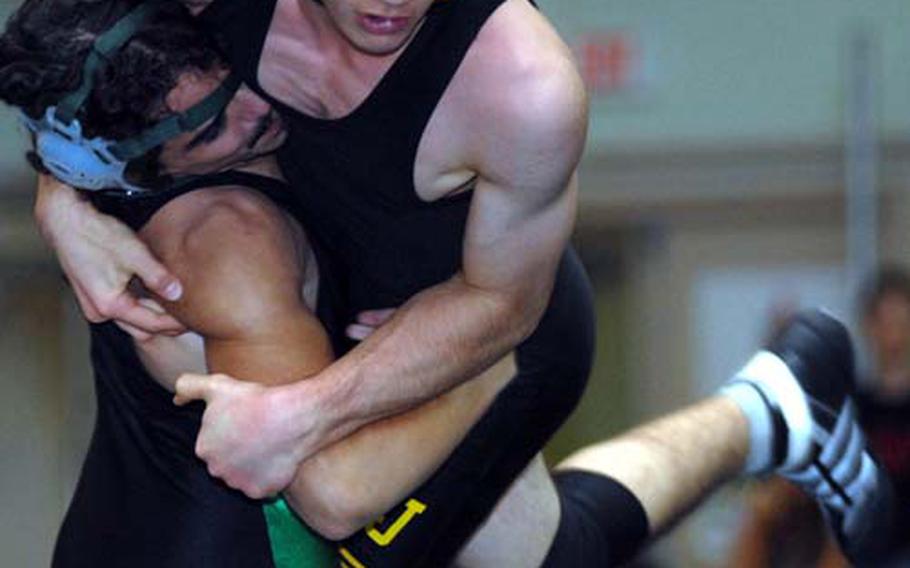 CAMP FOSTER, Okinawa — One thing a coach loves to see is his team give as much effort in competition as it does in practice.
Such was what coach Steve Schrock said he saw in his Kadena Panthers on Friday in the 2nd Rumble on the Rock Wrestling Tournament at Kubasaki High School's Dragons' Den.
Reigning Far East gold medalist Harry Bloom led the way with three pins as Kadena beat St. Mary's International 48-15, defending Rumble champion Kubasaki 37-16 and American School In Japan 51-10 in the four-way round-robin dual-meet tournament.
More than the dual-meet title, the event provided Kadena a "great tune-up" for the Far East tournament in two weeks at the Foster Field House.
"They wrestled with the same intensity that they showed in the practice room," Schrock said. "We wrestled like we're capable of wrestling."
Rumble is the last major event of the season for Kadena and Kubasaki going into Far East. Rumble's five-team field included four teams with solid Far East championship pedigrees — ASIJ and Kadena with four Far East team titles, St. Mary's with six and Kubasaki with a record 20.
"We're grateful the mainland teams came down here," Schrock said. "They have good wrestlers. Our guys get tested … a lot of experience and preparation for Far East."
"This is awesome," Bloom, a 141-pound junior, said of wrestling opponents he doesn't normally see and perhaps picking up a technique or two that he can add to his arsenal.
For the international schools, the event also gives them a little something, stepping out of what one wrestler called the "predictability" of just seeing Kanto Plain Association of Secondary Schools grapplers.
ASIJ junior 122-pounder Ryan Christianson otherwise might not have had a chance to go up against talents such as Kadena's J.C. Henderson and three-time Far East champion Scott Wood of Kubasaki.
"I'm so used to wrestling the same people," said Christianson. "This makes it more exciting. It's a lot of fun. It's our only chance to go up against Kubasaki and Kadena."
Ian Harlow, for three years the coach at St. Mary's and the prior four at Zama American, said he'd like to see the Rumble field grow, perhaps into a mini-Far East before the main event.
"I wish we could get more people in this, expand the teams," Harlow said. "It's always good to come down here, wrestle different styles and philosophies. And we know it's great for Kadena and Kubasaki because it gives them more matches."
---
---
---
---