Kadena strikers sign to play NCAA Div. I soccer
by
Dave Ornauer
February 12, 2006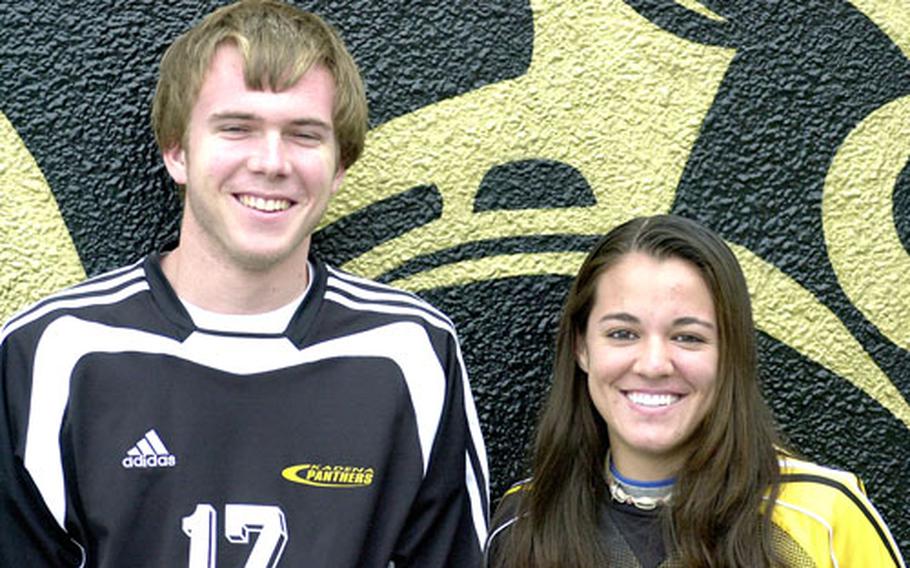 KADENA AIR BASE, Okinawa — Two star strikers for Kadena High School's soccer teams have signed letters of intent and will take their games to NCAA Division I next fall.
Dianne Abel and Nathan LaGrave are the eighth and ninth former Panthers to play collegiate sports in the past three years.
Abel, a record-setting girls goal-scorer, will join her former Kubasaki Dragons archrival and closest friend, Erin Foote, at Winthrop University of the Big South Conference. LaGrave will suit up for Bucknell of the Patriot League. Each earned partial athletic grants-in-aid from their respective schools.
"I'd hoped that soccer would help me" obtain financial aid for college, said LaGrave, a senior and lynchpin of a Panthers team that has won two Far East Class AA tournament titles and a runner-up finish the past three years. "It's (Bucknell) a great school. Above soccer, it's one of the top schools on the East Coast."
The Patriot League, which includes Navy and Army, does not award scholarships but grant-in-aid packages. LaGrave didn't give specific dollar figures but said his award covers about 50 percent of the total cost.
The son of DODDS educators Lon and Janet LaGrave is a two-time All-Class AA center-midfielder and MVP of the 2004 Class AA tournament. He scored 25 goals and assisted on 14 for a Kadena team that has gone 39-1-2 the past two years.
"He is the kind of player every coach would like in their lineup," Panthers assistant coach John Reay said. "He plays with a maturity well beyond his years. He possesses exceptional technical ability and tactical awareness, a combination rarely seen in a player his age."
Abel, the daughter of retired Marine Corps Capt. David Abel, will join an Eagles squad that went 8-10-1 overall and 3-5, tied for seventh in the eight-team Big South Conference. Her "sizeable, significant" scholarship package covers from 50 to 60 percent of total cost, David Abel said.
"It's pretty exciting," Dianne Abel said of the prospect of playing alongside Foote. "We know each other's styles playing against each other. Now, we'll be able to feed off each other."
Abel owns the Pacific season record with 66 goals, set in 2005 as a junior when Kadena won its second straight Class AA tournament title. She enters her senior campaign with 112 career goals for a Kadena team that has gone 39-1-2 the last two seasons. The reigning two-time Class AA tournament MVP had 100 goals and 46 assists in that span.
"It's a blessing to have had her for four years," Panthers girls coach Hoa Nguyen said. "Everything with her is about team. She has leadership character. I've never seen a player that mature at her age. She listens. And she's coachable. Those three qualities will make her successful in college."
Abel and LaGrave each got exposure to their respective coaches by attending their schools' summer soccer camps, Bucknell's at Lewisburg, Pa., and Winthrop's at Rock Hill, S.C.
LaGrave and Abel join nine Kadena athletes earning partial or full scholarships or financial grants-in-aid to play intercollegiate athletics — and those nine could become 10 later this month. Three-time All-Class AA senior striker Aaron Zendejas said he plans to sign a national letter of intent to play for Northern Illinois.