Kadena snags elusive Far East wrestling team title
by
Dave Ornauer
February 19, 2006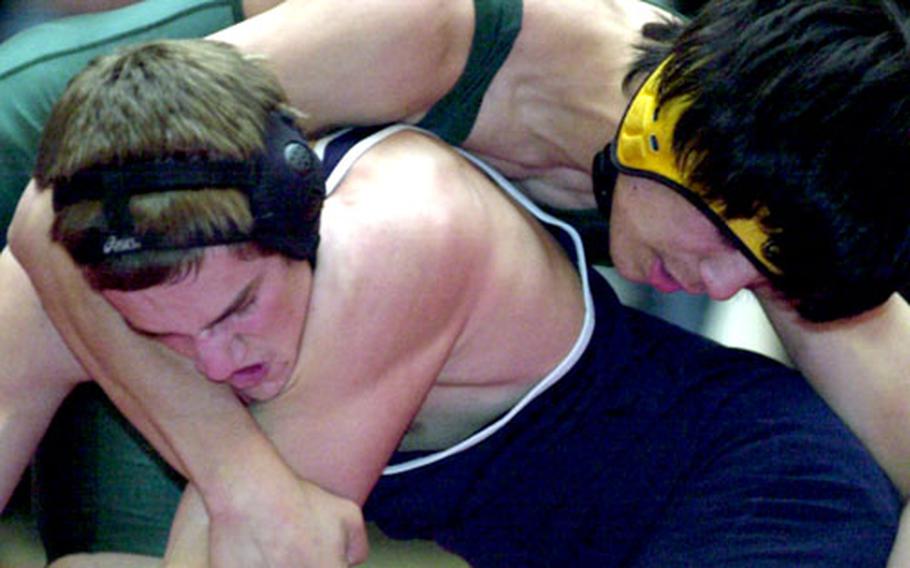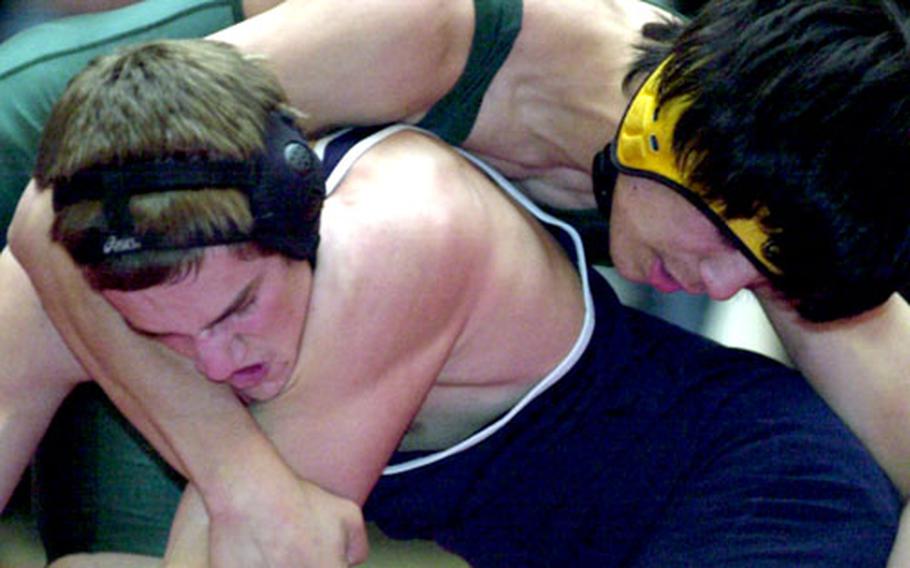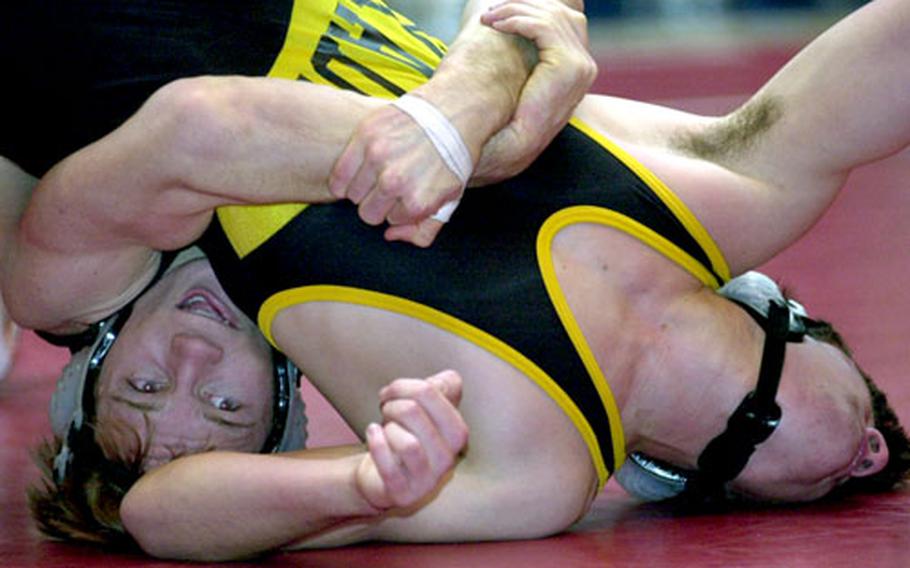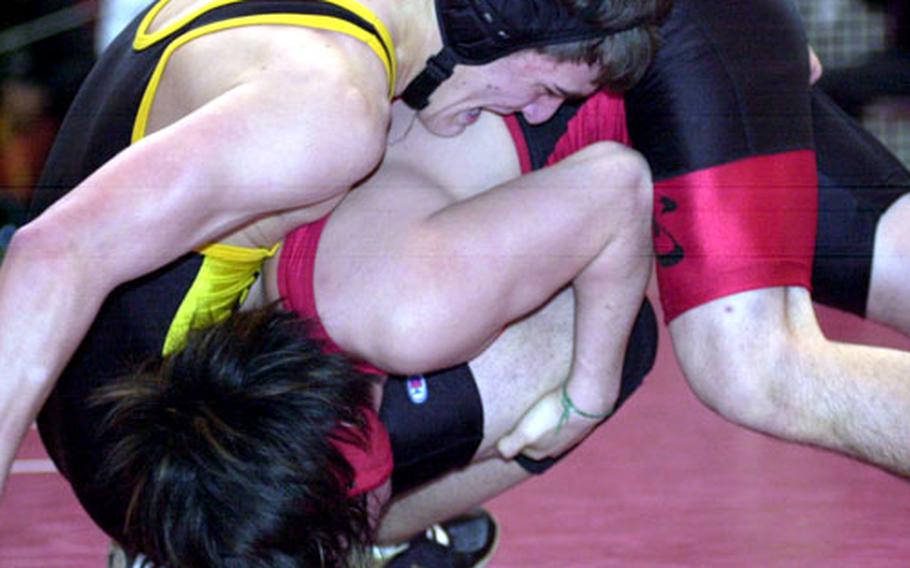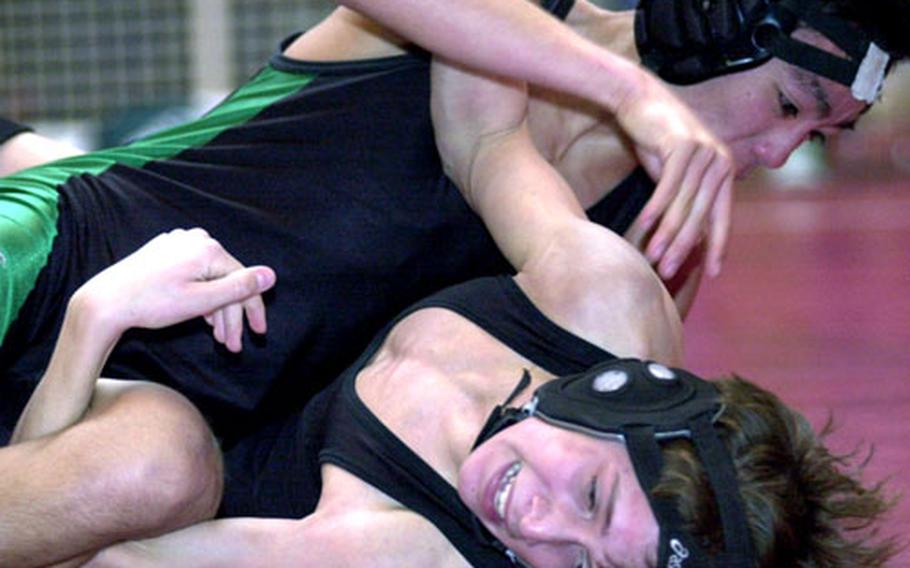 YOKOSUKA NAVAL BASE, Japan — Kadena High School may be feting its silver-anniversary school year but the Panthers wrestling team's celebration Friday was purely golden.
Jacob Bloom and Austin Copeland won gold medals and each of Kadena's 13 wrestlers earned points as the Panthers captured the school's first Far East Tournament team championship in a runaway, outdistancing host Nile C. Kinnick 70-58 in the individual freestyle tournament.
"For us to be able to hang that banner in our school gym means the world," emotional coach Steve Schrock said. "Every one of those kids is going home with that banner."
Kadena became the eighth team in tournament history to win a Far East team title.
Kubasaki has won 20 Far East titles. Previously, Kadena's best showings were runner-up finishes in 1993, 2002 and 2005.
When Schrock became coach in 1996, Kadena administrators thought seriously of eliminating the sport.
"I can't believe we went from seven wrestlers in 1996 to a banner," Schrock said, crediting former coaches Michael Peters and Mark Hoffer for "keeping the program alive" when he left in 2001-02 for family reasons.
Schrock credited two factors in Kadena's title drive: For the first time in his tenure, he was able to fill every weight class and assistant coach Tom McCullough's rigid conditioning program kept each of his starters honed.
Besides gold medals for Bloom at 129 pounds and Copeland at 148, the Panthers secured four silvers and two bronzes.
"Schrock's been waiting for this," Kinnick assistant coach Go Yamada said. "He deserves it. And those kids stepped up."
"I'm happy for Steve," Kubasaki coach Terry Chumley added. "He's worked hard for that program. He's got a lot to be proud of."
Bloom and Copeland were among nine first-time gold medalists. The victory was especially sweet for Copeland, who joined elder brother Devon as a Far East champion.
"I finally lived up to his (Devon's) expectations," said the sophomore, who dethroned defending Far East champion Yamato Cibulka of Kinnick.
It might have become three Copeland Far East champions but for Kubasaki's Steve Courtney (158), who easily decisioned senior Ian Copeland to repeat as a Far East champion and earn selection as the tournament's outstanding wrestler. He's the school's ninth wrestler to be so honored but the first since 1993.
Courtney competed in a national tournament last summer in Fargo, N.D., and trained all year under All-Armed Forces champion Jacob Clark at Camp Foster.
"All the hard work I put into this season," Courtney said, "it feels like I really accomplished something. It's a big leap."
Another making a big leap was Kinnick's Kenji Doughty (141), who went where his brothers, former Far East champions Billy and Jonny Doughty, never did. Kenji became his family's first two-time champion.
"I broke the curse," Doughty said. "It's the best feeling in the world."
The other defending champions to repeat were the Yokota pair of Jason Rodriguez at 122 and Zach Dopslaf at 180.
Besides Cibulka, others failing to repeat were McCullough (135), who was pinned by Matthew Blankenship of Robert D. Edgren, and Kubasaki's Matt Maza, who took third at 129 pounds.
Blankenship and teammate Kevin McDonald (168) reached the gold-medal podium for the first time, as did Kubasaki's Scott Wood (101), E.J. King's Luigi Deguzman (108), Kinnick's Bobby Antonio (115) and Yokota's Phil Ergus (heavyweight) and Jim Scott (215).
"It's unexplainable," Blankenship said with a smile.
Far East Wrestling scoreboard
Complete individual and team freestyle results