Kadena's Lyle to run for Stetson University
by
Dave Ornauer
June 21, 2004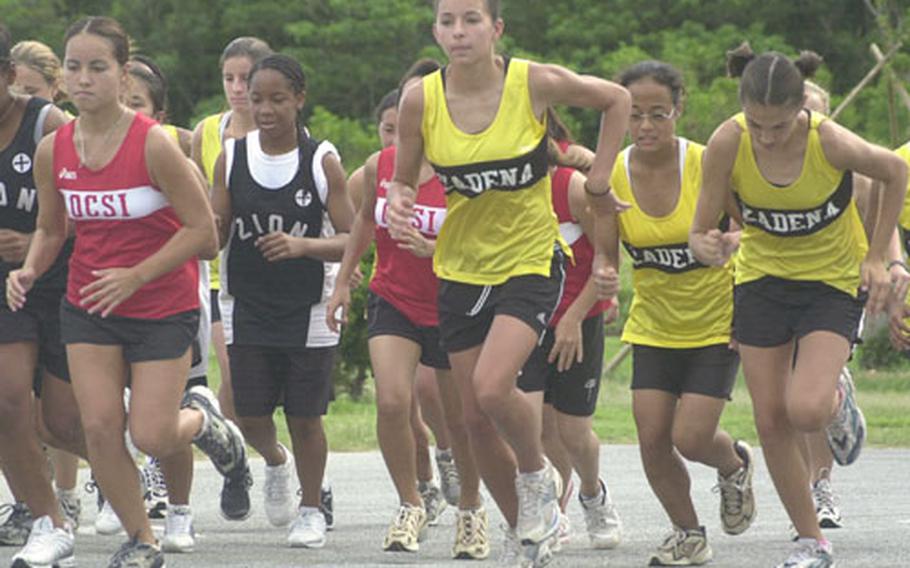 KADENA AIR BASE, Okinawa — Kim Lyle is the latest Kadena High School senior to announce plans to compete in college athletics.
Lyle, the 2002 Far East High School cross country champion, will attend Stetson University, an NCAA Division I school in DeLand, Fla.
She accepted a partial scholarship from Stetson that will pay about $13,000 for academics and $3,000 for running — about 75 percent of the total cost of annual tuition.
Lyle was initially accepted to Stetson for academics, said her father, Jeff, an educational technologist at Kadena Middle School. Once that happened, he mentioned Kim's success as a cross-country runner, and Stetson coach John Boyle expressed interest in having Kim run for the team.
She'll run for a young squad that placed 11th in the Atlantic Sun Conference championship meet last November.
"She had very good cross country times, [but] there were other factors that showed me she could develop into a good college runner," Boyle said. "She's won things, she's won a Far East race, the type of competition she's run against and the times she posted showed me she could turn into a good runner in college."
Based on phone conversations and e-mail correspondence, Boyle felt that Lyle was a well-rounded person as well as a good athlete.
"Just talking to her, she was an upbeat person and had a lot of other positive things about her," Boyle said. "Her résumé indicated she was somebody I wanted on my team, good leadership skills, general attitude, good student."
Lyle joins Theresa Gittens and Demetrius Kenney as Kadena athletes who plan to compete at the collegiate level next year. Gittens will attend NAIA Missouri Valley College on a basketball scholarship and Kenney is going to play football at Division III Lakeland College in Wisconsin.
---
---
---