Kadena's Jackson, Kubasaki's Carson could pose problems for Class AA foes
---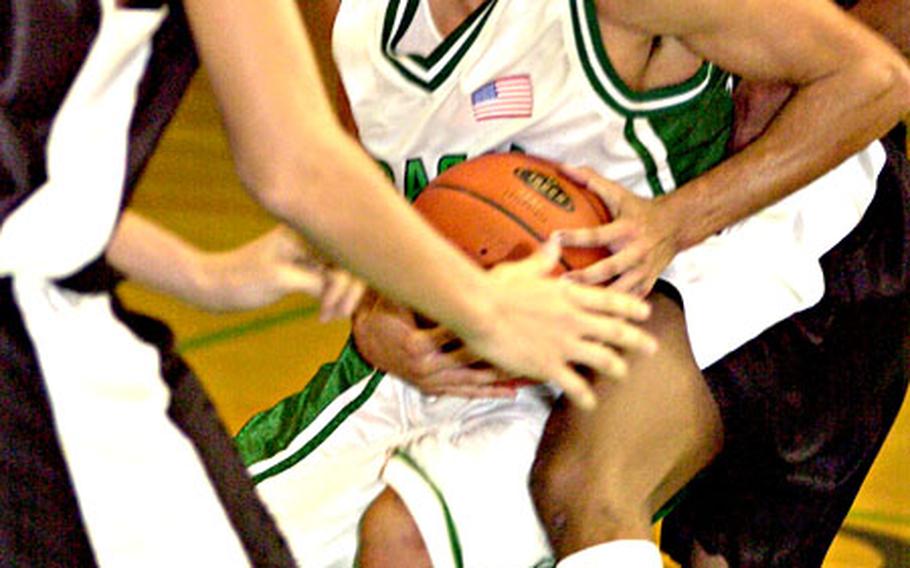 Every now and then, a player comes along who boosts his team's level of play and for whom opponents don't have an answer.
Kubasaki boys basketball coach Chris Sullivan thinks his team and Okinawa archrival Kadena might have that type of player — Kadena in 6-foot-4 junior Z'aire Jackson, Kubasaki in senior point guard Marcus Carson.
Sullivan has seen a great many teams and players in his tenure as coach of Nile C. Kinnick in Japan in the late 1990s and now with Kubasaki, and "not in a long time," has he seen that type of player in a Far East High School Boys Class AA Basketball Tournament.
What sets Carson and Jackson apart?
"They both play at the next level," Sullivan said.
Aside from averaging 30-plus points and 20-plus rebounds a game for the Panthers, "Jackson just plays like a manchild underneath," Sullivan said. "He's pretty much unstoppable anywhere from 10 feet in, from the foul line in. If he gets the ball in the paint, watch out. Probably count your losses."
Carson, averaging 22 points, nine assists and four steals for the Dragons, "makes all his teammates look better on the floor," Sullivan said. "He sets up everybody and he sees the floor so well. When he's not out there, we're sorely missing an important ingredient in our game."
They've also elevated their teams back to respectability. Kubasaki, which slumped to 9-17 last season after finishing second in Class AA in 2003, entered its Friday game at Kadena at 13-4. Kadena is 12-7 after going 15-12 and also not placing in the Far East tournament last season.
With those two weapons at the ready, Sullivan thinks the Dragons or Panthers, maybe both, stand a good chance to compete for the tournament title. The teams have met in the title game three times, the last in 1995, with the Panthers winning all three.
"I hate to put myself on a limb, but either one of us will be in the championship game," he said. "Overall, we're both a top four or five team. I guarantee one of us, Kadena or Kubasaki, will be there, maybe both."
To engage in that all-home-team showdown, Kadena and Kubasaki face battles with several tough squads that plan to vie for the honor.
Seoul American, the two-time defending champion, doesn't have a big star as it did with past MVPs Nino Etienne and Jake Abramowitz, but the Falcons are, perhaps, the tallest team in the tournament, with four starters 6-4 or taller.
Junior guards Jay Higgins and Jamaal Mohn and what coach Steve Boyd calls the "G-men," 6-5 junior Mike Goodman and 6-6 sophomore Anthony Gatlin, have paced the Falcons, who've played 41 games entering this weekend's Korean-American Interscholastic Activities Conference tournament.
His highest-scoring starter is averaging 12.3 points per game, his lowest 10.4. "I've never had the balance that I have this year," he said.
Then there's Nile C. Kinnick, with one loss against high school competition in Japan and bent on topping its runner-up finish of last year. Seniors Leonard Lynce and Paul Ergus lead a squad whose big question is whether junior all-around Travis Ekmark can return from a broken finger.
And Yokota, with just two losses overall and having been the only team to beat Kinnick, waits in the wings in case one of those four falters. Not overly tall, the Panthers play tenacious defense and get at-times-explosive scoring from senior Cameron Cooper.
"That's the great unknown," Sullivan said. "We don't play each other, we don't see Seoul, we haven't seen Kinnick or Yokota. I don't know but on paper what the matchups are. But that's what makes the tournament exciting, those great unknowns."
Still, riding the shoulders of Carson and Jackson, it could end up being an all-Okinawa final, "if all the variables come together," Sullivan said. "That's basketball. Our chances are really good that we're going to finish very high this year."
Far East Boys Class AA Basketball Tournament
Dates: Feb. 21-26, 2005.
Host: Kadena High School, Kadena Air Base, Okinawa.
Sites: Foster Field House, Camp Foster, and Kadena High School "Panther Pit," Kadena Air Base, Okinawa.
Participating teams: Seoul American Falcons (defending champion, titles in 1996, 2003 and 2004); Morrison Christian Academy Mustangs, Taichung, Taiwan (fifth last year, titles in 1999 and 2002 at Class A Tournaments); Kadena Panthers, Kadena Air Base, Okinawa; Robert D. Edgren Eagles, Misawa Air Base, Japan; Father Duenas Memorial Friars, Mangilao, Guam; Yokota Panthers, Yokota Air Base, Japan; Nile C. Kinnick Red Devils, Yokosuka Naval Base, Japan; Hong Kong International Dragons, Hong Kong, China; Kubasaki Dragons, Camp Foster, Okinawa; Christian Academy In Japan Knights, Tokyo; Zama American Trojans, Camp Zama, Japan; Simon Sanchez Sharks, Yigo, Guam; St. Mary's International, Tokyo; American School In Japan Mustangs, Tokyo; Guam High Panthers, Nimitz Hill, Guam; John F. Kennedy Islanders, Upper Tumon, Guam.
Returning All-Far East players: First team, Travis Ekmark, Nile C. Kinnick; Jun Dambara, St. Mary's International; Ronnie Stephens, Kubasaki. Honorable mention, Jay Higgins, Seoul American; Leonard Lynce, Nile C. Kinnick; Will Badillo, Zama American; Anthony Gatlin, Seoul American.
Format: Single round-robin, 16 teams split into four pools of four teams each, first two. Modified double-elimination playoffs with consolation, last four days.
Schedule: Opening ceremony, 8:30 a.m. Monday. Round-robin play start, 9 a.m. Monday. Playoffs start, 9 a.m. Wednesday. All games but the semifinals and placement games are at Foster Field House. Semifinals at 4 and 6 p.m. Friday and placement games at 9 and 11 a.m., 1 and 3 p.m. Saturday at the "Panther Pit." Skills competitions, foul-shooting and three-point shootout, at 1 p.m. Tuesday. Closing ceremony, 5 p.m. Saturday.
---
---
---
---