Kadena looking for revenge, another title against ASIJ
---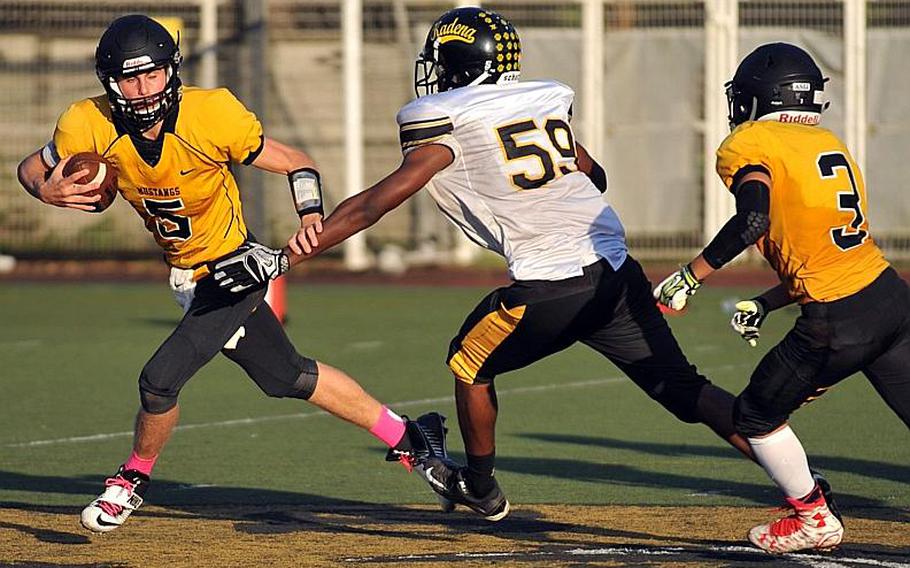 Kadena football has a Pacific-record five Division I titles on the backs of a seemingly endless reserve of running backs under longtime coach Sergio Mendoza.
None of it would be possible, Mendoza said, without finding a small army of big, beefy linemen to escort those back to the end zone. And the Panthers have plenty of them, especially important since Kadena has begun balancing the offense with a rising passing attack.
"That's something we have worked hard on," Mendoza said a few days before his team travels to Tokyo to take on American School In Japan for the Far East Division I championship. "We're hoping we can keep up that tradition. We depend on those guys. Now that we're airing it out more, they're even more important."
Mendoza spoke of guys such as seniors John Murphy and Siulagisipai Fuimaono and junior James White, who average about 262 pounds. Tyler Lewis (205) and Anthony Nielsen (210) also check in above the 200-pound mark.
They help open things up for two main options: Speedy senior Jericho Williams (618 yards, eight touchdowns, 67 carries) and 205-pound fullback Uriah Morris (414, five, 55).
They'll bring that attack, plus quarterback Cody Sego (754 yards total offense, 13 TDs), to the scene of the Panthers' lone defeat this season, Mustang Valley.
Kadena, the two-time defending champion, is making its fourth straight title-game appearance and Pacific-record ninth overall, against a Mustang team that's also 6-1 and is in just its second year of D-I title eligibility.
"We're extremely excited," said John Seevers, in his 33rd year as ASIJ head coach. "We're looking forward to a great game against a traditional powerhouse. It's supposed to be a nice day, we're expecting a lot of people and some great football."
They'll also be facing a Kadena team that the Mustangs beat 34-20 in their lone regular-season meeting Oct. 15, under a pastel-blue Saturday sky. Saturday's forecast calls for equally clear skies and temperatures in the low 60s.
Mendoza mentioned little about it after the team's first game, but a large portion of the Panthers were ill with a flu bug. But he insisted that was no excuse.
"We didn't execute as well as we could," Mendoza said. "ASIJ just outplayed us, played a whole lot better than we did. Our focus was off. Not taking anything away from ASIJ. They played a way better game. We'd had three games in two weeks (and) traveling is always difficult."
"I don't doubt" that Kadena will be ready, Seevers said. "It's always difficult to play a team twice, especially a good quality team."
ASIJ and Kadena play a similar style, a combination of power and passing, and while the Mustangs have thrown more than the Panthers (99 passes to 62), Mendoza says he's hoping to call between "17 to 22" pass plays moving forward.
Both teams have had two weeks since their last games to heal injuries and get well, and both coaches say they expect their opponents to be at their best come 2 p.m. Saturday kickoff.
"We understand the distraction of traveling," Mendoza said. "We'll be better prepared this time."
ornauer.dave@stripes.com
Twitter @ornauer_stripes
On the air: AFN Eagle 810-AM in Tokyo and AFN Wave 89-FM on Okinawa plan to air the D-I title game. Listeners can access the game at http://www.afnpacific.net/AFN-360/
---
---
---
---