Kadena, Kubasaki square off in showdown for Class AA semifinal berth
by
Dave Ornauer
October 28, 2005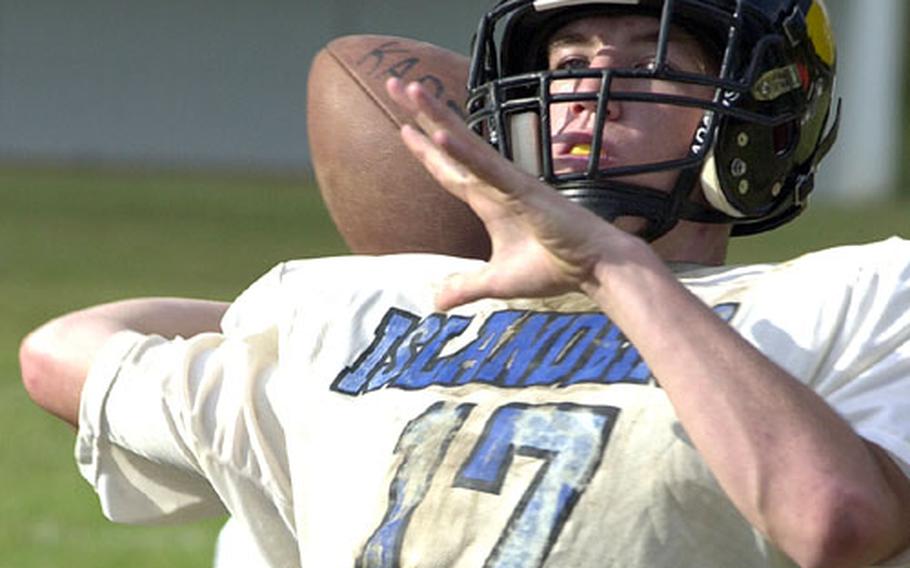 Hollywood couldn't have scripted it better: Never in their 25-season rivalry have Kadena and Kubasaki football teams faced off with so much on the line.
With the Okinawa Activities Council best-of-three series tied 1-1, Kadena and Kubasaki do battle Friday night for island bragging rights — and a berth in the Far East Class AA semifinal Nov. 5.
It's what both parties said they wanted when they designed the new OAC football system last spring.
"That's what we were after," said Dragons coach Fred Bales, the architect of replacing the former split-squad system with a system that puts each school's full squad on the field.
Nine weeks of practice and scrimmage games preceded the best-of-three regular-season series, which Kubasaki opened Oct. 14 by routing Kadena 35-3. Then last week, the Panthers pulled off a riveting 7-6 overtime victory.
"These last two weeks have been the most exciting and intense nights of football in my years on Okinawa," Bales said. "Last week, big crowd, great game. Tough result for us, but a great game."
When Kadena and Kubasaki last took the field as Dragons and Panthers, the best-of-three All-Star series meant only bragging rights. It took place after the split-squad regular season, which determined the island champion and the OAC representative in the old Rising Sun Bowl.
Now, Kadena or Kubasaki will play Guam High on Nov. 5 for the right to host the first Class AA championship game Nov. 12 against the winner of the Yokota-at-Seoul American semifinal.
"Now, it means something," Kadena coach Brian Wetherington said. "You have two teams that are hungry. … It showed in that overtime game."
It also turned on its ear a series in which the Dragons clearly seized the momentum, turning three Kadena turnovers into touchdowns in the first half of the series opener at Kubasaki's Mike Petty Stadium — which hosts Friday's third game.
Game 2 began with a chip fracture and ligament strain sidelining a key Kubasaki playmaker, senior tight end Stephen Thompson, for the season. Now Kubasaki must replace the player who racked up 128 all-purpose yards and two touchdowns in the opener.
"Everybody has to step up," Bales said. "That's the answer."
Both defenses resembled brick walls. Kubasaki held Kadena to 131 yards; the Panthers limited the Dragons to 76. Alex Mierzejewski's quarterback sneak and Ted Awana's extra-point kick rallied Kadena past Kubasaki.
Now what?
"You have to have the same attitude we had last Friday: Win or stay home," Wetherington said.
The big question, the coaches say, is which team will muster more offense. "We need to perfect the offense and turn it into a scoring machine," said Wetherington. "Secure the football, no penalties, no turnovers which can affect the outcome of the game."
Both teams worked quite a bit on passing this week.
"The defenses have been solid," Bales said. "Our offenses have been inconsistent. We have to … execute better."
Standings and schedules
Japan Football League
W L Pct. PF PA
Yokota 5 0 1.000 230 14
Nile C. Kinnick 4 1 .800 75 78
Robert D. Edgren 1 4 .200 28 169
Zama American 0 5 .000 25 97
Kanto Plain Association of Secondary Schools
W L Pct. PF PA
Yokota 4 0 1.000 139 14
Amer. School In Japan 4 1 .800 128 44
Nile C. Kinnick 2 3 .400 27 95
Zama American 0 6 .000 39 179
Friday, Oct. 28
Yokota at Nile C. Kinnick, 7 p.m.
Zama American at Robert D. Edgren, 7 p.m.
END REGULAR SEASON
Okinawa Activities Council
W L Pct. PF PA
Kubasaki 1 1 .500 41 10
Kadena 1 1 .500 10 41
Friday, Oct. 28
Kadena at Kubasaki, 7 p.m.
END REGULAR SEASON
DODDS-Korea League
W L Pct. PF PA
x-Seoul American 4 0 1.000 116 18
Osan American 1 2 .333 39 85
Taegu American 0 3 .000 29 81
x-clinched third straight DODDS-Korea title.
Saturday, Oct. 29
Taegu American at Osan American, 2 p.m.
END REGULAR SEASON
Far East playoffs
Class AA
Saturday, Nov. 5
Semifinals
Yokota at Seoul American, noon
Kubasaki or Kadena vs. Guam High at Guam Naval Station, 3 p.m.
Saturday, Nov. 12
Championship
Semifinal winners at Guam Naval Station, 3 p.m., or at Mike Petty Stadium, Kubasaki High School, Camp Foster, Okinawa, 7 p.m.
Class A
Saturday, Nov. 5
Championship
Robert D. Edgren at Osan American or Taegu American, 2 p.m. or 7 p.m.
Dave Ornauer's weekly grid report
Top Ten
The Top Ten teams in the Stars and Stripes2005 Far East high school football ratings, with records through Oct. 22, points and week's rating, as compiled by Stripes sports reporter Dave Ornauer. Ratings are based primarily on teams' win-loss records, quality of wins, strength of overall roster, point differential, team and individual statistics, strength of schedule and strength of leagues. Maximum rating is 500 points:
Record Pts Pvs
1. Yokota (Japan) 6-0 464 1
2. George Washington (Guam) 7-0 460 2
3. Seoul American 4-0 440 3
4. American School In Japan 5-1 424 6
5. Kadena (Okinawa) 1-1 420 9
(tie) Kubasaki (Okinawa) 1-1 420 5
7. Father Duenas (Guam) 5-2 416 4
8. Nile C. Kinnick (Japan) 4-3 384 7
9. Simon Sanchez (Guam) 3-4 376 8
10. John F. Kennedy (Guam) 4-3 364 10
Week 9 outlook
Friday
Okinawa
Kadena 13, Kubasaki 12
Japan
Yokota 20, Nile C. Kinnick 8
Zama American 12, Robert D. Edgren 10
Saturday
South Korea
Osan American 18, Taegu American 17
Last week: 4-1, .800.
Season: 35-8, .814.
Week 8 grid honors
Yokota-Doug Bloom 4-for-5, 179 yards, 3 touchdowns; 16 yards, 1 carry. Patrick Pamintuan 101 yards, 1 touchdown, 8 carries. Caiveon Thomas 65-yard touchdown catch; 1 interception. Mark Dixon touchdown runs of 17 and 8 yards; 1 fumble recovery. Justin Hudson 2-yard touchdown run; 1 fumble recovery. Anthony McNeill 117 yards, 9 carries.
Robert D. Edgren-Victor Lee 101 all-purpose yards (97 yards, 6 returns; 6 yards, 3 carries; minus-2 yards, 1 reception).
Kadena-Ted Awana 9 tackles, 3 for losses, game-winning extra-point kick. Alex Mierzejewski 67 yards total offense, 1 touchdown (3-for-6, 52 yards; 15 yards, 1-yard touchdown run, 4 carries). Dominique Broussard 6 tackles. Charles Jones 5 tackles.
Zama American-Ben Bishop 13-for-20, 229 yards, 1 touchdown. Carlos Walters 88 yards, 4 catches. Quenton Howard 87 yards total offense (44 yards, 4 carries; 47 yards, 2 catches).
Seoul American-Calvin Lasane 101 yards, 27- and 36-yard touchdown runs, 10 carries. David Smalls 79 yards, 12-yard touchdown run, 6 carries all first half. Bruce Voelker 6-for-8, 97 yards, 20-yard touchdown pass. Daniel Cain 17 tackles, two forced fumbles. Justin Lee 11 tackles, 2 sacks. Clark Campbell 7 tackles, 2 sacks.
Taegu American-Tony Butts 14 tackles. Jamison Walter 10 tackles, 1 blocked extra-point kick.