Kadena completes tennis titles sweep
---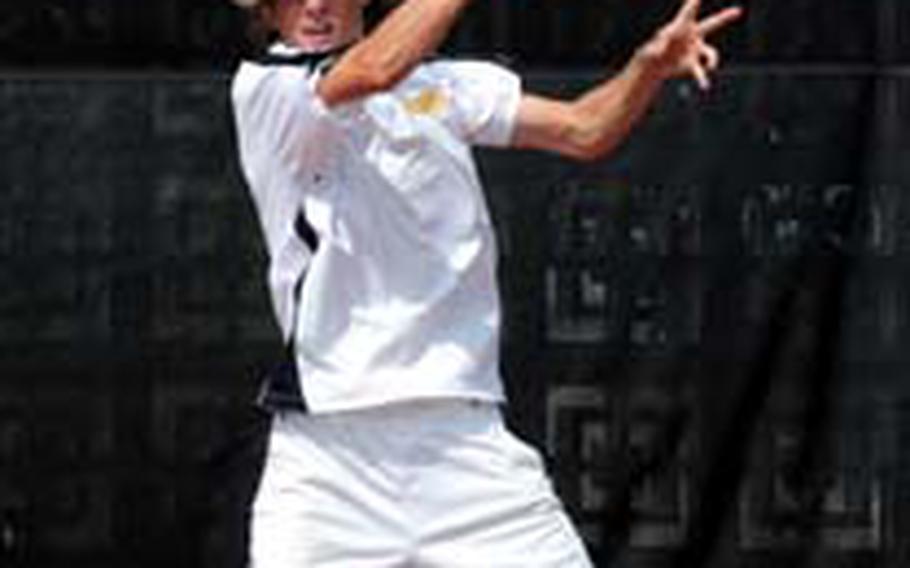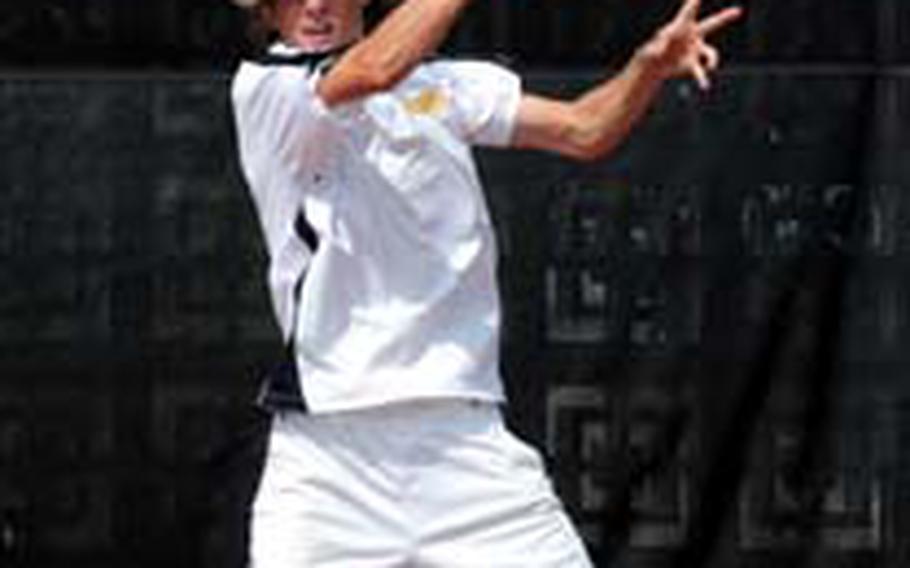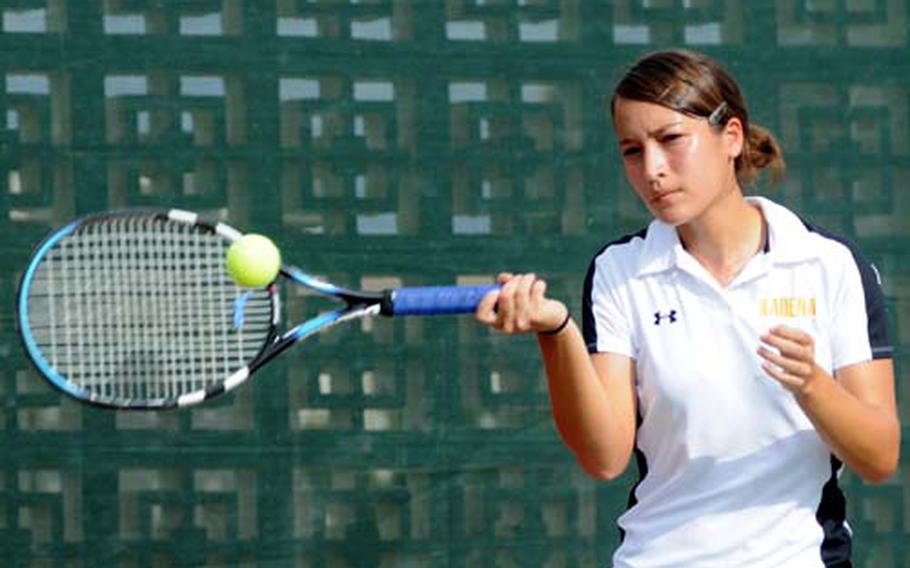 KADENA AIR BASE, Okinawa — As dramatic and exciting as the girls championships were, the boys finals were totally devoid of either.
Whether thrilling or boring, all resulted in gold medals and the team title to Kadena as the Far East high school tennis tournament came to an end Thursday at Kadena's Risner Tennis Center.
"Wow. Some amazing stuff," Panthers coach Robert Bliss said after senior Elissa Mason made it two straight singles titles, beating 2007 champ Kennedy Allen of Seoul American 6-4, 4-6, 6-4. Mason and Christin Gentz later beat Allen and Jacqueline Nguyen 6-7 (6-8), 6-2, 6-3 for the girls doubles title.
On the boys side, Kyle Sprow left nothing to chance in capturing his third straight singles gold, shutting out teammate Elliot Mason 6-0, 6-0. The two then teamed to repeat the boys doubles title 6-1, 6-2 over Seoul American's Chong Lee and Abe Nelson.
Thursday's girls singles final more than made up in drama for last year's showdown in which Mason easily downed Allen 6-4, 6-2. The match featured 17 deuce points and 12 service breaks, six in the first set alone, five in the first five games.
"Her backhand was a lot better and she was more mentally strong" than last year, Mason said of Allen. "I had to not let my mistakes get to me, just take it one stroke at a time and play my game."
"Last year wasn't a good match. I was very disappointed with myself," Allen said. "This year, I was more relaxed, tried to have some fun."
Mason's passing shot in the first set's seventh game pushed her to a 5-2 lead. Allen charged back, breaking Mason's service in the eighth game and holding serve in the ninth to cut it to 5-4. But Mason rallied from an 0-30 hole in the 10th game to seize the first set.
Allen and Mason played 11 deuce points in the second set alone, with Allen's forehand smash putting her ahead 2-0. The two exchanged breaks then stayed on serve, with Allen's service winner leveling the match in the 10th game of the set.
The lead shifted four times in the third set. Allen broke serve with a passing shot to lead 4-3, but Mason closed it out by taking the last three games, two on service breaks, including the last game.
While the girls match took nearly two hours, Sprow dispatched Mason in just over 35 minutes, breaking serve six times, hitting six aces and going to deuce just once. "I thought I played really well. Unfortunately for Elliot, he didn't have his best stuff," Sprow said.
"Nothing worked," Mason said. "Kyle was on and nothing worked for me. I just couldn't get any momentum going."
With the four gold medals, Kadena edged four-time defending team champion Seoul American 56 points to 50. Kadena and Seoul shared the team title last year. Kadena last won the team crown in 2004.
It also marked the end of the four-year run in the Kadena program for the Masons and Sprow. They graduate in June.
"It's been an incredible pleasure working with those three," Bliss said.
Daegu spikers in final; Seoul in semis; Kinnick falls
For the second time in four seasons, Daegu American reached the title match of the Far East Girls Class A volleyball tournament. The Warriors play for their first title since 2005 at 2:30 p.m. Friday.
Behind junior hitter Kristina Bergman, the Warriors rallied past International School of the Sacred Heart 27-25, 20-25, 20-25, 25-14, 15-13 in Thursday's winner's bracket final at Camp Walker's Kelly Gym.
"The feeling is phenomenal," coach Joanna Wyche said. "This proved they can do it. Now, they know they need to pull ahead and stay ahead."
In the Class AA tournament at Guam's Andersen Air Force Base, Seoul American reached its second semifinal in three years and fifth in coach Denny Hilgar's 30 years at the helm. The Falcons dethroned American School In Japan 25-21, 25-16.
DODEA Japan and Kanto Plain champion Nile C. Kinnick saw its unbeaten run end at the hands of Christian Academy In Japan, a squad the Red Devils beat twice during the season. The Knights rallied past Kinnick 18-25, 25-20, 17-15.
Kinnick was 27-0 in the regular season.
Gary Cashman contributed to this report.
---
---
---
---