Kadena claims Class AA football crown in runaway
---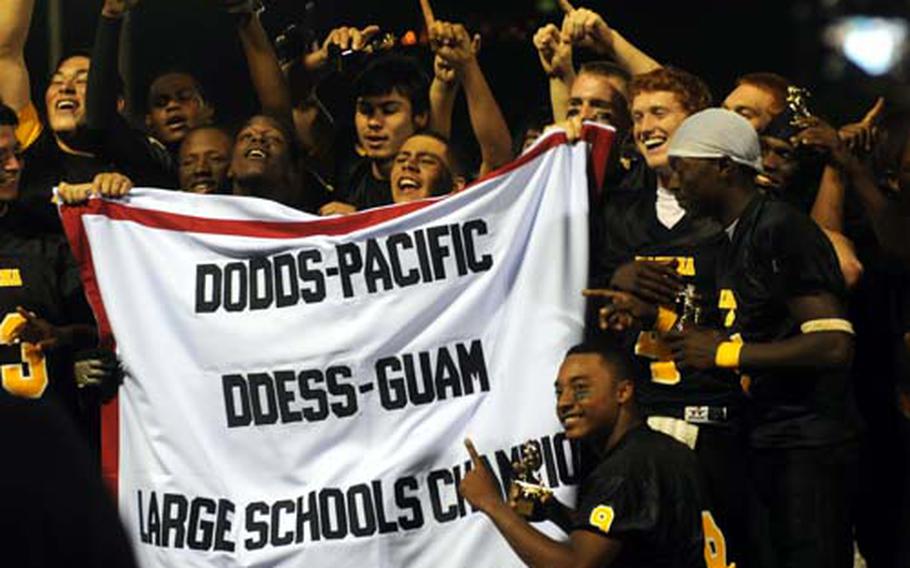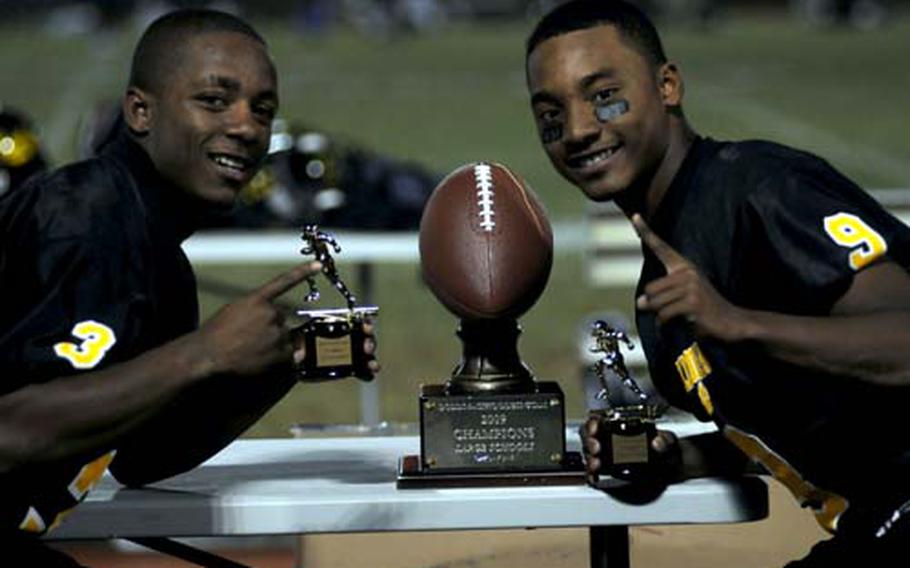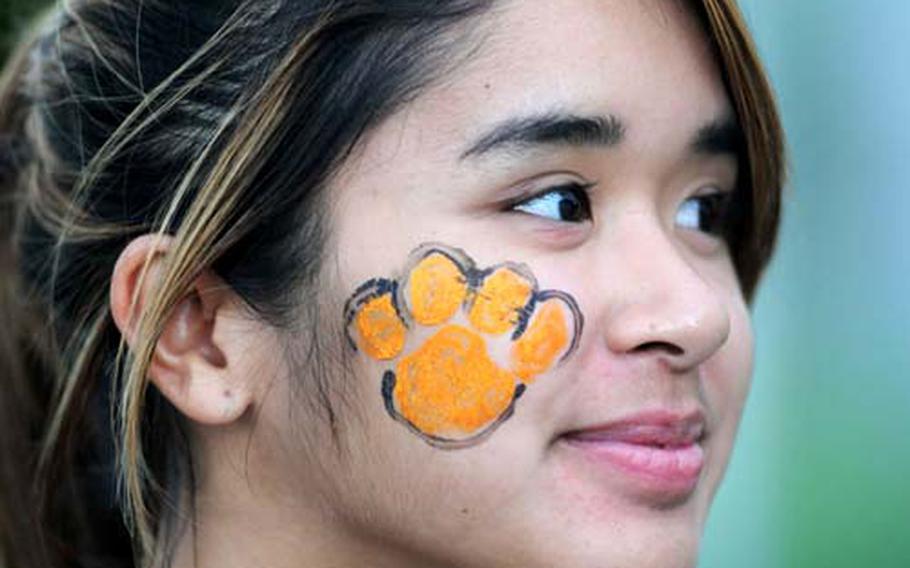 CAMP FOSTER, Okinawa — After losing in heartbreaking fashion in two previous Far East Class AA football title clashes with Seoul American, Kadena left nothing to chance in Saturday's third encounter.
Shariff Coleman and Thomas McDonald each scored two touchdowns, and the Panther defense held the Falcons to 21 yards and two first downs in a 44-0 romp over Seoul American at Kubasaki High School's Mike Petty Stadium on Camp Foster.
It was sweet redemption for Kadena, which lost at Seoul American 12-6 in overtime in the 2006 title game and 22-21 last November, when the Falcons stopped a two-point conversion try on the game's final play.
"The kids didn't forget what happened last year," coach Sergio Mendoza said. "We were committed. We saw that commitment all the way through. It's exciting. I'm proud of them. This is probably the best team in the Pacific and certainly the best team I've ever coached."
The commitment Mendoza mentioned was the players as one enduring grueling weight and conditioning workouts lasting as long as 3 ½ hours during the beastly summer months.
"After a time, it didn't seem worth it, but after winning a Far East championship, it's worth it," senior center Tyler Broome said. "We got a shot at glory and took it all the way. I'm glad to go out this way."
Right from the opening kickoff, it appeared things would go Kadena's way. Seoul American won the pregame coin toss and opted to kick off; Kadena's Rodney Goodson promptly ran it back 79 yards for a touchdown.
"He set the tone," McDonald said. "After that, pretty much everything put itself in place and we kept the tone going. The line did its job and it feels good knowing you're going to be protected by that line."
Coleman and McDonald each added two first-half TDs, triggering a running clock from 3:20 into the second quarter until game's end. Stanley Schrock ran 13 yards for a third-quarter score, and Anthony Tarver tackled Seoul punter Han Yoo in the end zone for a fourth-quarter safety.
"Kadena could do no wrong. Kadena was firing on all cylinders," Falcons coach Alan Morton said. "We got outplayed. Our lack of experience haunted us."
With four of five backs and five of seven linemen returning, it might be just the beginning for Kadena. "The start of a rerun," McDonald said.
In the third-place game, Rainey Daley, Gerald McCloud and DeEric Harvin, finally healthy after nursing injuries all of last month, each ran for a touchdown as Yokota rallied from a 7-0 first-period deficit to down Guam High 24-7.
Jason Brunson caught a 12-yard touchdown pass from Aaron Cosey on the game's first series, an 80-yard, 16-play drive in 8:05, but Yokota's defense held Guam High to 84 yards after that.
Daley ran 13 times for 88 yards, McCloud 14 for 56 and Bradley Forbes 12-for-57. Brunson compiled 114 yards of total offense for Guam High.
CAJ spikers become lowest seed to capture Class AA title
ANDERSEN AIR FORCE BASE, Guam — As just the No. 7 seed entering last week's single-elimination playoffs, few, even coach Tanya Hall, expected Christian Academy In Japan to capture its third Far East Class AA Volleyball Tournament title in five years.
Yet the Knights made history in beating Faith Academy in Saturday's title match 20-25, 25-23, 25-22, 25-23. They're the lowest seed to win the title since the 1995 inception of the three-day dual pool and division play format to seed teams into the elimination round.
"I'm in shock that my girls could do this, but it was awesome," said Hall, who won her fourth Class AA title overall since 2001. "Our girls pulled it together. … It's fun to be an underdog, with nobody expecting you to win and then go take it all."
Seoul American, the No. 1 seed in the playoffs, captured third place by downing Guam champion George Washington 25-14, 25-17. "They know what level they have to be," coach Denny Hilgar said. "We made a statement that Seoul American is ready to come back now. It's a match they totally dominated. I'm happy."
Japan and Kanto Plain champion Nile C. Kinnick, which beat CAJ twice in the regular season, fell to sixth place, losing to Seisen International 22-25, 25-23, 15-8; Kinnick also beat Seisen twice during the season.
Gary Cashman contributed to this report.
---
---
---
---