Kadena back Morgan poses problems for playoff opponents
by
Dave Ornauer
November 4, 2003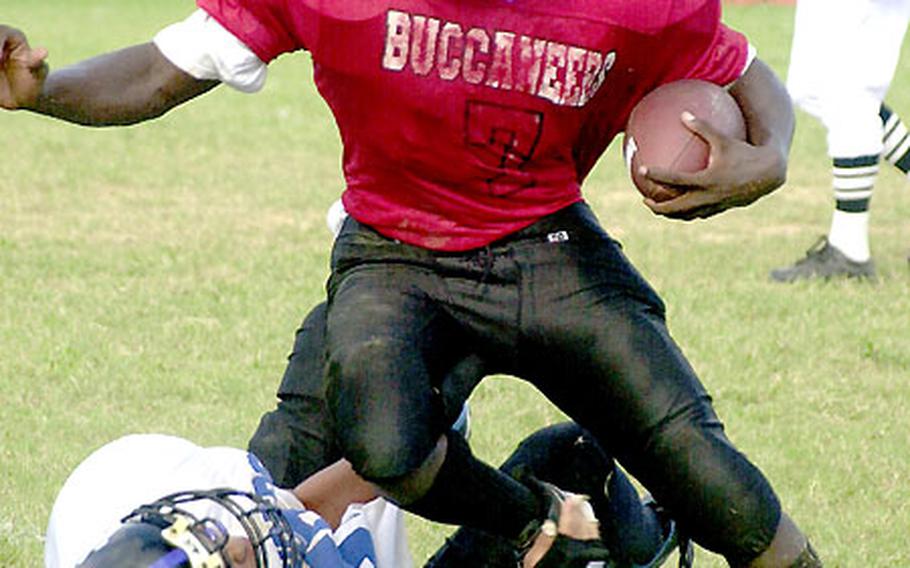 Can A.J. Morgan be stopped? If so, how?
That's the dilemma facing the Kubasaki Samurai when the Okinawa Activities Council football playoffs begin Tuesday.
Morgan leads the top-seeded Kadena Buccaneers (5-1) against the defending champion Samurai (1-6) at 4 p.m., followed by the Kadena Islanders (5-1) against the Kubasaki Shogun (1-6).
Tuesday's winners will meet Saturday for the island championship. The island champion will host five-time Japan Football League champion Yokota in the Rising Sun Bowl, the All-Japan championship, on Nov. 15.
All eyes will be on Morgan, the Buccaneers' senior quarterback/tailback/linebacker/return specialist who has amassed 487 all-purpose yards, five touchdowns, three interceptions and a fumble recovery in the past two games.
"He's at the top of his game," said coach Sergio Mendoza, whose Islanders were torched by Morgan in a 29-0 defeat last Thursday.
Morgan rushed 12 times for 100 yards and a touchdown against the Islanders. He also had 63 yards passing and returned four kicks for 82 yards.
"I don't see how he can be stopped," added Shogun coach Charles Burns, victimized a week earlier by Morgan for 80 yards and a touchdown on three carries, 2-for-3 passing for 89 yards and two scores and 78 yards and a touchdown on four returns.
Bucs coach Brian Wetherington said Morgan always had the talent but has augmented his game with a huge dose of determination this season.
"He's a man on a mission," Wetherington said. "He's becoming more confident and poised every week. He's challenging his teammates to rise to his level of play. They give him a lot of support. They see his intensity and they rise to the level of his intensity."
Morgan has rushed 62 times for 545 yards and eight TDs, is 10-for-30 passing for 281 yards and four scores and has 206 yards on 11 returns this season. Most of that has come in the past two games.
What has lighted such a fire under Morgan? Wetherington points to last year's island championship game — in which the Samurai beat the Bucs 35-27 — for creating a hunger that is fueling Morgan this season.
"That's their motivation," he said. "They felt they could reach the Rising Sun Bowl and they came up short. The Samurai had a lot of seniors and they were hungry.
"This year, it's our turn. He's [Morgan] hungry," Wetherington said. "He's taking the lead in that mission, which is to get to Rising Sun. He's got his teammates hungry."
That hunger is a big reason people such as Burns and Mendoza feel Morgan will be difficult, if not impossible, to stop.
"He's doing it all," Burns said. "He's the best athlete on the island. I don't see how you can stop him, unless you put 11 on one, but if you do that in the open field, he'll still slip through."
"It takes focusing on him," chimed in Mendoza, adding that keying on Morgan comes at the risk of not covering other Bucs weapons, such as running back Tyler Schmidt (46 carries, 368 yards, seven TDs), as carefully.
"They have so many weapons, but they have A.J. and you have to account for him," Mendoza said. "It's foolish to not plan your defense around stopping him. It's a matter of coming at him with the right plan."
The Samurai get the first crack at Morgan. But some feel the Buccaneers' advance to the championship is a foregone conclusion.
"I believe the Bucs will roll into Rising Sun on A.J.'s back," Burns said.