K-town golfer Antonik's best shot is his approach
by
Rusty Bryan
October 13, 2005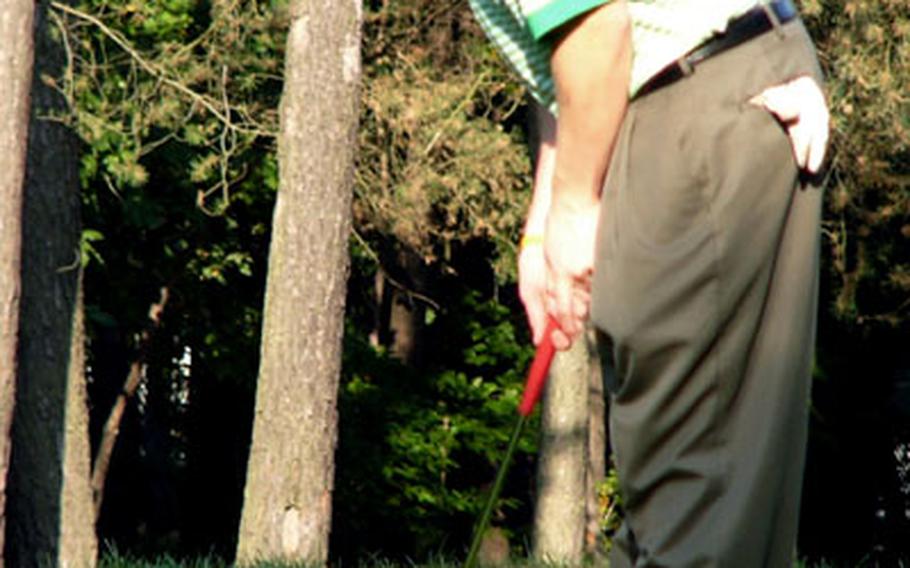 Kaiserslautern High School junior Ben Antonik is as ready as he can be for the two-day European high school golf championships.
"This summer, I worked as hard as I could," the 16-year-old said while practicing at the Woodlawn Golf Course on Ramstein Air Base, Germany, on a bright autumn Tuesday afternoon.
"I had a job at the course. Before and after work, I'd go to the range and hit balls for about four hours a day."
The effort produced the kind of polish evident in Tuesday's 2-over score on the front nine, punctuated by a pair of chips to within 18 inches and a 25-foot downhill putt from the fringe that dropped into the hole as though it were guided by GPS.
Antonik, whose handicap is 10.5, missed the fairway just once during the afternoon.
Rounds such as Tuesday's, however, weren't the only thing driving Antonik to empty those buckets of balls all summer.
"I have to work hard because of people like my friend Chris [Hustead] of Ramstein," said Antonik, who finished seventh in Europe as a sophomore.
He added that Hustead, the European third-place finisher in 2004 behind graduated champion Greg Nyander of Heidelberg and runner-up Jason Allard of Rota, has kept him focused during his current 4-0 fall season.
"Last week, Chris really put the pressure on me," Antonik said. "He had three birdies on the front nine, and I had none."
Antonik, however, finished with 47 Stableford points to Hustead's 40.
Antonik, Hustead and the other top high school golfers in Europe will go at it again Thursday and Friday on the challenging 6,606-yard, par-72 Rheinblick layout near Wiesbaden, where the Europeans will compete for the second straight year.
"It's like Augusta," Antonik, the best scorer in Europe this fall with a 44.75-point average per outing, said of Rheinblick's mountaintop layout. "Both have sloping fairways and fast greens. You've got to play smart."
Playing smart is no chore for Antonik, according to his coach, Gerald Oyan.
"What I like about Ben's game," Oyan said, "is that he approaches each shot with three or four options. Most high school golfers do one thing well and just go for it. Ben thinks about what he's going to do and gets things ready to do it."
Playing smart at Rheinblick requires accuracy, another of Antonik's attributes.
"He has improved this year," Oyan said, "because of his consistency. I have every reason to believe he's going to be a great golfer someday."
Rheinblick's quirks also play into the short game that Antonik cited as his strongest weapon on the course, one that he's been working on particularly in preparation for this week.
"I've played target golf all week to tweak my short game," he said. "It really helps you get up and down when you miss a green."
Antonik, who has lived in Kaiserslautern for the past six years and has been playing since the seventh grade, added that he'll deal with the Europeans' two-day format by applying a lesson from his father, Doug.
"My dad taught me nearly everything I know about the game," he said. "He says you can't win the tournament on the first day."
Look for Antonik, though, to be in position to win this one on the second.