Junior transfer Wright gives Zama girls a presence in the middle
---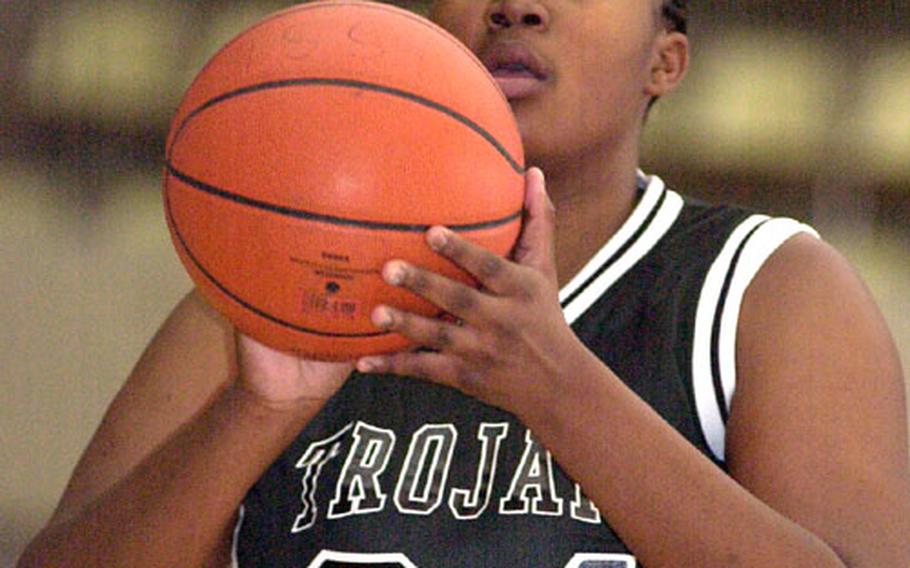 In a Japan Basketball League season in which transfers have made a huge difference for their teams, perhaps nobody has had more of an impact than Zama American's Tiffani Wright.
With Wright averaging school records of 23.5 points and 16.3 rebounds per game, the Trojans have gone from last season's also-rans to title contenders.
Their 13-6 overall mark is third-best in Japan; they're second to Yokota with a 9-2 record in the Kanto Plain Association of Secondary Schools and third in the Japan League with a 4-4 mark. They were 13-14 in 2003-04, 7-9 and in fourth place in Kanto Plain and 7-4 and second in the Japan League.
Wright issued a scary statement — at least for other teams: "They haven't seen the best of me yet," said Wright, who transferred in August from Escambia High in Pensacola, Fla., to Atsugi Naval Air Facility, where her father, Chief Petty Officer Reginald Carr, is assigned.
"We haven't had a game where everybody came to play," she said. "If everybody brings their game, we'll be unstoppable."
The Trojans already are strong thanks to the 6-foot Wright's presence in the middle. She's not overly quick nor an exceptionally high jumper, but Wright is tough to defend or block, gets in good position to score and rebound and hits 75 percent of her foul shots.
More than anything, though, she adds confidence and a "go-to" option to a team that retained most of last season's roster.
"She's the backbone of the team," said co-coach Veronica Tipton-Jones. "She has the basketball mentality. She's a finisher [something] we lacked last year. We had players with skill, but we didn't have a finisher."
"She's a true leader," said co-coach Parrish Jones, "willing to do whatever it takes when the pressure is on. When she has to handle the ball, she'll do it. She motivates the team out there. She knows the game, and she loves the game."
Much of that game know-how developed in Pensacola, Wright said. The youngest of four children, she's been playing ball since elementary school.
"My parents played and I liked it," she said. "When I was in Florida, I started to take it seriously."
Seriously enough that at Escambia, Wright started for two seasons on the varsity. She averaged 16 points and nine rebounds as her school finished third and second in the district.
When this season began, Wright found she blended in well with a team featuring senior guards Elli Legaspi and Kate Shicks.
"They welcomed me right away," Wright said.
"I enjoy this team. We have fun on the bus rides, playing games, drawing faces on coach's and Elli's and Kate's faces when they fall asleep," she said. "We get along off the court. We hang out a lot, go to the movies, have barbecues at coach's house. We keep it like family."
Wright keeps the big numbers coming on the stat sheet. Her 38 points in Zama's 59-29 win Jan. 8 over International School of the Sacred Heart was three short of the Pacific game record set five years ago. She's scored 20 or more points in 11 of 19 games. Her 26 rebounds on Feb. 1, in a rematch with Sacred Heart, set a school record.
"She adds a very aggressive mind-set on the court," Shicks said. "It helps everybody get pumped up."
Wright's opponents, including Yokota coach Ric Cabral, have noticed. Though JBL-leader Yokota beat Zama 71-54 on Jan. 19 at Yokota, Wright scored 24 points and grabbed 17 rebounds.
"She's a legitimate post player," said Cabral, a former three-time All-Air Force player. "She's really strong. She uses her body extremely well. She has a really good touch around the basket, doesn't miss layups, seals off the defender. And she's a good free-throw shooter."
Wright said she hopes to be playing ball long after Zama. She said she's interested in playing for Florida State but "my father wants me to go to Virginia." She's also attended Auburn's summer basketball camp, has been sending out videotapes and keeping newspaper clippings of her games.
"I'm pretty serious about basketball," she said.
Her arrival portends well for a Zama team that figures to challenge for its first title in the Far East Class AA tournament, scheduled Feb. 21-26 at Seoul American. The Trojans haven't reached center court in the tournament since losing to Yokota in 1991.
"We have speed, defense, good passing skills and shooting," Wright said. "We just haven't played like we really can."
Legaspi agreed. "When we're on, we're unstoppable," she said. "If we play to our highest potential, we can reach center court."
---
---
---
---