Johnson's fourth-quarter tackle saves Edgren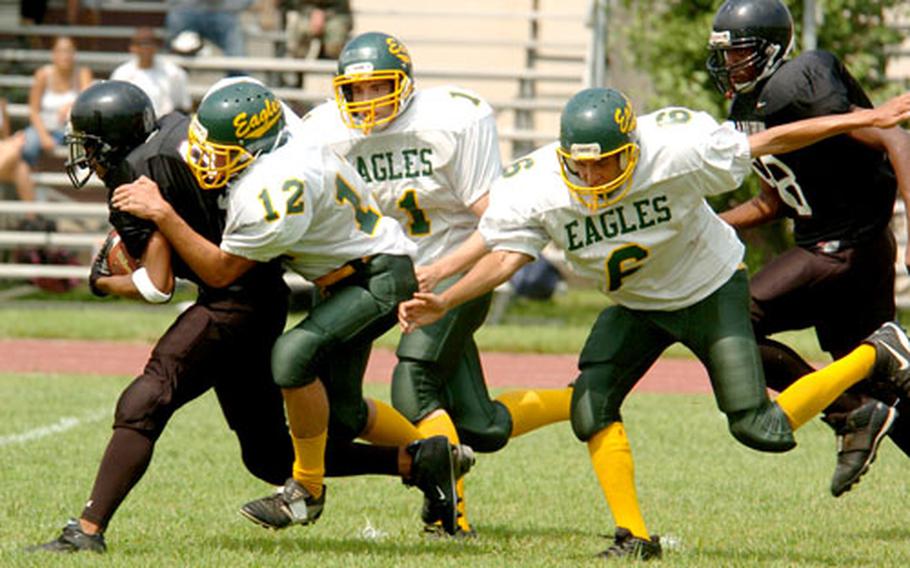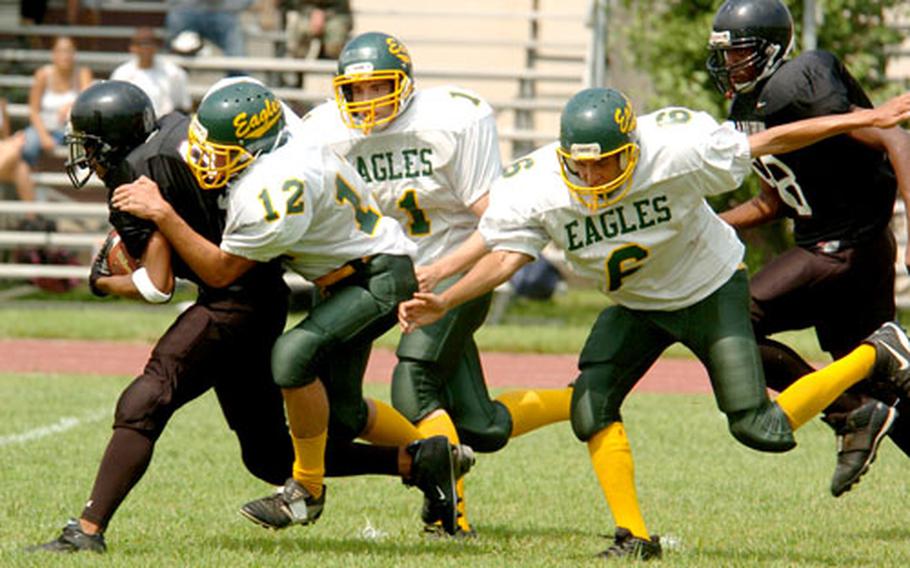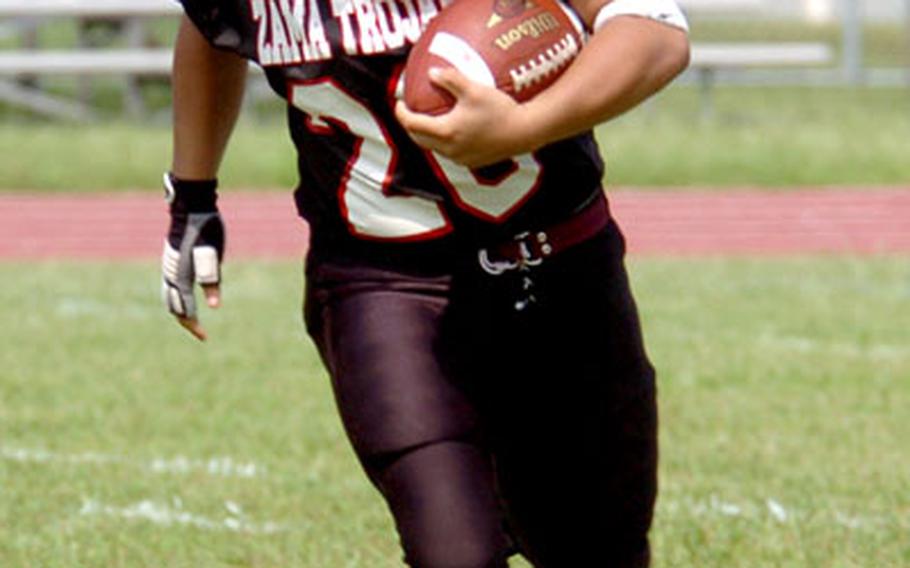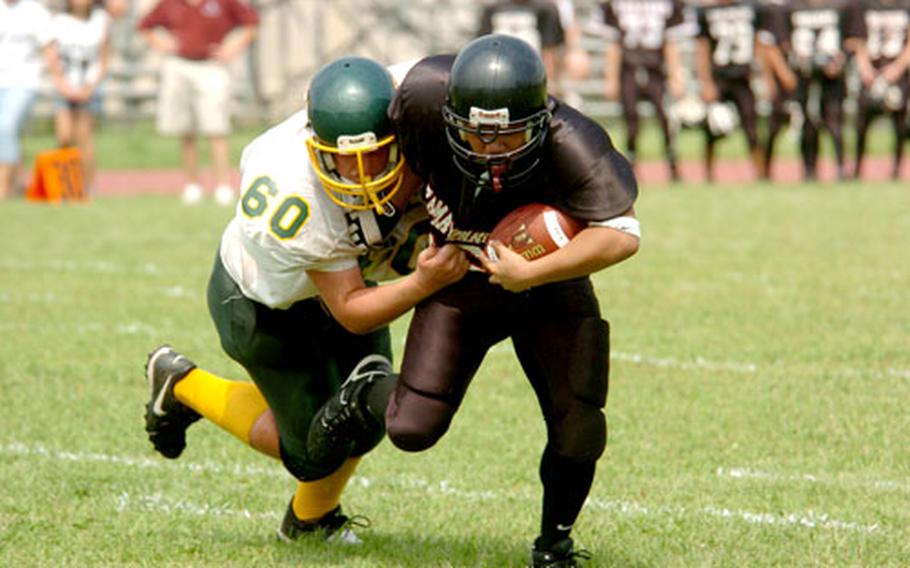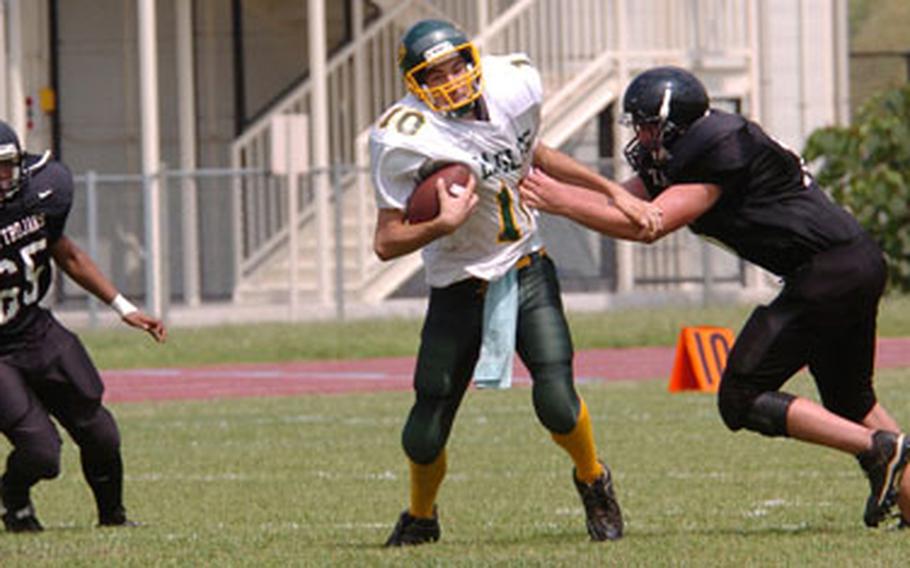 When the Robert D. Edgren defense needed a huge stop Saturday, Neil Johnson came through.
The junior outside linebacker tackled running back Christian Sandiko in the backfield on a two-point conversion attempt in the fourth quarter, preserving the Eagles' 7-6 victory over Zama American at Camp Zama, Japan.
Edgren evened its Japan Football League record at 1-1. The Trojans fell to 0-2.
"That was a big play," Edgren coach Jim Burgeson said. "He saved it for us. They [Zama] had the momentum."
That momentum came courtesy of Trojans junior quarterback Ben Bishop, who hit receiver Carlos Walters on an out pattern. Walters shook free of a tackler and ran down the left sideline into the end zone, completing a 40-yard touchdown reception and cutting the gap to 7-6.
Trojans coach Victor Rivera then opted to try for a two-point conversion and a one-point lead, instead of kicking for one point and playing for a tie. He called for a pitch-and-run play, sending Sandiko over left tackle.
"They [Edgren defense] read it perfectly," Rivera said.
The Eagles took advantage of a muffed punt snap with two minutes left in the first half. Edgren's Darren Hall fell on the ball in the end zone and Patrick Pezoulas booted the extra point.
Burgeson, in his third year at the Eagles' helm, improved to 2-3 against Zama but sounded a warning that the Trojans could be a force to be reckoned with. Unlike past Zama teams, which were rife with dissent, players throwing helmets and bickering, this Trojans squad comported itself well, Burgeson said.
"It's a different mentality," he said. "It's going to take a while, they'll endure some growing pains, but that coach is making such a difference, has them headed in the right direction. And with their size, they are scary."
Japan football
Japan football
Japan Football League
W L Pct. PF PA
Yokota 1 0 1.000 49 0
Nile C. Kinnick 1 0 1.000 14 6
Edgren 1 1 .500 13 20
Zama Amer. 0 2 .000 6 56
Kanto Plain Association of Secondary Schools
W L Pct. PF PA
Yokota 1 0 1.000 49 0
ASIJ 1 0 1.000 15 0
Nile C. Kinnick 0 1 .000 0 15
Zama Amer. 0 1 .000 0 49
Friday's game
ASIJ 15, Kinnick 0
Saturday's game
Robert D. Edgren 7, Zama American 6
Friday, Sept. 16
Nile C. Kinnick at Yokota, 7 p.m.
Saturday, Sept. 17
Zama American at ASIJ, 1 p.m.