It's showdown to set up showdown
---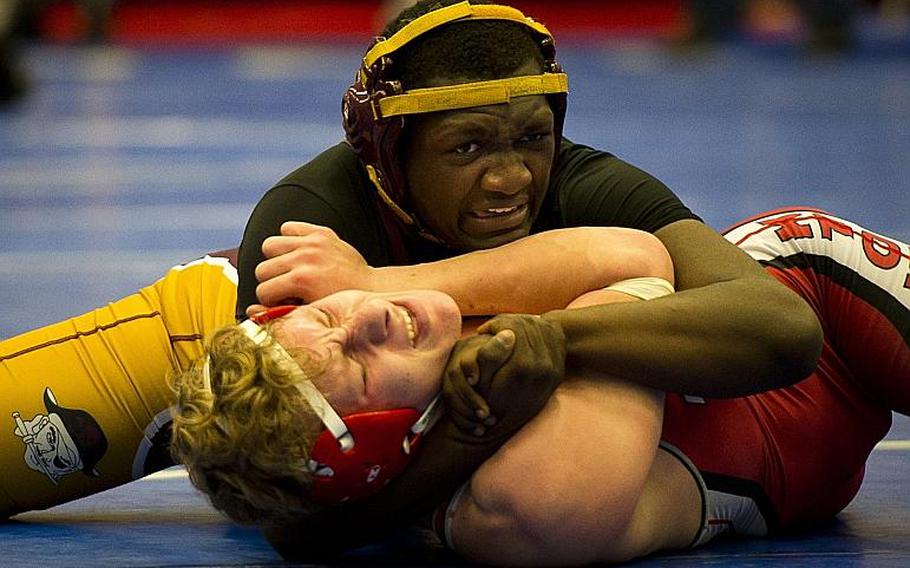 The Ramstein Royals and Stuttgart Panthers are still heading for their annual, inevitable clash for the DODEA-Europe Division I wrestling championship. But this year their paths will be a little different.
The twin juggernauts of European wrestling will compete in the same sectional qualifying meet this weekend, compelling the Royals and Panthers to tangle on the mats just a week before they do so again with a European title in the balance. That's a notable departure from the usual arrangement that quarantined the two large-school powers into separate sectional meets.
Ramstein will host the meet, one of three sectional qualifiers scheduled for Saturday that will determine the field for the European championship meet set for Feb. 17-18. Division I squad Wiesbaden, Division II Rota and Division III hopefuls Baumholder and Hohenfels join the Royals and Panthers in the central sectional.
Lakenheath, last year's third-place finisher, welcomes Division I Kaiserslautern and SHAPE, Division II Bitburg and Division III Alconbury and Brussels for the northern sectional.
Division I contender Vilseck and the two-man squad from Munich International, meanwhile, travel south to share a sectional bracket with Italian programs Naples, Sigonella, Vicenza, American Overseas School of Rome and host Aviano.
Each team's immediate goal in the sectional round is to qualify as many wrestlers as possible for the European tournament, thereby maximizing the number of wrestlers accumulating points for their team and increasing their odds of the coveted divisional team championship.
Stuttgart coach Norm Matzke and Ramstein coach Thomas Wright acknowledge that this year's alignment complicates that process, but said it hasn't derailed their usual preparations.
"No, not really," Matzke said. "We work hard in the practice room every day with a goal of peaking for sectionals and Europeans."
Wright is approaching the early meeting with the defending champion Panthers optimistically.
"The competition is welcomed," Wright said. "I imagine we will see a lot of rematches in the finals."
That steady confidence is rooted in DODEA-Europe's sectional qualifying rules. The top three wrestlers in each weight class at each sectional meet will earn automatic spots in the European tournament, and a few more spots will be awarded on a wild-card basis to fill out the final brackets.
That leaves plenty of room for both the Royals and Panthers to advance their top contenders, and even their strong No. 2 wrestlers, at most weight classes. Put bluntly, a wrestler who falls short of the top three even in a loaded sectional field is unlikely to be a major factor at the more competitive European level.
But even if there's some margin for error, now is the time for wrestlers from across DODEA-Europe to hit their performance peak,
"We practice a little longer and with a little more intensity for sectionals," Vilseck coach Jim Hall said.
Teams also utilize fresh techniques to increase their wrestlers' odds of advancing as far as possible.
"We are in the part of the year where we concentrate on individual wrestlers from other teams that our wrestlers could be wrestling at sectionals and Europeans," Lakenheath coach John Mitchell said. "Coaches will study video of top opponents and create a workout based on their findings."
Kaiserslautern coach Brian Daly said a wrestler's performance at sectionals can have a major impact heading into Europeans, even beyond the simple question of qualifying or not.
"It depends on the wrestler. Some wrestlers let losses get into their head and need that confidence" of a first-place sectional finish, Daly said. "Some use losses as motivation."
But even as wins, losses and projected points become a major preoccupation, coaches try to maintain perspective.
"We always stress improvement and finding personal success," Aviano coach Robin Clement said. "The ultimate goal is to be the best wrestler you can be no matter where you finish in your bracket. Qualifying for the Europeans is one of the measurements of success, but not finishing first doesn't mean that you are not successful."
Twitter: @broomestripes
---
---
---
---