Home team
It'll be hard to top Smith's high jump
---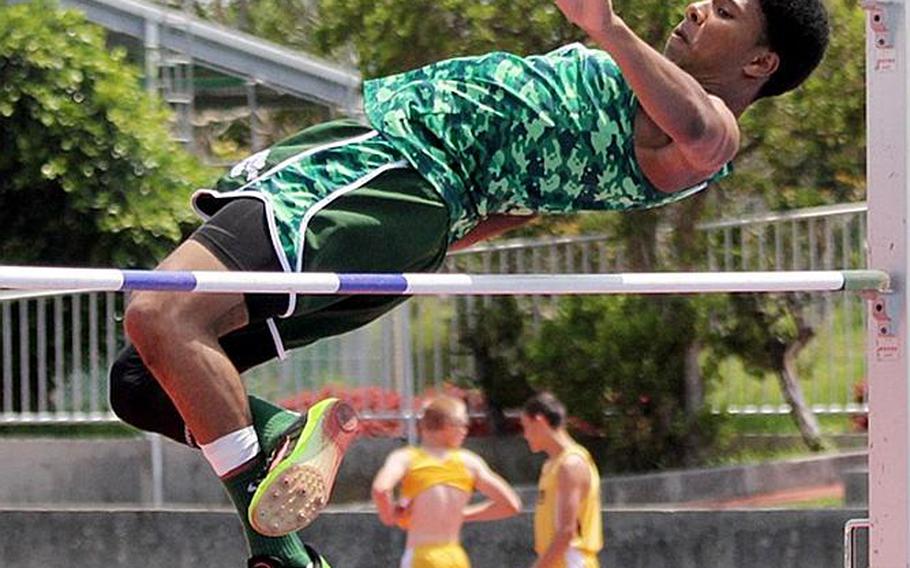 CAMP FOSTER, Okinawa – They say that records are meant to be broken. Some, however, may withstand the test of time for years or even decades.
Christian Sonnenberg of Yokota broke a 27-year-old record for discus earlier this season, one that many observers said would stand forever.
Now, many eyes have turned to the high jump, and the only jumper ever to go over 2 meters, Lotty Smith, Kadena Class of 2011. His jump of 2.0066 in the 2011 Far East meet, some are saying, is Pacific track's version of the unreachable star.
Since Smith departed for the Army, the only one who's come close is Yokota's Donovan Ball, who hit 1.95 in the 2013 Kanto finals. The highest anybody jumped last season was Kadena's Preston Harris (1.88) and this year, so far, it's Kubasaki's Johann Wright at 1.82.
"We've had some come close," said Bruce Carrick, a Pacific track and cross country observer since 1995 and Kanto Plain meet manager. He noted that a large group of jumpers in the 2000s pushed for it, but none before or since. "That could be a random thing. … In a small statistical field like we have, luck can radically alter things."
The group he cited included Jun Dambara of St. Mary's, who hit 1.95 in 2004; Shorai Ashida of Christian Academy Japan (1.96 in 2010); the late Conor MacMannis of Kubasaki (1.98 in 2011) and Kadena's Marquis Newton, who still holds the Okinawa district meet mark of 1.98.
"He had great people pushing him," said Smith's coach at Kadena, Sergio Mendoza, about jumpers like Ashida and MacMannis. "That kind of competition really pushed Lotty and he was not going to lose."
Mendoza and Smith, 22, now an Army specialist who runs the 100 for his battalion at Fort Leonard Wood, Mo., remember the jump and how Smith "couldn't let my coach, my teammates or myself down," he said.
It was his third and last attempt at 2.0066, or 6 feet, 7½ inches. "When I approached and took off, I was so focused that I didn't feel any strain or any type of effort," Smith said. "I felt as if someone picked me up and pushed me across. Once I completed the jump, I was in disbelief because the jumps I had prior, I touched or barely nicked the bar."
"He was looking nervous, so I told him, 'I love you whether you make it or not,'" Mendoza recalled. "He smiled, he looked at the bar, he was determined and he was ready to go and he was ready to make it, no doubt. It was one of the more special times I had with an athlete."
What made Smith's feat more surprising was he was in multiple events, the long jump, 400 relay and 200. While coaches like to place athletes in certain events to maximize points, Carrick said more successful jumpers, such as Dwight Stones and Dick Fosbury, committed to just that one discipline.
"High jump takes a lot of dedication," Carrick said. "You have to focus on that event only. From what I've seen in training videos, training would consume most athletes' times and they'd not be able to cross it over to another sport."
That said, "Lotty was really special. So was Shorai. He was talented. Who knows what (they) could have done had (they) focused on high jump exclusively?" Carrick said.
For his part, Wright feels with enough work, it could be done. "It doesn't seem impossible," he said. "With a lot of work and focus and working with my coaches every day out here, it seems within range."
He works with assistant coach Shelley Johnson, mostly on form, "which is my biggest weakness when it comes to the high jump. I have the height for it. It's the form that puts me a step behind. I need to work on my arch, especially, and not get frustrated when I mess up" a jump.
He says he does feel that competing in multiple events – he also does long jump, the 400 and sprints – does detract from his jumping, but he does "whatever's best for the team," Wright said.
He leaves Kubasaki after this school year, but before that he says: "I want to get to 6-foot-5. That's my goal."
What will it take for somebody to catch Smith?
"My record will stand until somebody gets in reaching distance of it," Smith said. "Just as I got in reaching distance of Marquis Newton's record. Once I saw I was that close, I felt as if I was destined to break his record."
Mendoza said it would take an athlete like Smith, whom he described as having "beautiful footwork, beautiful balance and amazing strength, upper and lower body."
"That would be the kind of person it would take" to take down Smith's mark, Mendoza said. "Someday. Records will always be broken. But not that one for a while. A long while."
Twitter @ornauer_stripes
---
---
---
---