Boys soccer roundup
ISB leaves Germany still unbeaten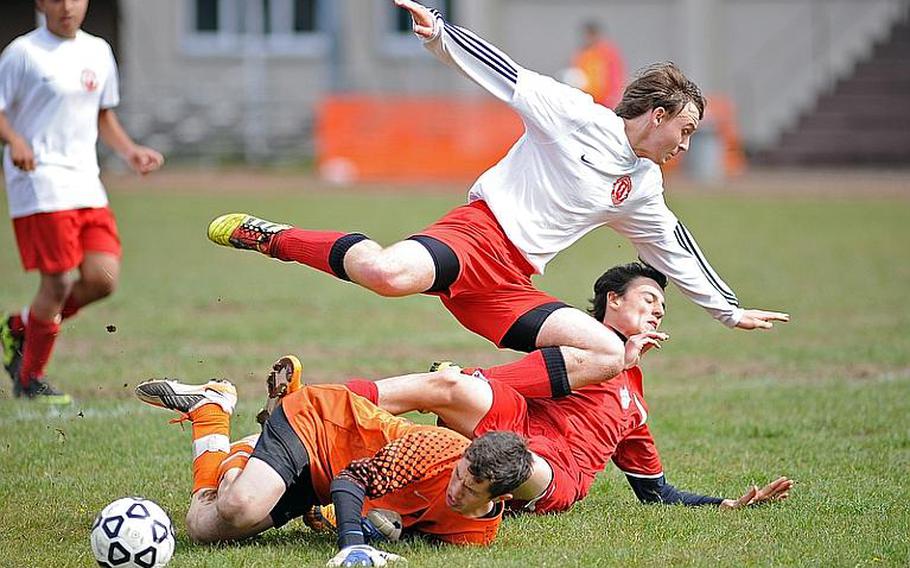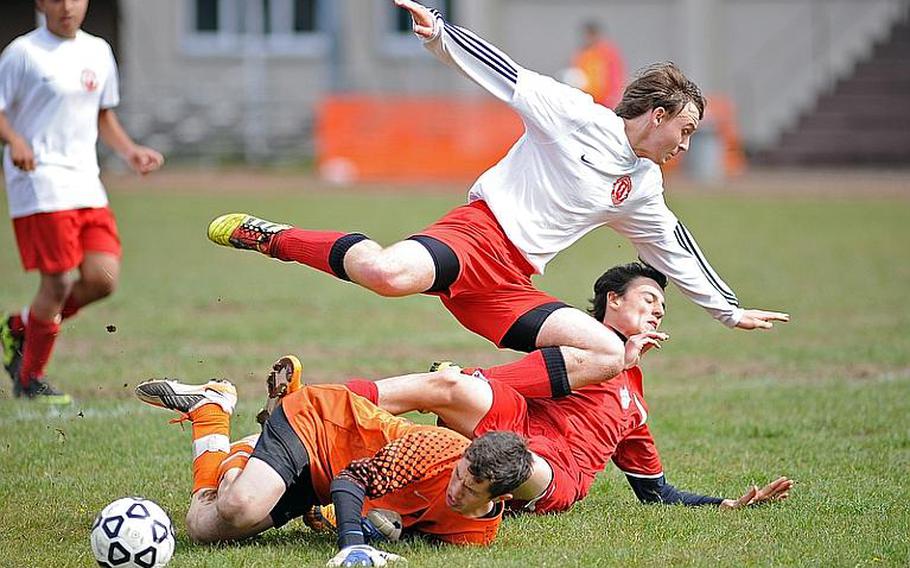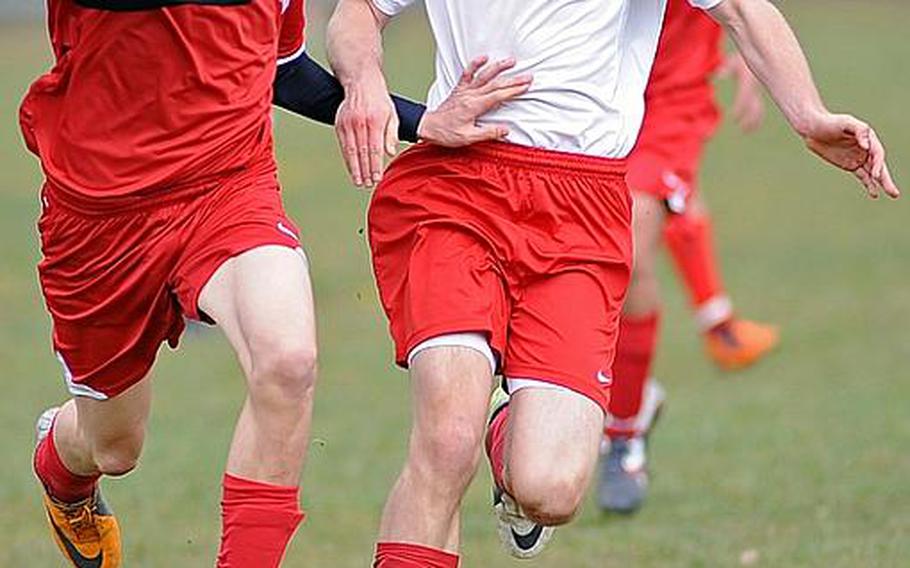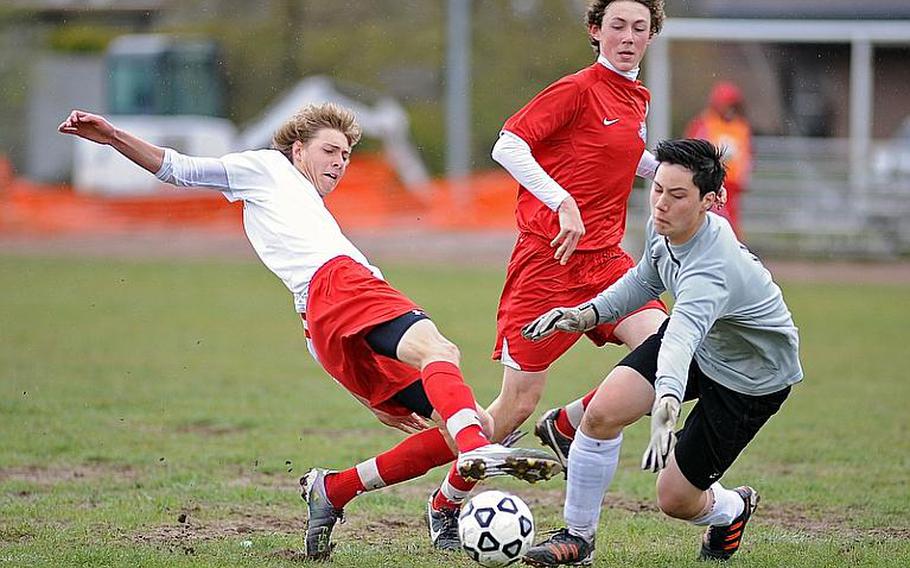 The unbeaten International School of Brussels boys, playing less than 18 hours after their 3-1 victory Friday at Ramstein, completed a two-day swing through the Kaiserslautern Military Community with a 1-1 tie Saturday against the Kaiserslautern Red Raiders.
Alessandro Pryce broke away for a last-minute-of-the-first-half goal after ISB had dominated play in the opening 40 minutes, according to K-town coach Ken Robinson. But Robinson's Raiders also were able to remain unbeaten when Cody Tremaine, off a pass from Scott Hinrichsen, headed home the equalizer after intermission.
ISB, which fired 15 shots on net, according to Robinson, will take a 2-0-1 record into its next game, and third straight against a Division I team, when Lakenheath comes to Brussels on Saturday for a Region I game. K-town (3-0-1) is scheduled to host Black Forest Academy that same day in a Region II match-up.
In other boys' soccer of note on Saturday:
Sigonella 5, International School of Florence 2: At Sigonella, Alessandro Thomas scored three goals and assisted on the other two as the Jaguars improved to 2-2 in Region IV play.
Peter Swisshelm also racked up two assists for Sigonella, which led 4-0 at intermission and is scheduled to travel to Milan on Saturday.
Florence fell to 0-3-1 and will try for victory No. 1 Saturday when winless Aviano comes to town.
Patch 5, Bamberg 0: At Stuttgart, Christian Harvey, assisted both times by Nick Gulbronson, scored twice and assisted on a goal by Gulbronson to lift the Panthers to the Region III victory.
Patch, which was coming off a 1-1 Friday tie against visiting Black Forest Academy, also benefited from scores by Matteus Camacho and Christian Rauschenplat, who found the net for the second straight day.
Patch, which next is scheduled to host regional foe Schweinfurt on Saturday, is 2-1-2 overall and 2-1 in the league. Bamberg will take an 0-5 overall and regional mark into its next game, a visit by Division I power Heidelberg on May 5.
Vilseck 13, Ansbach 0: At Vilseck, the Falcons improved to 4-0 by launching 53 shots at the Ansbach goal, according to their coach, John Sabala.
It was Vilseck's fourth shutout in four outings this season.
"The Vilseck boys dominated possession of the ball throughout the game once again with midfielders Nathaniel Strauss and Mark Bussell controlling the middle of the field to keep the ball in the Ansbach backfield …" Sabala wrote in an email report Saturday. "The Falcon offense is beginning to come together as a group while the defense continues to hold its opponents scoreless."
Coming around in a big way Saturday for Vilseck's offense were junior midfielder Sage Thornbrugh, who scored five goals and assisted on another, and senior midfielder Tyler Lewis, a Bamberg transfer, who found the net four times and assisted on two other goals.
Alex Panullo scored twice for Vilseck (4-0, 4-0) which is to play at Heidelberg on Saturday. Ansbach, 1-3 overall and in the region, next is scheduled to travel to D-II power Hohenfels on the same day.
Heidelberg 4, Hohenfels 2: Saturday at Heidelberg, the unbeaten Lions posted their first victory of the season by handing the visiting Tigers their first loss of the season.
Preston Harrison scored twice for Heidelberg (1-0-2 overall and 1-0-1 in Region III), which had tied Black Forest Academy and Patch in its previous two outings. Saturday, however, was a different story.
"Our offense was on point today," said Heidelberg coach Enrique John by telephone on Saturday. "(Midfielder) Vinnie Harrington had a great game for us."
A.J. Limin and Andrew Guelle also found the net for Heidelberg.
Devon Fluyker and Jacob Witty tallied for Hohenfels, 3-1 overall and in the region.
---
---
---
---