International Guzzlers, Camp Casey take Pacificwide softball tourney titles
by
Dave Ornauer
June 2, 2004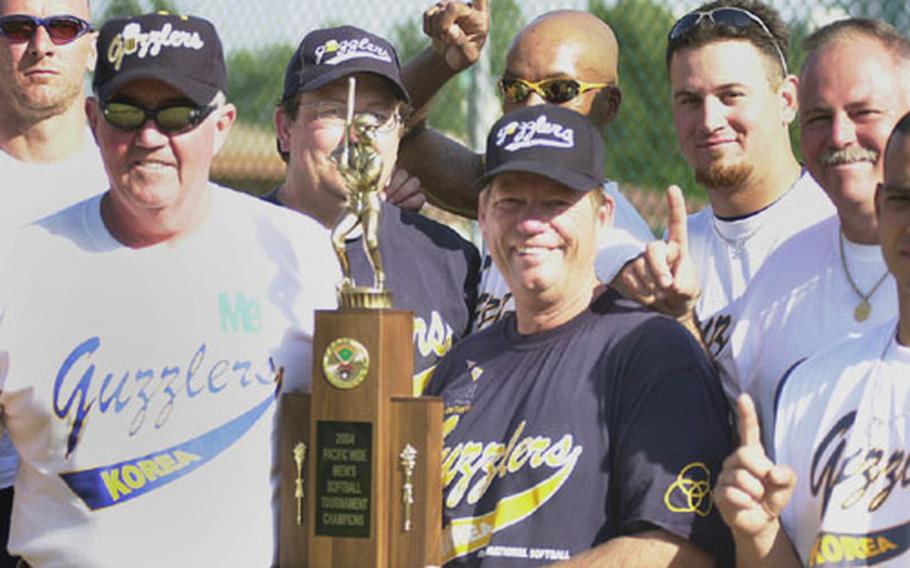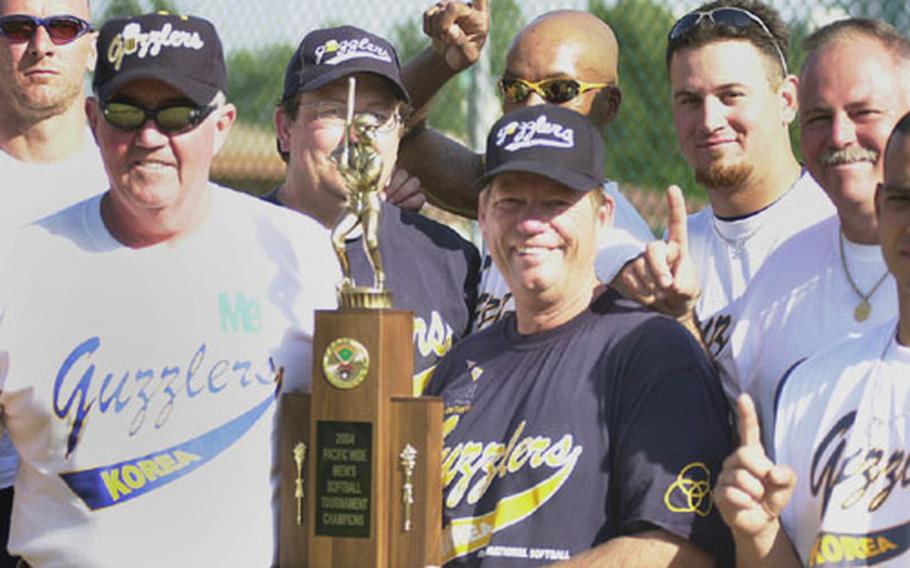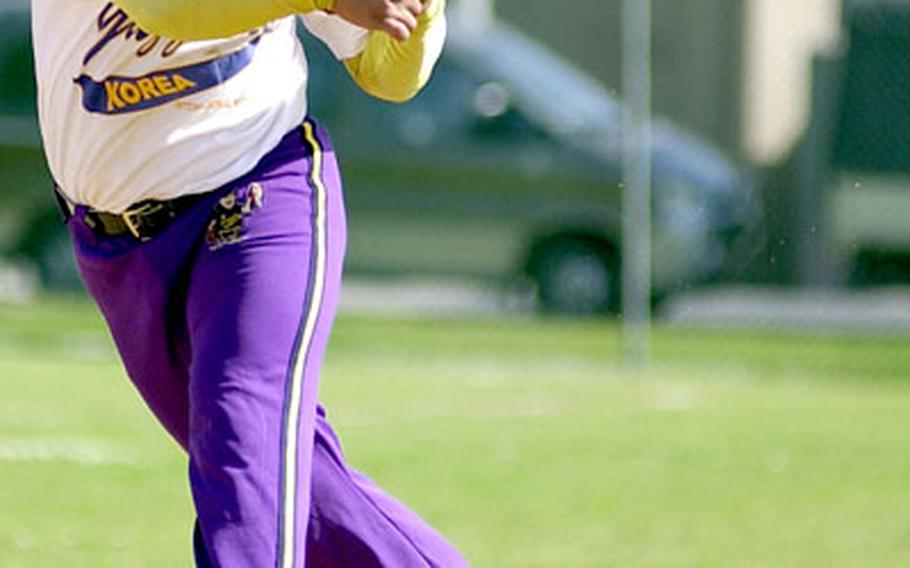 YONGSAN GARRISON, South Korea — Bob Hochmuth and David Hill, two coaches with long-standing ties to Camp Casey interservice softball, enjoyed perhaps their finest hours as coaches on Monday.
They each helped lead their respective teams to the men's and women's titles in the 14th Pacificwide Open Softball Tournament.
Hill's Camp Casey Warriors women, who finished third the past two years in the tournament, finally broke through. In Hill's fourth try at a Pacificwide title, they beat Red Fox, a Korean team, 13-3 in five innings.
Hochmuth, who coached Camp Casey to two runner-up finishes in 14 years, joined the International Guzzlers as an assistant coach for this tournament, which the Guzzlers captured 13-4 over defending champion Yellow Box of Okinawa, avenging last year's final loss.
"It's as good as I thought it would be," said Hochmuth, 57, a civilian at Camp Casey. "One of the greatest group of guys I've ever been around.
He took Guzzlers head coach Tom Costello up on his offer to help coach the team in the weeks leading up to the Pacificwide.
"Bob's wanted to do it for all these years, so we teamed up, and he finally got one," Costello said.
It took the Guzzlers awhile to get going against Yellow Box, which went up 1-0 in the first inning on Chris Souza's RBI single.
Two innings later, the Guzzlers strung RBI singles by Andy Watts, Mike Sharp, Alton Huffstetler, Jon Nicholson and Jason Kresser to take a 5-1 lead they would not relinquish. Watts added a sacrifice fly and Sharp a run-scoring single in the fourth for a 7-1 edge.
Small ball figured greatly into the Guzzlers' plans, with the tournament using restricted-flight balls and the wind blowing in, Costello said.
"It's a whole different game" than the typical power struggle, he said. "You have to hit it down and hard. The fly balls, they just die out."
For Yellow Box, the final ended a long day in which they fell to the loser's bracket of the double-elimination playoffs, thanks to a second-round 8-6 loss to the Guzzlers. They had to play three more games in five hours just to reach the final.
"We were tired," said coach John O'Brien of Yellow Box, which has reached the finals of the past eight Pacific Grand Slam tournaments but won just one. "The heat, the sun, starting at 6 a.m. just wore on us."
Unbeaten in Korea Traveling League play at 4-0, the Warriors entered the tournament without five of its starters, due to deployment, then promptly lost their opener 16-13 to Iwakuni Marine Corps Air Station of Japan. Camp Casey needed two late round-robin victories just to make the playoffs.
The Warriors left nothing to chance in the final, getting a pair of unearned runs followed by Christy Maxwell's RBI triple and Sheila Horton's run-scoring double to go ahead 4-1 in the first.
Maxwell and Yajaira Edmond each knocked RBI singles and Marla Woodson drove in another with a double in the four-run third.
Monday's scores
Men's double-elimination playoffs
Yellow Box, Okinawa, 18, Camp Casey I, South Korea, 8
International Guzzlers, South Korea, 15, Kunsan Air Base, South Korea, 1
Heat 3N2, South Korea-Taiwan, 14, Yokota Air Base, Japan, 1
Osan Air Base, South Korea, 14, Kadena Air Base, Okinawa, 0
Kunsan 21, Camp Casey I 9; Camp Casey I eliminated
Kadena 16, Yokota 13; Yokota eliminated
International Guzzlers 8, Yellow Box 6
Heat 3N2 8, Osan 4
Yellow Box 18, Kadena 9; Kadena eliminated
Osan 11, Kunsan 10, 8 inn.; Kunsan eliminated
International Guzzlers 9, Heat 3N2 3
Yellow Box 11, Osan 5; Osan eliminated
Yellow Box 7, Heat 3N2 1; Heat 3N2 eliminated
International Guzzlers 13, Yellow Box 4; Yellow Box eliminated
Women's double-elimination playoffs
Camp Casey, South Korea, 14, Sang Gi University 13
Red Fox 10, Kunsan 0; Kunsan eliminated
Sang Gi University 12, Osan 7; Osan eliminated
Camp Casey 12, Kadena 9
Red Fox 16, Sang Gi University 6; Sang Gi University eliminated
Red Fox 11, Kadena 6; Kadena eliminated
Camp Casey 13, Red Fox 3; Red Fox eliminated
---
---
---