Boys basketball AOY
Humphreys' Metcalf added to his game and school's banners
---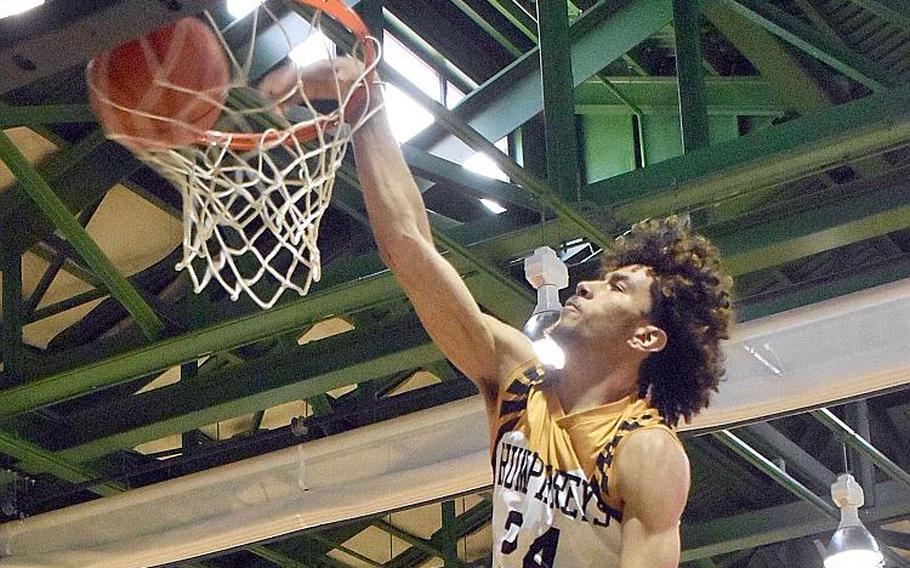 Nobody has taken the route that Quintin Metcalf navigated to his three Far East basketball Most Valuable Player awards. And it's hard to imagine it happening again any time soon.
As a sophomore two years ago, he earned the honor in leading Seoul American to its first Division I title since 2008. Last year for then-Division II Humphreys, he became the first to garner the award in back-to-back years for teams in different divisions.
It's doubtful he could have closed out his senior campaign for the Blackhawks, now a D-I team, any better. Humphreys won all three tournaments it entered and went 33-0, the program's first unbeaten ledger in its seven seasons.
The 6-foot-9 center averaged 22 points, 11.2 rebounds, 3 blocks, 3.7 assists and 2.4 steals per game for the Blackhawks, who dethroned defending D-I champion Nile C. Kinnick 83-64 on Feb. 23. Metcalf had 28 points.
Metcalf for the third straight year has been named Stars and Stripes Pacific's boys basketball Athlete of the Year.
Metcalf has expanded his playing repertoire each season, perhaps with one eye to the future. Metcalf hopes to play college basketball in the States, but he has come to terms with the fact that he won't do it as a center.
"It's something I've accepted," he said.
With Seoul American, he and his brother DeAndre would post up down low and keep their games to within five to six feet of the basket. He never shot a three-pointer while with the Falcons.
Once he got to Humphreys in August 2017, his new coach Ron Merriwether told him that "it's not Seoul anymore; I needed to expand my game."
From then on, it wasn't unusual to see Metcalf shoot from three-point range or dribble the ball up the court.
"I've been more comfortable being outside, expanding my game and shooting the ball," he said. "In Seoul, I would just spot up and lay it in. Now, if I have the (outside) shot, I take it."
"He became a more dynamic player able to do different things inside and outside," Merriwether said. "He's looking to play (at a higher level), he's going to have to be flexible. He won't be in the post."
Aside from accepting that responsibility, Metcalf said he and his teammates also had to accept a bigger bull's-eye on their backs for having moved up to D-I.
Winning the first tournament they entered, the American School In Japan Kanto Classic in January, was an eye-opener, Metcalf said.
"We knew we could do it. At that point, it was serious," he said. "As soon as we got back from ASIJ, coach had us practice way harder."
And Metcalf became a different type of leader, Merriwether said. "He had to lead vocally and with his actions," he said. "I told him they're going to follow you. You can never have a bad day. He took that seriously and I'm proud of how he influences the energy of the team."
Now that his high school basketball playing days are over, he turns his attention to track, where he's a Far East-record high jumper. But he confesses to "mixed emotions" about his Blackhawk basketball days ending; he says he has not committed to a university at this point.
"I'm sad that high school is over, but I'm glad I can go to the next level and play," he said.
All-Far East boys teamsDivision I — Humphreys: Quintin Metcalf (three-time Far East all-division Most Valuable Player), Jalen Hill (two-time All-D-I selection); Nile C. Kinnick: Davion Roberts (two-time All-D-I selection, 2018 MVP); Kadena: Eric McCarter (two-time All-D-I selection); Kubasaki: Damien Dorval.
Division II – E.J. King: Dyson Robinson (two-time All-D-II selection, Far East D-II MVP); Robert D. Edgren: Riley Palfy; Christian Academy Japan: Enosh Mutenda; Osan: Daniel Jamerson; Yokota: Riley DeMarco.
---
---
---
---