Humphrey's James stays busy as team's trainer, statistician
---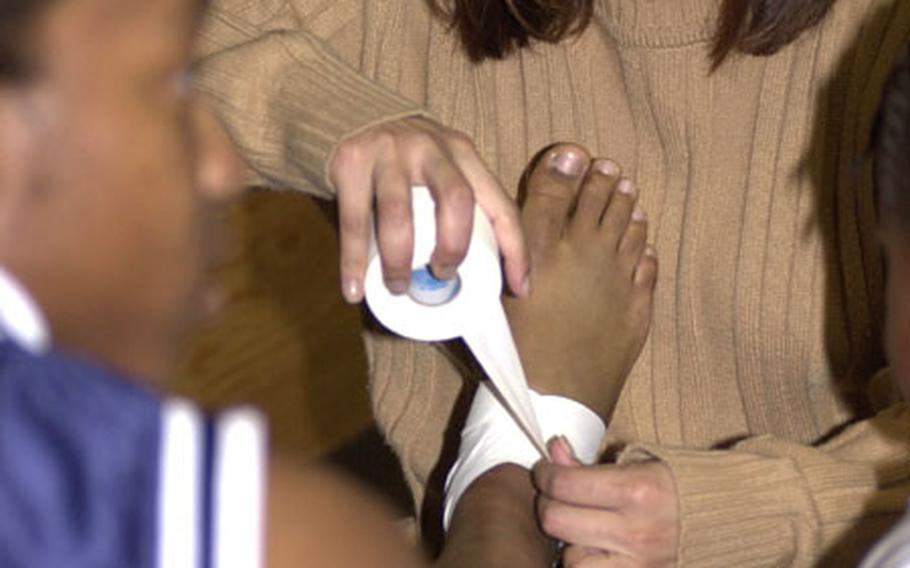 OSAN AIR BASE, South Korea — Suwon's Latasha Peterson limped over to the sideline. She'd sprained her right ankle four days earlier, and it was giving her problems again.
"Could you help me?" Peterson asked a woman sitting in the stands behind the Lady Panthers' bench.
Olivia James didn't know Peterson and had no affiliation with Suwon. She was the certified trainer, manager and statistician for Camp Humphreys, which was set to play next in the Osan Pacificwide Invitational Basketball Tournament playoffs.
James wasted no time. She reached for the first-aid kit in her backpack, got out some wrap and athletic tape and got to work.
Minutes later, Peterson donned her ankle brace and got back on the court.
It didn't matter to James that Peterson was from another team. Friend or foe, she takes care of all players in need.
"I love sports, I love people and I love interacting with people," said James, 26, an Army reserve specialist who became a certified trainer while playing setter for the Passaic Valley High volleyball team in New Jersey. "I don't play basketball, but I love the game."
Along with fellow statisticians Karla Arriaga and Cheecia Kilpatrick, she's mastered the tale of the tape, whether it is ankles or rebounds and assists.
"I carry that first-aid kit with me, I do all the pregame wrappings and tapings and I carry the stat reports with me, too," said James, who said she learned to compile stats in high school, right around the time she and her volleyball coach took a four-week Red Cross trainer course.
James, who's married to Staff Sgt. Shelton James, an active-duty chef at Camp Humphreys, took the week off from her duties as a nuclear, biological and chemical warfare instructor at Camp Humphreys to take care of her first love during the Osan tournament.
"This is fun for me," she said.
Humphreys coach Larry Walker says he's grateful for the help.
"She takes care of everything," he said. "I'm very glad to have her around, as well as the other two managers."
---
---
---
---