Hucks aims high, achieves his goals
by
Grant Okub
October 4, 2009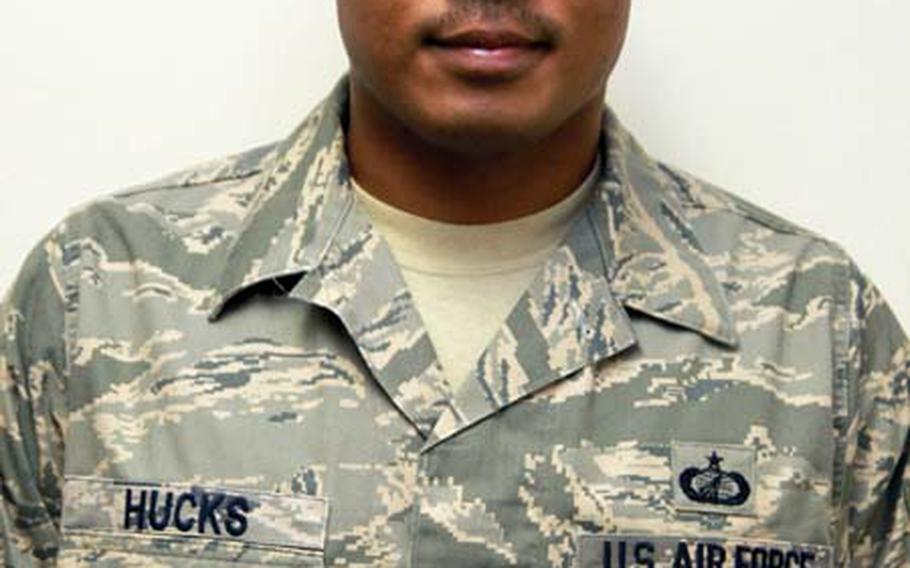 YOKOTA AIR BASE, JAPAN — He remembers watching them. Playing against them. The way they passed the volleyball and set each other up. They were the best the military had to offer.
And it was his interaction with members of the All Air Force and All Armed Forces volleyball teams that left quite an impression on Clarence Hucks Jr. when he was a fledgling player at Misawa Air Base's Edgren High School in the mid-1990s.
So when Hucks made the decision to join the Air Force in 2002, one of his goals was to one day qualify for both teams. "Meeting and playing against members of both the Air Force volleyball team and Armed Forces team had a significant influence over me," said Hucks, who finds himself back in Japan at Yokota Air Base. "Those individuals were playing at a much higher level of volleyball that I eventually wanted to be a part of."
After years of honing his skills on base teams, the technical sergeant was selected as a member of the Air Force team earlier this year. In June, his team won the gold medal after defeating the best of the Army, Navy and Marines Corps in the Armed Forces Volleyball tournament at Cherry Point, N.C.
Hucks' stellar play in the tournament earned him the opportunity to play on the U.S. National team and compete in the International Military Sports Council Tournament Volleyball tournament in Rio de Janeiro later in June. Hucks and his teammates finished eighth in the 12-team round-robin event.
Hucks called it a "surreal experience" playing against such countries as China, India, Netherlands and Venezuela.
"There are no intense rivalries," he said. "Everyone is there to represent their countries to the best of their abilities and to promote friendship through sports," said Hucks, who struck up friendships with players from Iran, Qatar, Brazil and other nations.
He said stepping out onto the court in front of so many people in a huge arena was a bit overwhelming.
"I've never played in a tournament of that magnitude," said Hucks. "You're playing against some of the most elite athletes in the world."
Having reached the pinnacle of his military sports career, Hucks, 32, isn't sure how much longer he'll play competitively, but he does know he wants to pass his passion and knowledge of the game to youngsters. He currently serves as assistant coach for the Seisen International School in Setagaya-ku. Hucks says he focuses on teaching his young players the basic fundamentals of volleyball.
The same fundamentals he picked up watching and playing against the military's best those many years ago in Misawa.