Hoop teams try to build momentum
---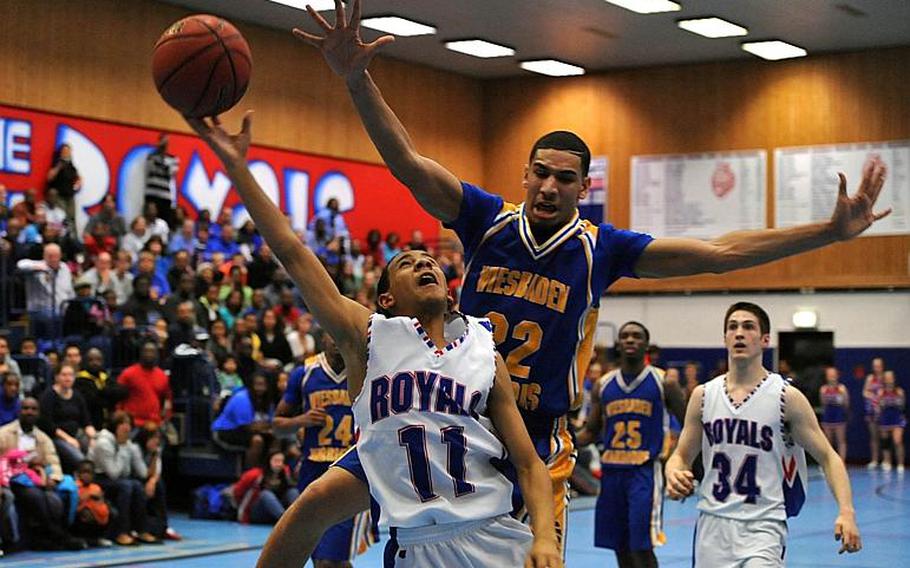 The final weekend of the regular season, just a few tantalizing days before the frenzy of the European championship tournament, can feel like the long and uneventful wait for a thrilling theme-park ride. Whatever happens this weekend will soon be forgotten, swept up in the avalance of triumphs, heartbreaks and endless momentum swings that are bound to follow.
But history shows that the final weekend of the regular season, however inconsequential it might seem, can reveal a lot about the tournament it precedes.
Last season, many of the teams that would go on to celebrate European championships were active and victorious in the weekend prior to the postseason.
Boys Division I champion Patch was tuning up for its title run with two convincing wins over Schweinfurt, then a formidable Division II squad. Boys Division III champ Bamberg was busy spoiling the historic final regular-season games played by Division I school Heidelberg. Baumholder, the team Bamberg eventually bested for the title, notched consecutive wins over divisional rival Brussels over the same two days, foreshadowing its European semifinal victory over Brussels just under a week later.
A similar trend unfolded on the girls side of the schedule.
Soon-to-be Division I champion Kaiserslautern dispatched Black Forest Academy twice in the season's final weekend, while runner-up Wiesbaden blew out Ramstein twice to prepare for the tournament. Division III winner Brussels took two games from Baumholder, and DIvision II runner-up Ansbach earned a win over Division I Vilseck.
So what teams might set the stage for championship runs this weekend?
The undefeated SHAPE boys can keep their momentum intact with wins over Brussels. On the flip side, the favored defending champion Brussels girls would benefit from a quality win over SHAPE.
Wiesbaden and Kaiserslautern face off Friday; both schools' boys and girls teams are legit title contenders, and would love to enter the tournament on a win streak.
The above-mentioned Patch boys, meanwhile, are entering a doubleheader against a dangerous and steadily-improving Vilseck squad that has spent the season striving in vain to crack the top tier of Division I contenders. A Vilseck upset bid could yank the Panthers' leash and send the Falcons' confidence soaring.
Twitter; @broomestripes
---
---
---
---