Boys golf AOY
Holifield's next challenge on links? NCAA competition
---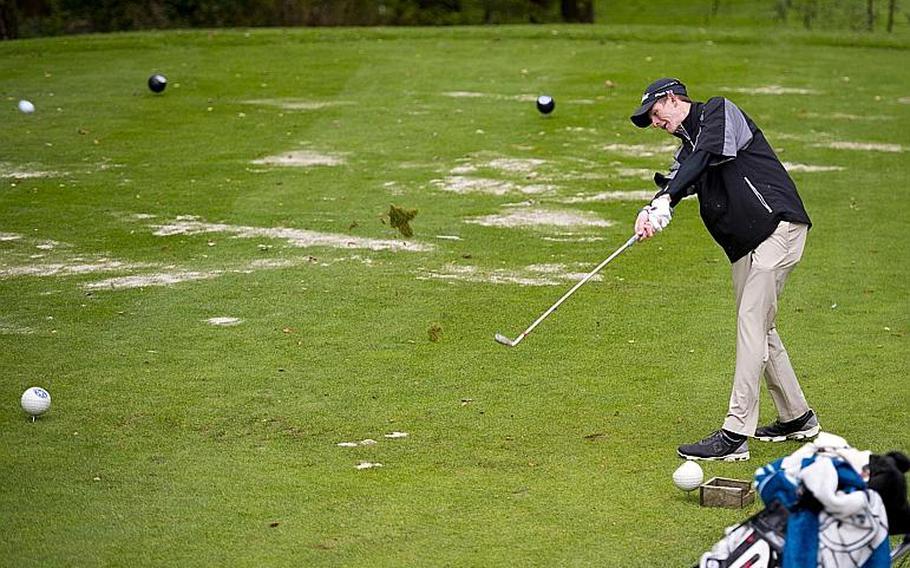 With a fourth straight DODEA-Europe boys golf championship soundly secured, there was nothing left for Jordan Holifield to do but choose his next step.
Now that goal is accomplished too.
Holifield, the Stars and Stripes boys golf Athlete of the Year for a fourth straight season, will play collegiate golf at Southeastern Oklahoma State, an NCAA Division II program in Durant, Okla., after completing his senior season at Stuttgart.
Holifield came to effortlessly dominate the DODEA-Europe links over his four-year championship run with the Panthers. He burst on the European scene as a newly arrived freshman in 2013, recording a narrow win in a mild upset over older, established contenders to win his first crown. He hasn't been seriously challenged since, culminating with a 22-point win and a coveted European team victory for Stuttgart in 2016.
But now his challenges begin anew.
With his collegiate future locked in, Holifield will set to work preparing for a much higher level of competitive golf. Southeastern Oklahoma State provided its new recruit with an offseason training regimen, and Holifield has his own plan of improvement in mind to supplement those instructions.
"I'd like to improve the most on my strength, as far as power goes," Holifield said. "Creating a little more distance...off the tee.
"I feel that would help me the most."
To that end, Holifield plans to spend a lot of time in the gym as winter settles in over Germany and limits his opportunities to hit the links. When he arrives in Oklahoma, Holifield plans to be ready to be an immediate factor for his new team.
"Whenever I get there I'll get to work immediately," Holifield said. "I'll progressively get better and better and better. I'm expecting to get the results that I want."
That confidence has grown alongside his game over the past four years, even among a DODEA-Europe field that was increasingly unable to keep pace with him. In the absence of a comparable rival to push him, Holifield measured his play against himself.
"I feel like it's gone from a lot of ups and down to a little more consistent," Holifield said. "I cleaned some stuff up."
A spot on an NCAA roster is just the next logical step in that process.
"Just trying to take it to the next level," Holfield said.
And that's exactly where he's headed.
Twitter: @broomestripes
---
---
---
---