High school roundup: Seoul American senior loses one-hitter; younger brother throws two-hitter,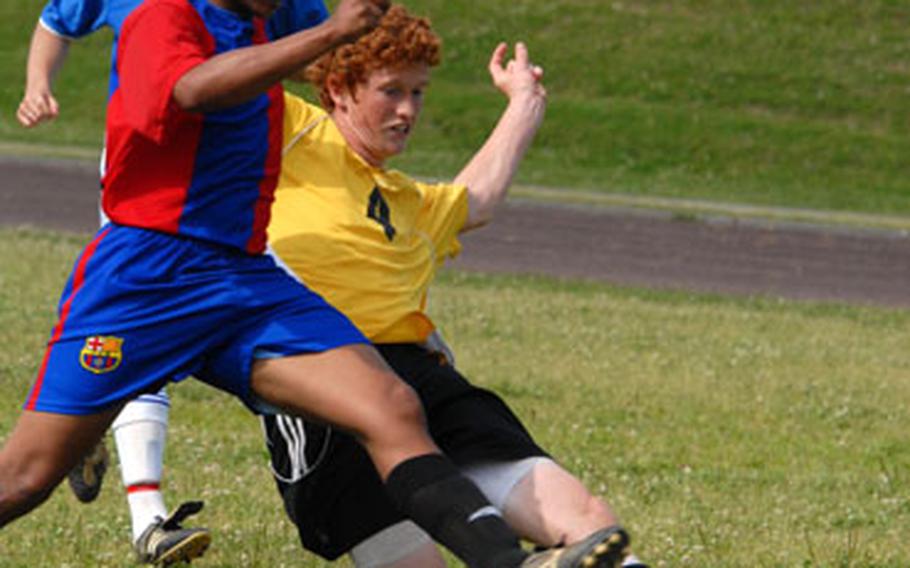 Most pitchers who throw a one-hitter might expect also to win the game.
Not Tristan Heckerl. The Seoul American right-hander allowed a first-inning bloop single to Daegu American and no earned runs, but walked nine and saw eight Daegu runs score on passed balls in a 9-3 loss to the Warriors on Saturday at Camp Humphreys.
Hours later, his freshman brother, Colton, tossed a two-hitter and struck out eight as the Falcons routed Osan American 13-3 in five innings.
"That's the way things go over here," their coach and father, Robert, said. "Things that make no sense at all."
Seoul American, the preseason favorite to win the league, stayed in first place at 3-1. Daegu is 2-2, Osan American 1-3.
Tristan had the same speed on his fastball and movement on his curve he had when he threw a no-hitter in a 16-1 victory over Daegu two weeks ago at Yongsan Garrison. But junior Joe McLean, trying his hand behind the plate for the first time, had trouble handling the senior's pitches.
"He's doing his best, first year playing the position. It's tough. Kudos for hanging in there and trying," Robert Heckerl said. "Very rough assignment back there, though Tristan should have been sharper."
Daegu's Nick Dunsmore gave up two hits, McLean's double and Ivan Montanez's home run, walked one and struck out 14. The Warriors stole 15 bases.
"I had my boys on their horses when they got on base," Daegu coach Bill Riggs said.
Rising star Kim helps keep Falcons softballers unbeatenJina Kim almost didn't make Seoul American's girls softball team as a freshman. Coach Julian Harden wanted to cut her, but assistant LaRoy Slaughter "saw something in her" that convinced Harden to keep her.
Now a junior, Kim rewarded Harden's faith, hitting two home runs in a 9-0 five-inning victory over Daegu, then trying her hand in relief and striking out four Osan American batters in a 12-7 victory over the Cougars.
"She's always been a solid performer as a hitter," Harden said of Kim, nominally a catcher and center fielder who expressed a desire to try pitching this season. "No doubt, she'll be one to watch out for."
Seoul American sits atop the DODDS-Korea standings at 4-0
ASIJ girls improve to 5-0, loom as Class AA title threatWhat might be the best girls soccer team in American School In Japan's history continued its torrid run Saturday, beating Yokota 1-0 on Laura Inglesrud's ninth goal of the season.
The Mustangs (5-0) have outscored their foes 27-0. Coach Matt Whipple of Yokota (10-2) sees ASIJ, which finished seventh last year, as a legitimate threat to win the Far East Class AA title.
"They play really good defense and their transition game is strong," Whipple said. "They're one of the best in the Kanto Plain."
ASIJ coach Carlos Aranda credits the play of junior Melissa Walker, a transfer from Connecticut who plays a variety of defensive positions. "We're definitely better than we were last year," Aranda said.
The parade of Yokota freshmen newcomers continued at Sasebo Naval Base, where the Panthers boys (8-2) swept a three-match series 2-0, 2-1 and 2-0 from defending Class A champ E.J. King (5-9-1). New striker Andrej Gomez scored three of the six goals.
"It's taken awhile to get him going," coach Tim Pujol said of Gomez, an English as a second language student who comes off the Yokota bench. "We have plans to break him into the lineup. Some of it is communication, but he's getting a feel for what we want."
After going winless in their first seven games (0-6-1), Robert D. Edgren's boys took three of four weekend home matches, getting four goals from sophomore Brandon Massie as the Eagles split with Nile C. Kinnick and swept two from Matthew C. Perry. Massie has eight goals on the season and 35 for his career.
"He's a darned good player," Perry coach Mark Lange said of Massie. "How come I don't get those kind of players coming to Perry? One of these years, my luck will change."
On the girls side, junior Karla Stroud continues to show her appetite for playing forward. The converted defender scored three goals, running her season total to 12 as Perry won two matches against Edgren.