High school football: Yokota edges Kinnick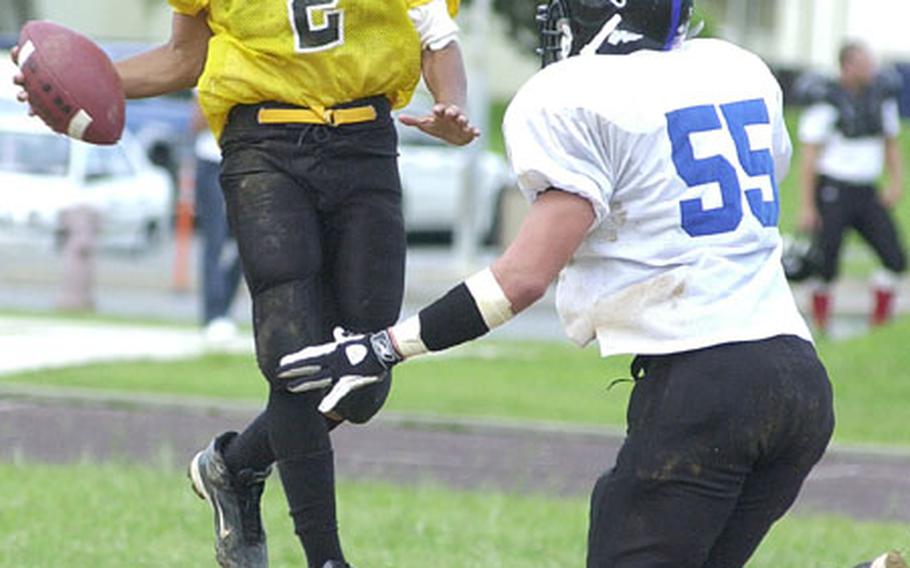 Yokota's winning streak continues, but Nile C. Kinnick's stingy defense and icky weather on Friday conspired to give the Panthers a scare.
Chris Roach scored on a 3-yard run early in the fourth quarter, and Stefan Welch's extra-point kick proved to be the difference as the Panthers edged the Red Devils 7-6 in driving rain at Yokosuka Naval Base's Berkey Field.
The Panthers (2-0), five-time defending Japan Football League and Kanto Plain Association of Secondary Schools champions, seized sole possession of first place in both leagues.
At Camp Foster, Okinawa, sophomore newcomer Lenard White fell on an end-zone fumble and later returned a kickoff 79 yards for a touchdown as the Samurai scored Kubasaki's first victory over a Kadena team since the 2002 season, rallying past the Okinawa Activities Council defending champion Buccaneers 21-15.
The 2002 champion Samurai remained tied atop the Okinawa standings with the Kadena Islanders 17-7 winners over the Kubasaki Shogun.
Japan
Yokota 7, Nile C. Kinnick 6: It was the closest call Yokota's had since edging the Kubasaki Samurai 3-0 in the 2000 Rising Sun Bowl, and the closest Kinnick has come to beating the Panthers since the 2000 opener, when Yokota nipped the Red Devils 12-7.
Yokota has won 42 consecutive games on the field, but had to forfeit two games in the 2002 season for using an inelibigle player.
"We figured it was going to be a battle of the lines and two great runners," Yokota coach Tim Pujol said of Roach and Kinnick's Leonard Lynce. "The conditions dictated everything. Throw out passing or anything fancy, straight-ahead power football and hard-hitting defense."
Kinnick (2-1) had its way early, bulling close to the Yokota goal line three times in the first quarter, but not scoring.
After a scoreless first half, Kinnick broke through late in the third quarter when Lynce scored, but the extra-point was denied by Yokota's Mark Dixon.
The Panthers responded with a 62-yard march capped by Roach's game-tying score and Welch's game-winning kick. A late interception by D.J. McCary snuffed Kinnick's last possession.
Roach finished with 167 yards on 25 carries and McCary had three returns for 72 yards. The Panthers uncharacteristically coughed up four fumbles.
Lynce was held to 58 yards on 10 carries and had four returns for 47 yards. Senior fullback Adam Krievs had 108 yards on 25 carries, a fumble recovery and seven tackles.
Okinawa
Kubasaki Samurai 21, Kadena Buccaneers 15: After going 1-7 last season, the Samurai find themselves tied for first on Okinawa, a perch they last occupied when they beat the Bucs 35-27 in the 2002 island championship game.
First-year Samurai coach Fred Bales refused to call it a "breakthrough" victory, but was happy nonetheless.
"It's just the second game of the season," he said. "I'm awfully proud of the guys. They were down twice (7-0 and 15-8) and fought all the way to the end. Great bunch of guys."
White's crucial plays, along with two drive-halting interceptions by Desmond Jackson and four Samurai drive-preserving receptions by Jon Keith were difference makers, Bales said. Jackson's 1-yard third-quarter TD run proved to be the game-winner.
"These are guys who are new to our program," Bales said. "We're glad to have them."
The Samurai had to overcome a 202-yard, one-touchdown rushing performance by junior Darnell Womach, who helped the mistake-prone Bucs outgain the Samurai 281 yards to 99.
"The Bucs always seem to find a running back who can carry the mail," Bales said. "A class program."
Womach ran 80 yards for a score to make it 7-0 early and Tyler Schmidt tossed a 24-yard TD pass to Gary Wright to open the second half and give the Bucs a 15-8 lead. But four turnovers proved to be the Bucs' undoing.
Kadena Islanders 17, Kubasaki Shogun 7: At Kadena Air Base, Okinawa, the Islanders broke a 0-0 tie by scoring twice in a span of 1:09 in the third quarter, with each touchdown coming off a Shogun turnover.
Arnold Tillman fell on an end-zone fumble for the first score. Then Graig Monroe's sack forced a fumble recovered by Grady Pennell that set up David McCowan's 1-yard plunge early in the third. Ted Awana added a 45-yard field goal at the start of the fourth quarter.
Terrell Chavis cut the margin to 10 points with a 3-yard plunge with 2:09 left, after the Shogun blocked an Islanders punt.
Pennell had two of the Islanders' five sacks and one of the team's four fumble recoveries. The Islanders forced five turnovers.
Despite the one-sided score — and holding the Shogun to minus-53 yards on offense — the Islanders managed only 125 yards of offense.
"We have tons to work on, everywhere," Islanders coach Sergio Mendoza said. "Execution, execution, execution, especially on the offensive side of the ball."