High School Football: Spencer, Zama American earn landmark victory over Yokota
by
Dave Ornauer
October 4, 2009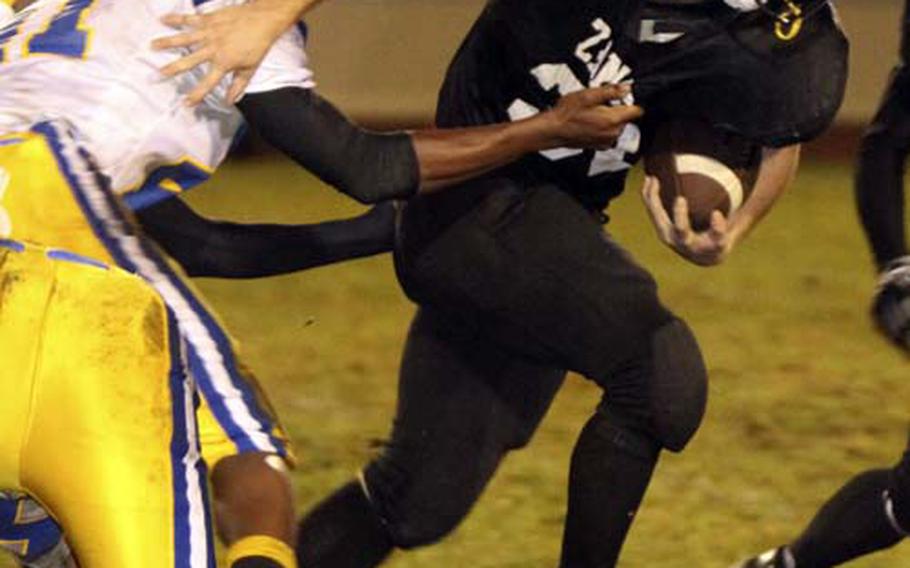 CAMP ZAMA, Japan — Zama American wide receiver Stephen Ferrer held four fingers in the air and repeated the mantra that Trojans coaches had impressed on their players all week:
"Finish!" Ferrer shouted. "C'mon, finish!"
Finish was what the Trojans could not do four weeks earlier at Yokota, but did with zest on Friday as Zama recorded its first on-field victory over the Panthers in 11 seasons, 33-6 at Trojans Field.
Michael Spencer rushed 28 times for 205 yards and three touchdowns, and quarterback Mike Jorgenson sneaked for two TDs as Zama outgained Yokota 426-233 and slipped into the driver's seat in the DODEA Japan and Kanto Plain Association of Secondary Schools title chases.
"Wonderful. It's great," coach Steven Merrell said. The teams split the season series 1-1, but Zama owns a 11-point differential edge.
Zama (3-1) ended Yokota's 41-game Kanto Plain winning streak, and got its first on-field victory since a 12-6 win over of the Panthers on Oct. 10, 1998. Zama got a forfeit victory over Yokota in 2002 when it was found the Panthers used an ineligible player in a 21-6 victory over the Trojans.
The last time the teams met, a 28-12 Yokota victory on Sept. 4, the Trojans breached Panthers territory seven times but came away empty, turning the ball over four times and losing it three times on downs.
"Last time, we didn't finish," Merrell said. "This week, that's what we preached was finish, finish, finish. We have to finish."
And the Trojans finished behind an offensive line that helped Zama stage four lengthy drives. Ryan Blackstock and Ashton Norwood combined for 162 yards on 11 attempts for Zama, which has 1,584 rushing yards on 225 attempts, the best four-game stretch in school history.
"If you control the line of scrimmage, you control the game, you're going to be successful," Merrell said.
Yokota, meanwhile, turned the ball over three times, with Spencer recovering a fumble and Malcolm Franklin two. Their only score came on DeEric Harvin's 35-yard pass to Miles Andrews in the first quarter.
"Their offensive line absolutely dominated and their execution was nearly flawless," Panthers coach Tim Pujol said. "Defensively, we didn't have any answers, but our offense … poor execution. I don't know what else to say."
Okinawa
Kadena 48, Ryukyu University 3: At Kadena Air Base, Kadena got 163 yards and three touchdowns on eight carries from Sharif Coleman. Dennis Sharp ran for a touchdown and caught a TD pass and Thomas McDonald ran for a score.
"They always come out with a lot of heart and they hit really hard," Kadena coach Sergio Mendoza said. His Panthers (3-0) would have otherwise had three weeks off in advance of Friday's game with Kubasaki. "We had to shake the rust off before next week's game."
Guam games puton hold by Typhoon Melor
Approaching Typhoon Melor forced Guam Interscholastic Football League officials to postpone Saturday's three games. It was not known when they would be made up.
Scott Rouch contributed to this report.