High school football: Islanders shut out Bucs in Okinawa opener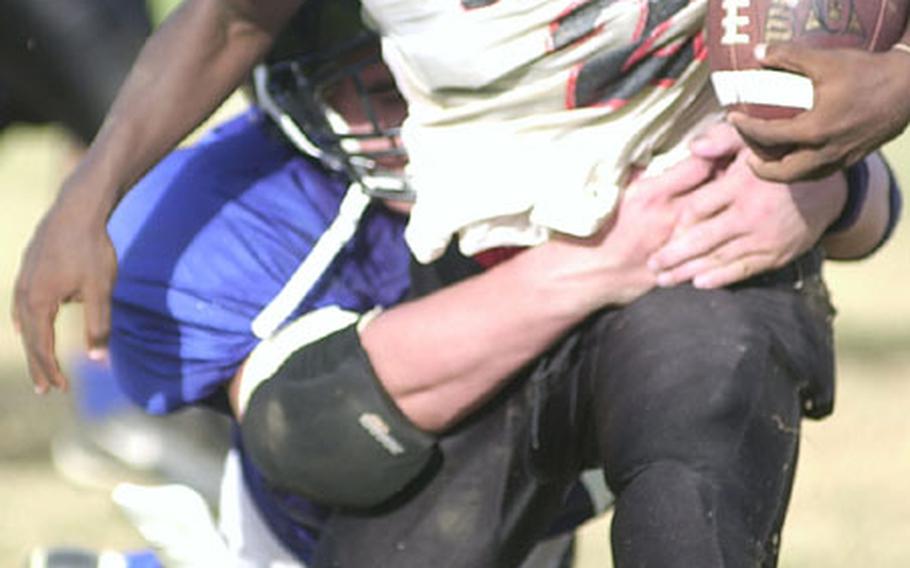 One of the key questions entering the 2004 season for the Kadena Islanders was how to replace the hard play and leadership of center/linebacker Cole Maxey, who transferred to Ramstein Air Base, Germany, over the summer. Coach Sergio Mendoza may have found the answer in Ted Awana.
The junior fullback/linebacker ran 8 yards for a touchdown, intercepted a pass, recorded a sack and halted a goal-line drive with a fourth-down tackle as the Islanders shut out the defending Okinawa Activities Council champion Kadena Buccaneers 26-0 Friday at Kadena High School.
In other games Friday:
The Kubasaki Samurai scored on the game's first play and held off the Kubasaki Shogun 13-7 in a game held up for more than an hour by two injuries and a balky bank of lights.
Senior Leonard Lynce scored four touchdowns and amassed 208 all-purpose yards as the Nile C. Kinnick Red Devils (2-0) took over first place in the Kanto Plain Association of Secondary schools, shutting out American School In Japan 44-0.
Okinawa
Kadena Islanders 26, Kadena Buccaneers 0: At Kadena Air Base, Okinawa, Awana's drive-halting tackle, on Bucs tailback Darnell Womach at the 9, capped the second of two Islanders goal-line stands on successive drives in the second quarter.
Arnold Tillman stopped the first by tackling quarterback Tyler Schmidt on fourth down at the Isles' 1.
Awana's touchdown run, with 7:33 left in the third quarter, preceded his game-sealing interception with 3:53 remaining in the contest.
"There's no doubt, he's [Awana] going to be a big part of the Islanders, and a great replacement for Cole Maxey," Mendoza said.
Keith Loving ran 13 times for 91 yards, including touchdown runs of 9 and 16 yards. Grady Pennell capped the Islanders' scoring by scooping up an errant lateral and returning it 14 yards for a TD with 7:04 left.
Despite the dominating performance — the Islanders outgained the Bucs 238-81 and held the Bucs to five first downs — Mendoza said a lot more work remained for his team.
"We have to improve in every aspect," he said. "We have to execute better, the running backs need to run more aggressively and the line needs to attack and execute blocks better."
The Islanders forced five fumbles and had two sacks. The Bucs had three takeaways, two fumbles and one interception.
Kubasaki Samurai 13, Kubasaki Shogun 7: At Camp Foster, Okinawa, Lenard White ran 17 times for 100 yards, including a 30-yard touchdown romp on the Samurai's first play from scrimmage.
Quarterback Justin Daugherty added a 1-yard sneak halfway through the second quarter.
The first half took more than two hours to play, interrupted by a season-ending fractured wrist suffered by the Samurai's Tony Price and a minor muscle strain and pinched nerve suffered by the Shogun's Jarrell Moss.
A bank of lights also went out in the third period, interrupting play for a few more minutes.
It was a defense-dominated, turnover-filled contest, with the Samurai recovering five fumbles, intercepting a pass and recording a sack and the Shogun answering with an interception, two recoveries and three sacks. The Samurai outgained the Shogun 128 yards to 54.
Rafael Mew's 3-yard scramble accounted for the Shogun's only touchdown late in the fourth quarter.
Japan
Nile C. Kinnick 44, American School In Japan 0: At Yokosuka Naval Base, Japan, Lynce spearheaded a run-oriented attack, rushing nine times for 155 yards, including touchdown runs of 1, 15, 1 and 2 yards. Lynce had three punt returns for 53 yards and recovered a fumble.
The Red Devils didn't attempt a pass in the game. Jarvis Williams added 109 yards on 12 carries, including a 4-yard TD run, and Adam Krievs added 72 yards and a 7-yard scoring run on 12 attempts and Mervin Ibanez scored on a 1-yard run.
It was the Red Devils' final tuneup for a Friday showdown at home with Yokota, with first place in the Kanto Plain and Japan Football League on the line.