High school baseball: Porchie strikes out 26 as Naples sweeps Sigonella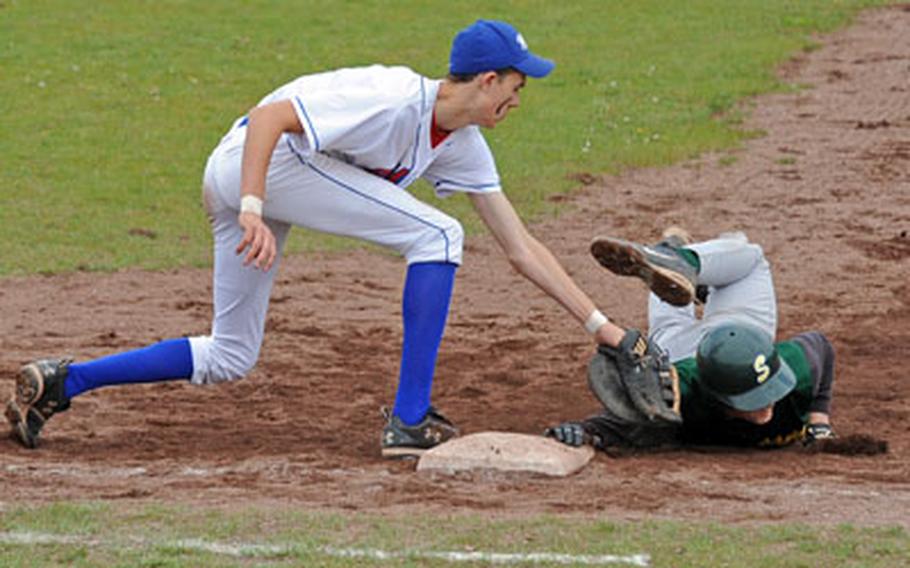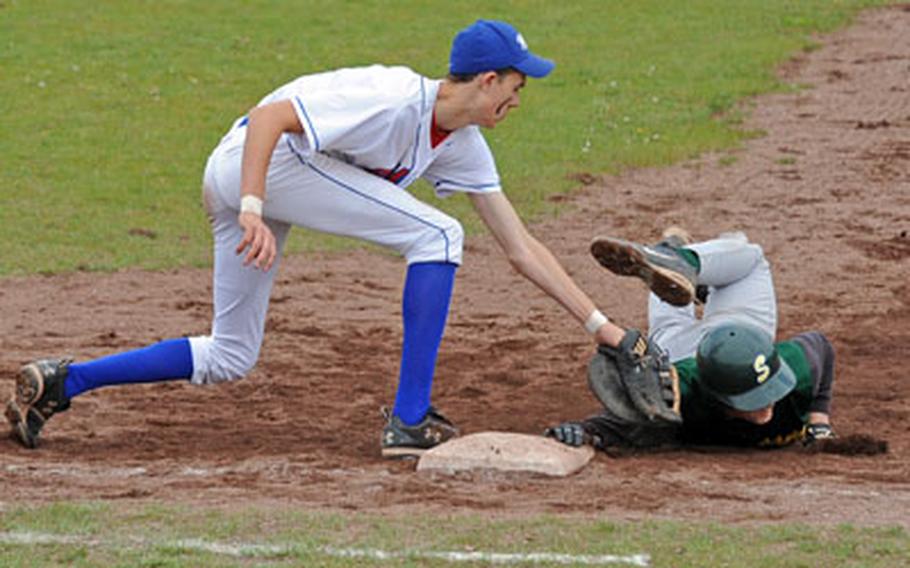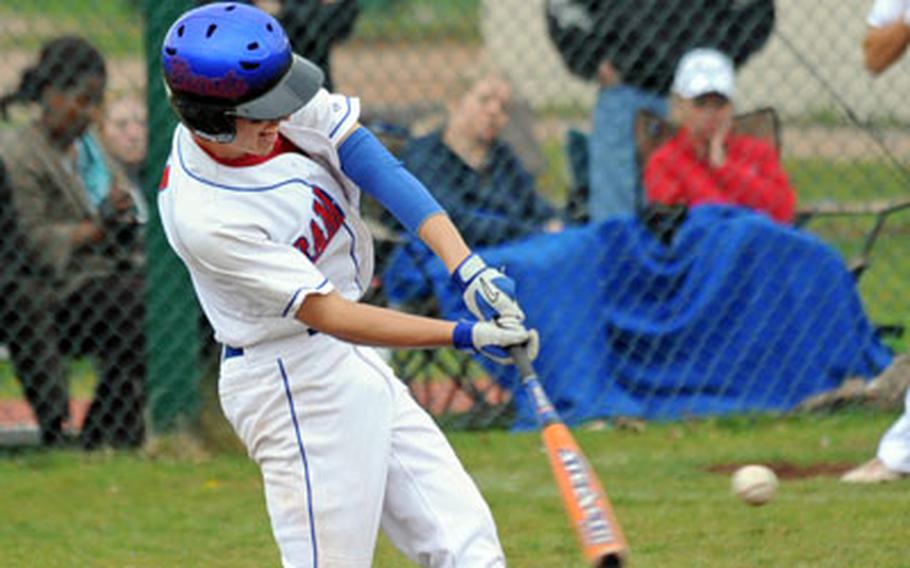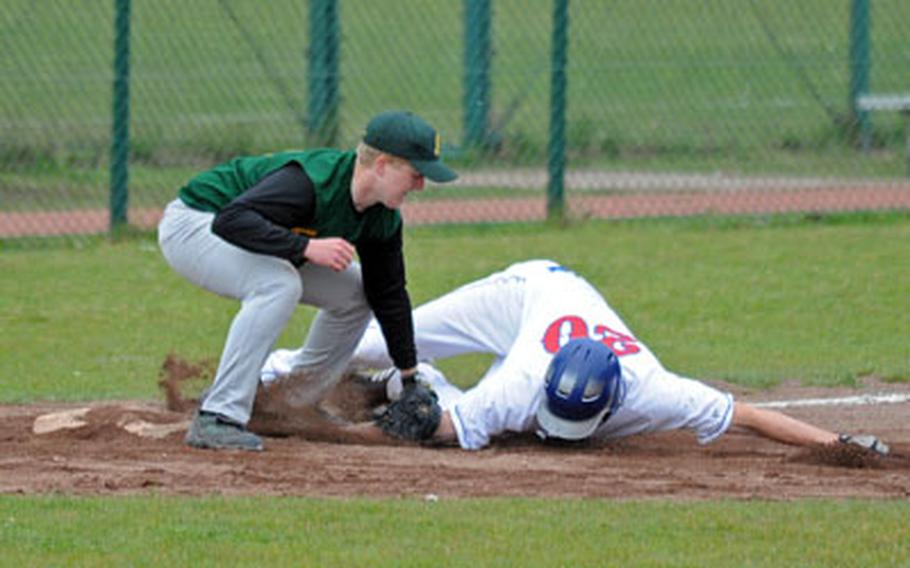 Twenty-six Sigonella batters stepped into the box against Naples pitcher Logan Porchie on Saturday, and 23 of them carried their bats back to the dugout after whiffing against the senior right-hander.
Porchie, an All-Europe selection last season, pitched two innings in relief of winner Zach Zimmerman in Naples' 13-0, seven-inning victory, then went the distance in Naples' seven-inning, 10-1 victory in the nightcap.
Porchie hit his stride in the second game, striking out 20 of the 23 batters he faced.
After a week off for both teams, Naples (6-4) and Sigonella (1-9 overall and in the Southern Region) close out their regular seasons May 22 at Sigonella.
In other baseball of note:
Ramstein 22-12, Bitburg 0-1: In a makeup doubleheader Wednesday at Bitburg, Shawn Madl two-hit Bitburg over the five-inning distance, fanning six and walking three. According to Ramstein coach Glenn Porter, the game could have ended after three innings at 15-0, but the Barons opted to continue.
Jon Groteleuschen and Shane Foley backed Madl's pitching. Foley flirted with a charge of causing damage to an F-16 by clubbing a two-run homer into the aircraft's hangar, according to Porter, who estimated the shot at 380 feet. Groteleuschen had a triple, two doubles and two singles in five at-bats.
In the second game, Matt Chodzko tossed a four-hitter. All-Europe third baseman Josh Sloan matched that total, backing Chodzko with a 4-for-6 effort, to drop Bitburg, idle Saturday, to 1-7 overall and in the Western Region.
Ramstein 8-18, SHAPE 5-2: Saturday at Ramstein, Grotelueschen spun a three-hitter in the opener, and Foley pitched three perfect innings to win the nightcap.
Ramstein overcame six errors in Game 1, thanks to 14 stolen bases and eight runs on six hits in the bottom of the third and fourth innings.
In Game 2, Foley, who stroked three singles in three at-bats, benefited from homers by Chodzko and Sloan as the Western Region leaders improved to 9-0 in regional play and 10-2 overall. Freshman reliever Josh Neal surrendered the only hit of the nightcap for SHAPE (2-3), a double by Nic Westrick.
Patch 18-10, Bamberg 2-0: Saturday at Bamberg, Ohmar Gonzalez and Grant Trochesset picked up the pitching victories as the Panthers improved to 8-0.
Dillon Measells homered for Patch in Game 1, helping Gonzalez overcome a 3-for-3 day by Bamberg's Zar Webb and a 2-for-3 outing by Brandon Fields.
In Game 2, Justin Phelps backed Trochesset with a triple and an inside-the-park home run. Patch, which got a 2-for-3 effort from P.J. Redmond, put the game away against Bamberg (1-9) with a six-run sixth.
Vilseck 9-17, Wiesbaden 2-1: Saturday at Vilseck, All-Europe pitcher Kyle Krajcovic gave up six hits and struck out 12 in winning Game 1, and drove in seven runs to help the Falcons improve to 9-1 going into Saturday's showdown doubleheader at Patch.
Krajcovic drove in three runs while Chris Nelson, and Kevin Huestis each stroked two hits for Vilseck in Game 1. Jack Smith went 3-for-3 and Ryan Reagin tripled and singled in three at-bats for Wiesbaden.
Nelson four-hit Wiesbaden (2-6) in the nightcap, surrendering two of the hits to Smith. Krajcovic backed Nelson with two doubles, a single and four RBIs in three at-bats.
Mike Johnson drove in two runs for Vilseck, which also got doubles from Nelson, I'Mario Gibson and Imogin Roque.
AFNORTH 11-4, Lakenheath 7-1: Saturday at Lakenheath, Jake Reynolds and Eric Childs each pitched four-inning, complete-game victories that evened AFNORTH's record at 2-2. Both games were ended by the two-hour time limit.
Reynolds struck out seven in the opener, while Childs yielded just two hits in the nightcap as the Lancers fell to 2-10.
Heidelberg 5-12, Mannheim 3-6: Saturday at Mannheim, Javier Ortiz collected two hits in each game along with the Game 1 victory and Game 2 save as the Lions improved to 7-1.
Joseph Patrick, with a double and two singles, drove in four runs in the nightcap to back winning pitcher Caelan Allmon, who also benefited from a four-steal outing by Jimmy Montfleury and a double and single from Corey Stone.
For Mannheim (1-7), Thomas Finley tripled in the opener, and Tyrell Gedder stroked two hits in the nightcap.
Kaiserslautern 5-9, Frankfurt International School 4-8: Saturday at Kaiserslautern, the Red Raiders scored the winning run in each of their final at-bats, according to coach Tom Burris.
With the score tied 4-4 in the opener, starting pitcher Mike Cossaboom made a winner of his reliever, Aaren Blossom, with a walk-off single that scored Dallin Bridges.
Chris Jastrab took Blossom's role for Game 2 winner Ian Acosta with an RBI fielder's choice grounder in the top of the final inning that scored Paul Cora from third base and broke an 8-8 tie. Acosta retired the side in the bottom of the frame for the victory.
Nick Cassaboom was 3-for-3 in the nightcap for K-town (7-1), which led 8-1 after two innings. Blossom, Bridges and Josh Frye each went 2-for-3.