D-I football final
Hemmers' first TDs lead Kadena to title
by
Dave Ornauer
November 9, 2019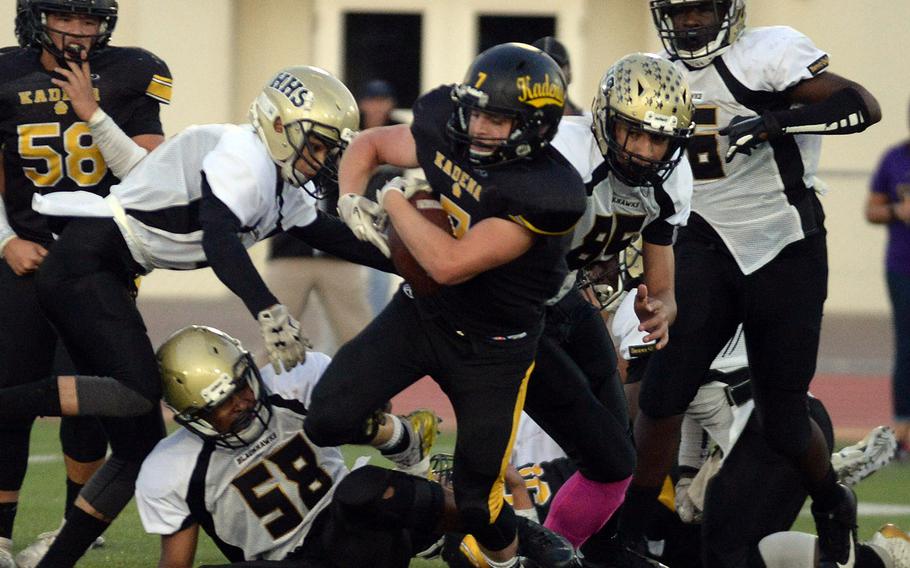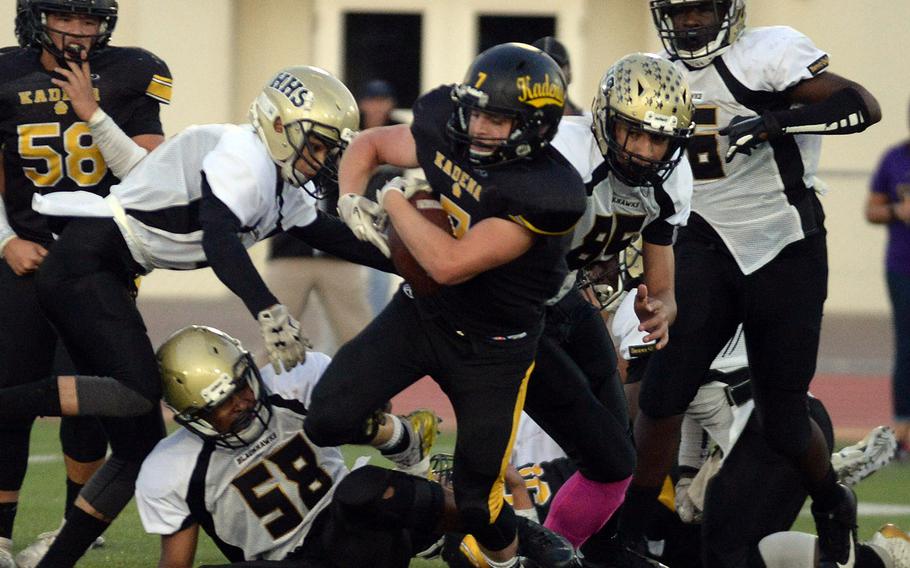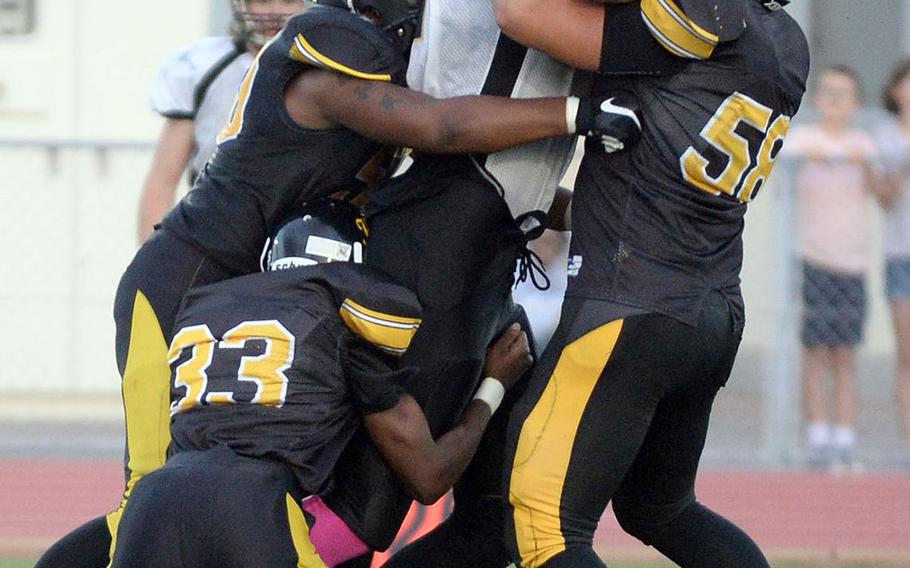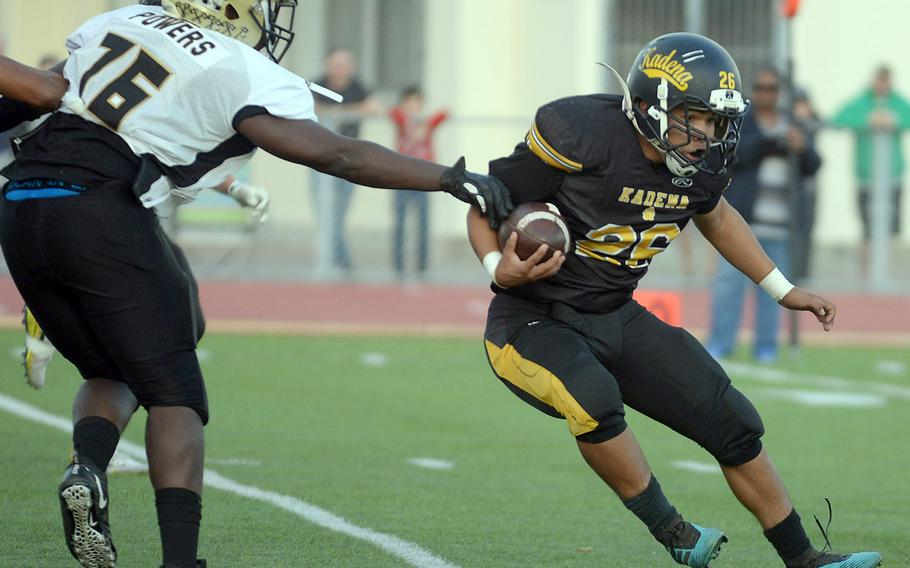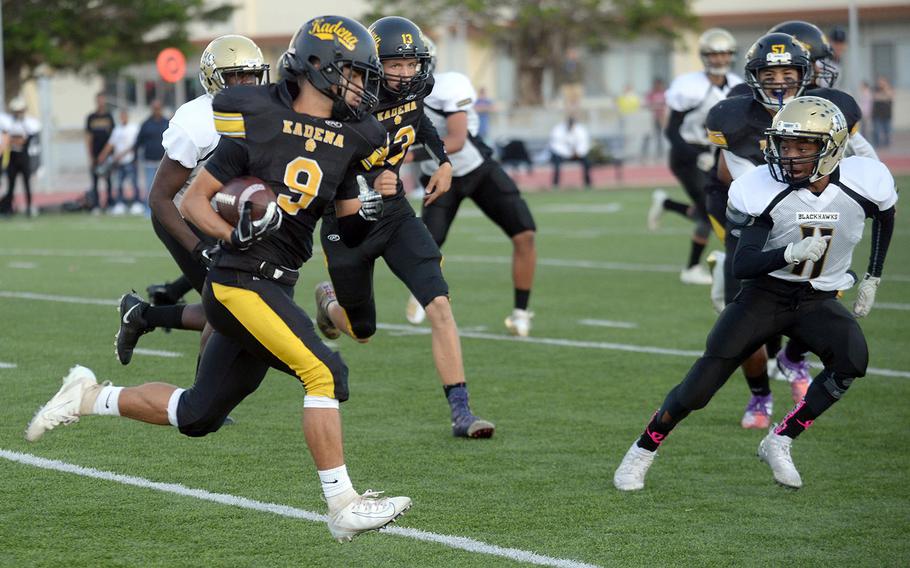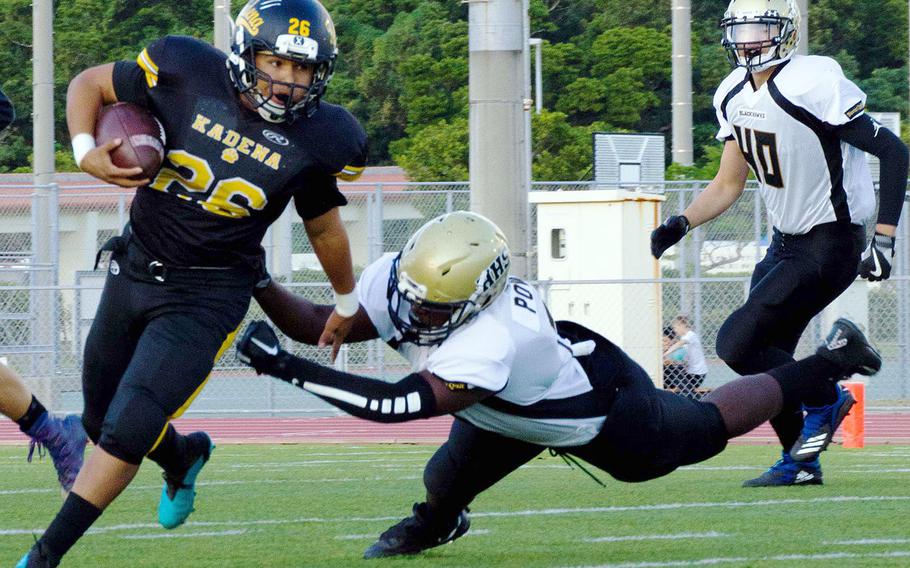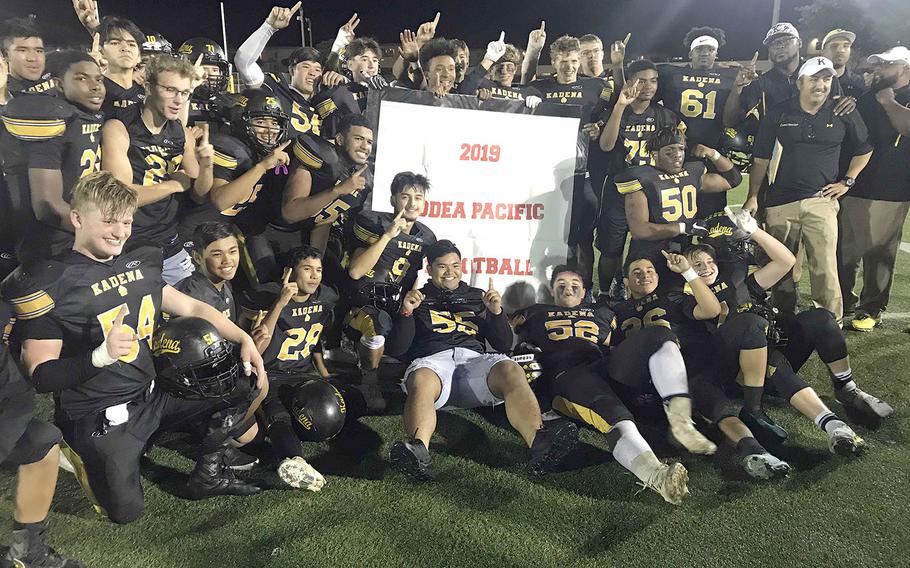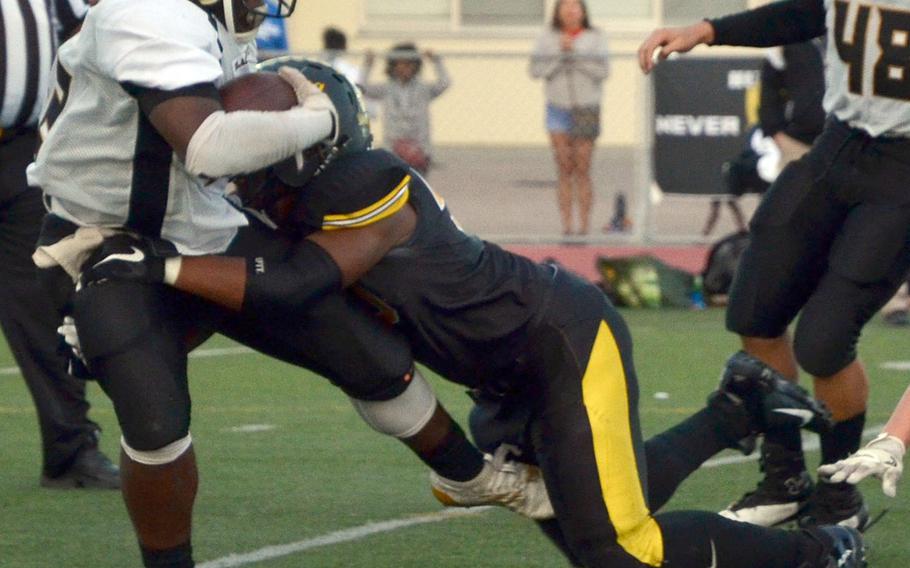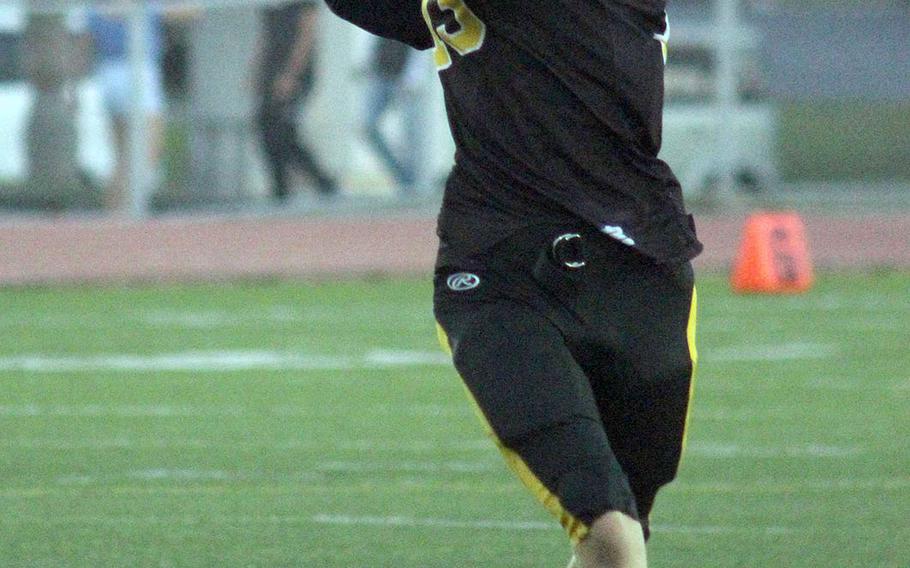 KADENA AIR BASE, Okinawa – Ryker Hemmers had never scored a touchdown in 11 years of playing organized football, from youth to high school level.
He could not have picked a better time to start.
The junior fullback-linebacker rushed for a first-quarter touchdown and later returned an interception 72 yards for what proved to be the game-winning score.
Kadena's defense did the rest, halting Humphreys on a goal-line stand as time ran out on a 14-12 Panthers victory in Saturday's Far East Division I championship game.
"It feels amazing," Hemmers said. "First points I ever scored. I couldn't have even predicted that."
Few among Kadena football followers might have predicted that a team that graduated 18 seniors would somehow have made it back to the D-I final for a Pacific-record 12th time, much less win it a Pacific-record seventh time.
"It means this program is doing these young men good," coach Sergio Mendoza said. "We always believe in persisting. The only way you can see right is with our hearts, and that's what they've done all season."
While much of the attention was focused on shifty, speedy, explosive running backs such as Markell Shelton and Alfonso Mendez, Hemmers was always there, week in and week out, not doing much of anything flashy, but routine things that make a team successful.
"It's a ground-pounding job, just blocking for my running backs and my quarterback, getting the job done every game," Hemmers said.
His 6-yard touchdown run with 4:17 left in the first quarter that gave the Panthers (7-0) a 7-0 lead was a prime example, as he just bulled his way through the line and into the end zone, nothing flashy or spectacular, just a blue-collar, lunch-bucket play.
From there, the game remained a defensive struggle through the rest of the first half.
Humphreys (4-2) came to life late in the third quarter when the defense held on a Kadena fake-punt attempt. Four plays later, Deontaye Gregory hit Brenton Carver for a 12-yard scoring pass.
But James Ahn's point-after kick was blocked by Kadena's Dean Owen and the Panthers held on to a one-point edge. It stayed 7-6 through the third quarter.
On the final period's initial play, Gregory had to scoop an errant snap that nearly went as a fumble. Facing pressure, he threw a pass that Hemmers picked off and ran and ran and ran.
"Being in the right place at the right time," Hemmers said. "I saw a hole and just took off. I had a lot of great blocks."
Joey Puterbaugh's second of two point-after kicks gave Kadena a 14-6 lead – kicks that would matter a lot later in the contest.
Gregory took a bad snap on a broken play 21 yards for a touchdown with 3:55 left. But his two-point pass attempt sailed over tight end Collin Metcalf's head and Kadena maintained a two-point edge.
Humphreys had one more chance, taking over at Kadena's 38-yard line with 2;15 left. The Blackhawks drove to the goal line, where a Panthers line surge kept Gregory out of the end zone as time ran out.
Blackhawks coach Steven Elliott said the game was "everything it was hyped up to be. Football is a game of inches and that's what it came down to."
Hemmers finished with 55 yards on nine carries and 127 all-purpose yards. Freshman Markell Shelton led Kadena with 108 yards on 21 carries.
For the Blackhawks, Gregory was 7-for-20 for 130 yards. David Key had 58 yards on 19 carries, Carver had three catches for 82 yards and Collin Metcalf 47 yards on four receptions.
This was the Blackhawks' third appearance in a Far East football final, but the previous two times, in 2016 and 2017, were as a Division II school.
ornauer.dave@stripes.com Twitter: @daveornauer