Heidelberg sweeps MLK titles with unbeaten runs
by
Rusty Bryan
January 21, 2003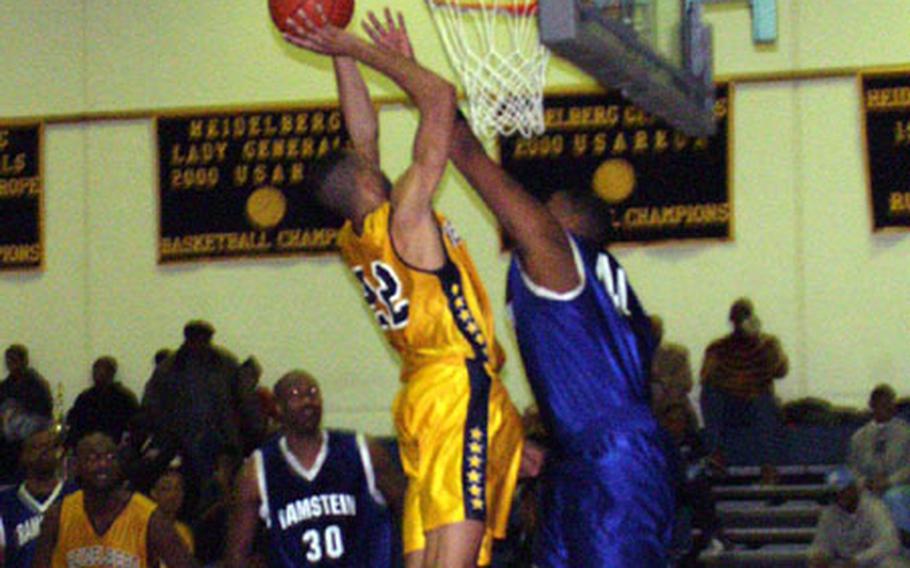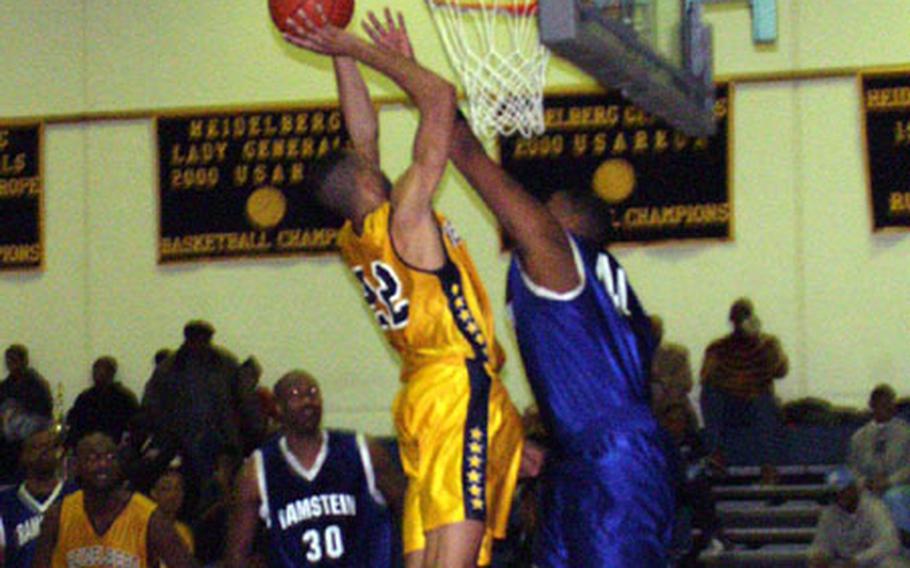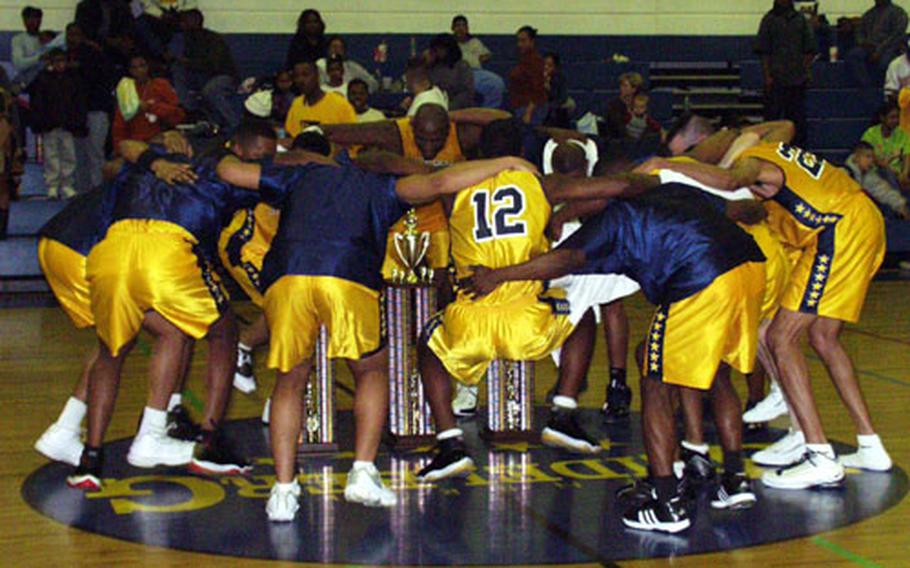 HEIDELBERG, Germany — Heidelberg's men and women claimed the titles of the sixth annual Martin Luther King Jr. Basketball Tournament with decisive victories Monday.
Heidelberg's women, for the third time in four days, defeated Würzburg, this time 40-28, and the Heidelberg men, for the second time in two days, turned back Ramstein, 63-48. The victories completed unbeaten runs through the tourney for both teams.
Heidelberg women 40, Würzburg 28
The opponent in the final wore jerseys that read Kitzingen, but Heidelberg was plenty familar with the team representing the Würzburg community in this tournament since it had beaten the Lady Rattlers Friday and in Sunday's winners-bracket final.
"We pretty much knew what they'd do," said veteran Heidelberg ace Tiffany Collins. "Plus, there were only six of them. We knew we were going to play up-tempo from the start and try to wear them out."
The plan worked as designed as Heidelberg took a 20-12 halftime lead over a team that had earned its slot in Monday's title showdown with a 64-48 victory over Mannheim earlier in the day.
"Their legs were gone by the second half," said Collins, who scored eight points and had eight rebounds, three steals and a block. "It took them a long time to get a shot up. Then, we clamped down on defense."
The result was a decisive 11-3 run to start the second half that included four Collins free throws in four tries and a classic feed to tourney MVP Rhonda Williams on a fast break that resulted in two of Williams' game-high 11 points.
Despite his team's confidence and superior numbers, Heidelberg coach Joe Souza wasn't taking his team's season-long unbeaten streak for granted going into the final.
"When you play a team for the third time," he said, "that's when they're dangerous. Besides, all of their players are good. There's no one you can leave unguarded."
The championship was the fourth straight tourney crown for Heidelberg. The Lady Generals won last season's U.S. Forces event, and all three of this season's holiday events: Columbus Day in Darmstadt, Christmas in Kaiserslautern and their own MLK event here.
Heidelberg men 63, Ramstein 48
In what looked much like a replay of the Generals' 57-47 winners-bracket victory over Mannheim on Sunday, Heidelberg turned around a soft first-half effort on the boards to win going away.
Ramstein, which fell to the Generals 66-57 on Sunday, held a 28-26 halftime lead on Monday, largely on the strength of second-chance shots at the basket.
That all changed at halftime.
"We weren't boxing out from the top," said Heidelberg center Rodney Bailey, who scored 13 points and collected eight rebounds. "Their guards were slipping in and grabbing the rebound."
Heidelberg took care of that problem and with it the challenge of the Rams, who earned their rematch against the Generals with a 48-45 victory over Mannheim earlier Monday.
"Our little guys started boxing out," Bailey said, "and I started getting inside effectively."
Also effective in the second half was tourney MVP Larry Jones, who scored 12 of his 14 points after intermission. He hit field goals to tie the game at 28, 39 and 41 in the first 9:10 of the second half, then sank six free throws in six tries in the final 7:50 as the Generals put the game away.
"We came out sluggish," Jones said. "We have a lot of old guys, and playing three games yesterday might have worn us down."
Newcomer Craig Marcelin picked up part of the load. The all-Armed Forces player, who stepped off the plane and into the Heidelberg lineup on Thursday, scored 22 points and turned in a strong defensive effort.