Heidelberg starts strong in D-1 with 2-0 victory over Ramstein
by
Steve Mraz
March 25, 2007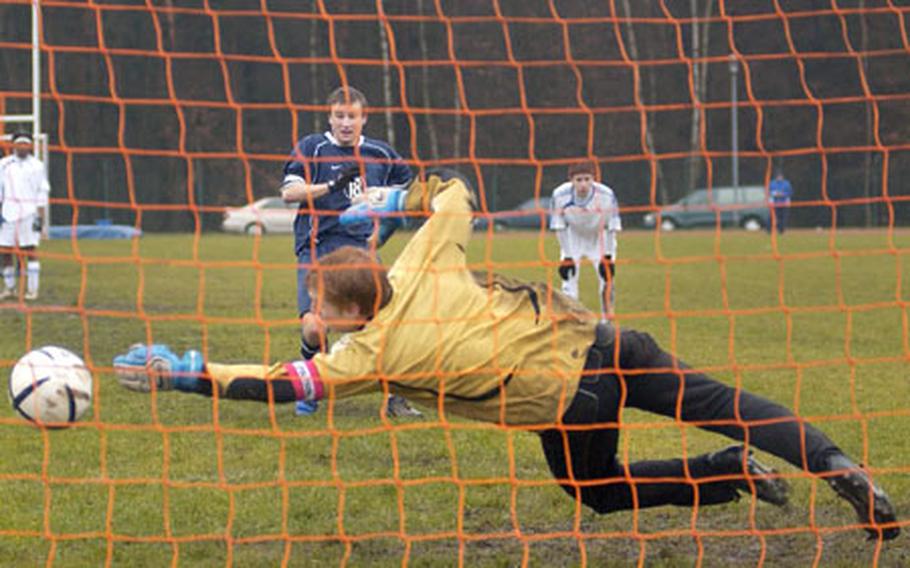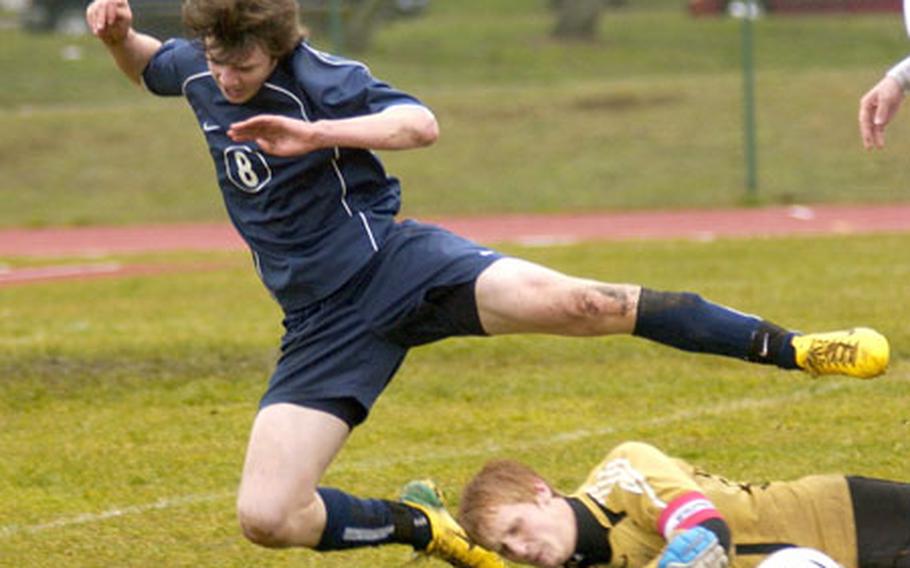 RAMSTEIN, Germany — The Heidelberg boys soccer team got its Division I season off to a good start by blanking Ramstein 2-0 on a cold, wet Saturday afternoon.
The Lions jumped out to a 1-0 lead on the soggy field when Heath Barnett nodded in a header off a corner kick in the game's sixth minute. The tall senior emerged from a mass of players near the net to score.
Heidelberg kept the pressure on throughout the first half, but was unable to score again. Shortly after halftime, Ramstein nearly got the equalizer when Glenn Verley banged in a deflection off the Heidelberg goalie. But Ramstein was called offside.
As tensions grew during the hard-fought match, a penalty kick was awarded to Heidelberg in the 52nd minute. Senior Sean Kerber converted to give his team a 2-0 lead and some breathing room.
An offside violation in the 62nd minute negated another Ramstein goal when T.J. Cloma tapped the ball into the net.
Heidelberg assistant coach Sven Stadtrecher said he was happy with the way the Lions moved the ball and their pressure.
"This is a big game," he said. "It's a nice win, an important win."
Heidelberg coaches singled out Owen Darrow, Josh Darling, Andrew Harrington and Blake Langford for their play.
Ramstein keeper Kris Lusk left the game with a leg injury in the 69th minute after a collision with a Heidelberg player. Late in the game, players for each team received a yellow card in separate incidents.
Tension was in the air even before the game started. Pro-Heidelberg and anti-Ramstein graffiti, replete with an expletive, was found spray-painted around the entrance to the stadium. Air Force security police were investigating the incident before the games began, and the expletive was eventually scrubbed off the wall Saturday afternoon.
---
---
---