Heidelberg's Tillman wants another shot at 112-pound wrestling title
by
Rusty Bryan
February 1, 2007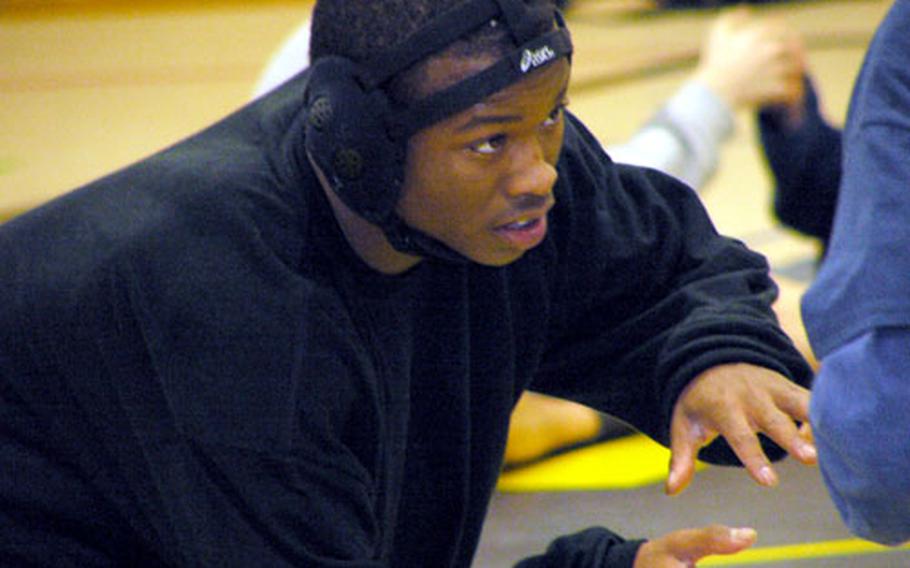 HEIDELBERG, Germany
Heidelberg junior Kauni Tillman, who placed second in Europe last season at 112 pounds in his first year of varsity wrestling, has no time for that hoary sports cliché, "We're taking it one game at a time."
Tillman has been pondering this season's championship tournament since last February.
"To be honest," he said at a practice Tuesday, "I've been thinking about (Europeans) ever since I lost to the Naples kid."
That loss, a fall in 1:22 to Naples freshman Chris Campos in the 112 title bout, was only his fourth loss of the season. Tillman has rebounded to go 13-0 this season – the last 12 by falls – and has all but nailed down the top seed for this year's European championships, scheduled for Feb. 16-17 at Wiesbaden Army Airfield's state-of-the-art gym.
Campos is back for Naples, but he is wrestling two weight classes up at 125.
"I'd like to have another chance at him," Tillman said, "but he told me last year he would probably move up. He said he was having a hard time making weight at 112."
Tillman is a 5-foot-2 bundle of energy and outspokenness who improves daily, according to Heidelberg coach Warren Kimmerly.
"I wish I had him in a school in the States where he could wrestle year-round. He'd be a state champion in almost any state," Kimmerly said as his squad ran through conditioning drills.
Kimmerly's belief in Tillman's potential rests on his wrestler's quickness — "He's as fast as greased lightning" — and his strength.
"He weighs 112, but he bench-presses 185," said Heidelberg volunteer assistant Ryan Mauk. "That's impressive. We don't have any 200-pounders benching 300, for instance."
Unlike many wrestlers, Tillman's no gym rat. He claims he does no weightlifting and little conditioning outside of practice. He does push-ups, but not necessarily for wrestling.
"I got that idea from my minister, Reverend (Carl) Taylor," Tillman said. "He suggested I do push-ups as another way to get out anger and frustration. It's made me a better wrestler."
Anger and frustration, he said, were responsible for launching his wrestling career when he was in the seventh grade.
"I was always getting into trouble, and my mom and dad were deploying to Kuwait," he said. "My mom told me I had to wrestle."
The only trouble Tillman gets into these days is on the mat, and it doesn't last long, according to his coach.
"He can make a mistake and use his strength and quickness to get out of it," Kimmerly said. "He always turns it to his advantage."
Tillman sees himself as a scrambler.
"I just use a fighting style," he said. "I'm scrambling all the time. I like learning new things and coming up with things of my own. At least, I think they're my own until somebody tells me they've seen it before."
Tillman credited his coaches, injured teammate Andrew Moon, second in Europe at 125, and his lifelong work with younger brother Leon, Heidelberg's 103-pounder, for much of his progress.
"We've been fighting each other all our lives," Tillman smiled. "We'll try out moves on each other to see what works and what doesn't."
Tillman, whose family hails from Tennessee, hopes his next move takes him to a wider stage.
"My goal is to go to nationals (in the States)," he said. "I have to win Europeans to qualify."
---
---
---
---