Heidelberg's Puppolo in no hurry
by
Rusty Bryan
April 26, 2007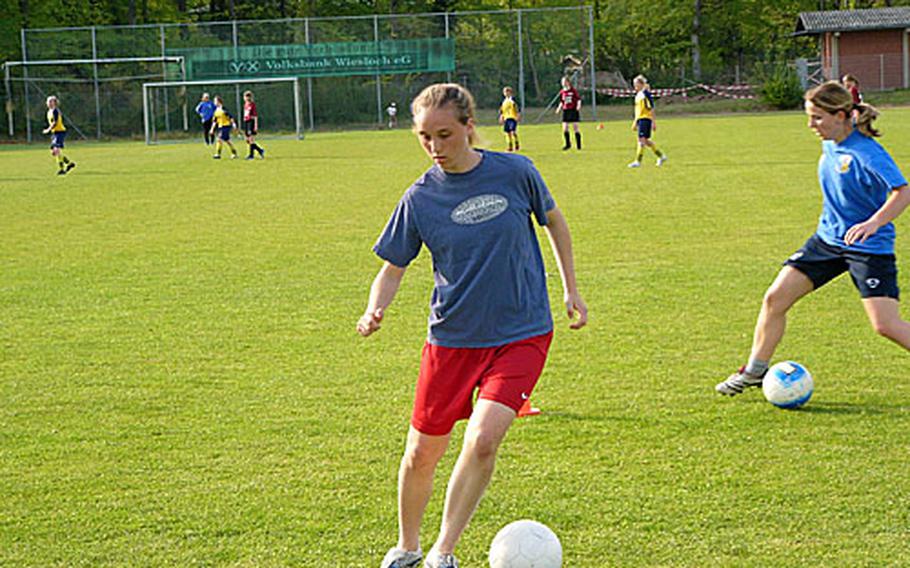 ST. LEON ROT, Germany
Heidelberg sophomore Fallon Puppolo is beating the rush this year.
Puppolo, 16, an All-Europe second-teamer as a freshman defender for the European D-I champion Heidelberg Lady Lions last year, chose not to play for her school this season. Instead, she's focusing on playing for her German club team, VfB St. Leon Rot, and her Olympic Development Program team.
"Last year, we were always rushing around," she said before a sun-drenched practice on VfB's extensive complex just south of Heidelberg. "Once, we had to drive back from Belgium in three hours."
Still, the Puppolos, a genuine soccer family whose two sons were All-Europe for the Heidelberg European champions, and whose patriarch, Perry, is a longtime assistant with the Lions, coped. They rushed Fallon from the school's five-day-a-week practices to twice-weekly sessions with VfB.
But this season, VfB changed game day for its 15- to 19-year-olds from Sunday to Saturday, and the Lady Lions came out the loser.
"DODDS is not flexible," said Puppolo's mother, Erin. "You can't leave a DODDS event early to go to a non-DODDS event. Even if they're just running laps, they won't let you leave to go to another practice."
Without Puppolo, among others, Heidelberg has struggled. The Lady Lions, coming off last Saturday's 5-0 defeat at Kaiserslautern, are 0-2-1 in league play going into Friday's noon contest at Patrick Henry Village against Lakenheath.
Does seeing her former team fall on hard times bother Puppolo?
"Everybody gets on me," she smiled, "but I can handle it."
Puppolo, who made the All-Europe basketball team for Heidelberg last winter, said that she chose to abandon high school soccer because of the higher level of play in German leagues.
"There's superior competition," she said. "German soccer's a lot faster. There's a lot more passing, lots of give-and-go's.
"In DODDS, it's mostly long passes, hoping someone from your team will get to the ball first."
Puppolo's coach, Werner Fuchs, also commented on the level of competition.
"In the Southern Region, where we play, the big teams are from Bayern München and 1 FFC Frankfurt, the (women's) Euromeister," he said. "You know what kind of programs they have."
It also appears that Puppolo is part of the team's master plan for improvement. Fuchs said the team manager has been doing a lot of recruiting in hopes of winning not just the regional title but also the national championship.
Puppolo is part of that recruiting haul, according to Fuchs, and with good reason.
"She's very clear about the game," Fuchs said of his American athlete on a squad which also includes a Greek, a Turk and a player from Eritrea.
"She has a very good eye. She sees the ball coming in and knows where to go. She has a very good shot, a good long ball for clearing."
And a good shot at a German, if not a high school, title.
But then, she already has one of those. Heidelberg won the 2006 championship by beating its main rival, Ramstein, 5-4 in a title-game shootout.
"That was a good way to end it," she said.