Girls soccer
Heidelberg girls win showdown with Patch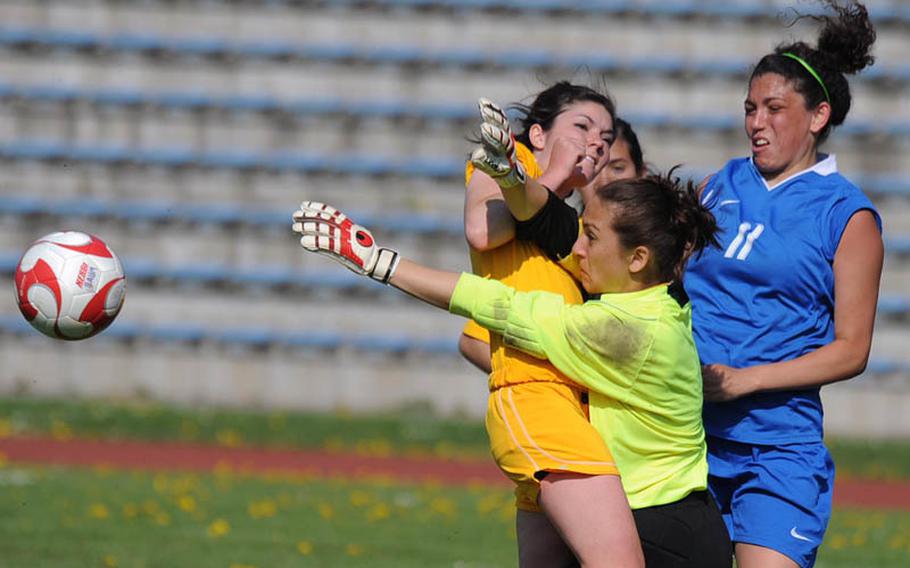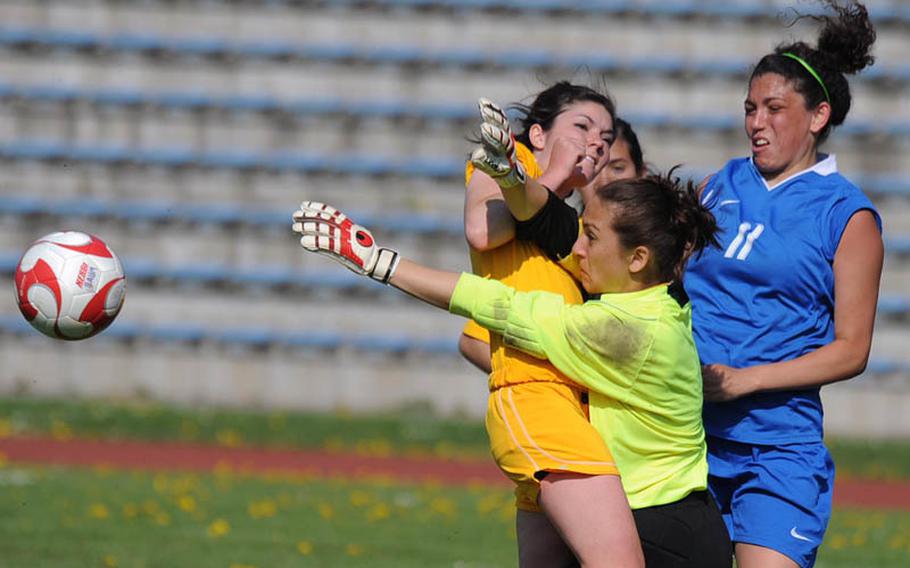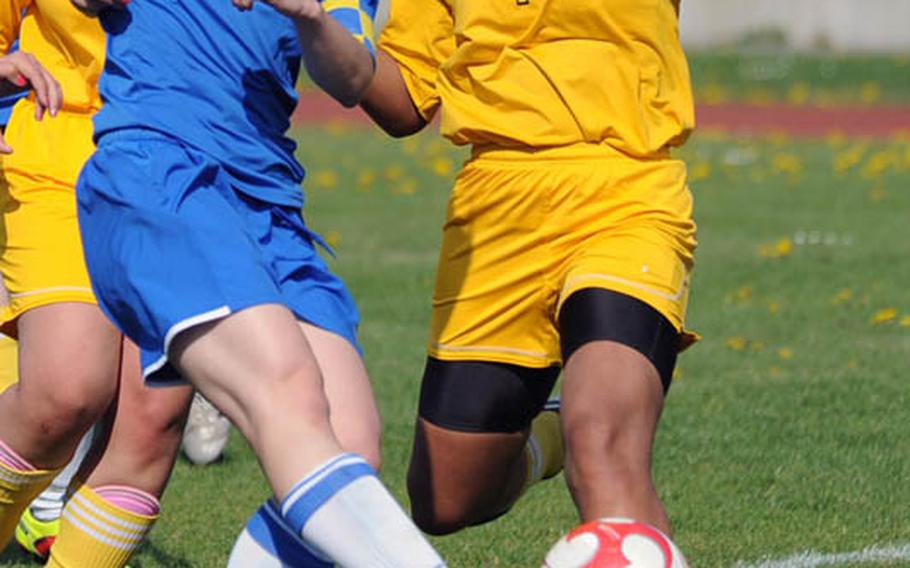 STUTTGART, Germany – Saturday's warm, sunny weather was about the same as it was in the European girls' Division I championship game last May, but the outcome was totally different. This time, the Heidelberg Lady Lions handed the defending champion Patch Lady Panthers a 3-1 defeat.
Heidelberg, which fell to Patch 2-1 in overtime of last season's title game, went ahead 2-0 at halftime Saturday behind goals by Layna Lowe and Marlow Muehlbauer. Asya Tucker added an insurance goal for the Lady Lions after halftime.
Patch, which had outscored its previous two opponents this season by a combined 18-0, managed just one goal Saturday against a Heidelberg defense anchored by goalkeeper Christina Muehlbauer. She made 15 saves against the potent Patch attack.
All-European Alysia Verones, off an assist from fellow All-European Emma Murray, scored the shutout-averting goal for the defending champions.
Heidelberg (3-1 overall and in Region III) next is scheduled for a regional clash at Mannheim on April 30 against Bamberg.
Patch (2-1, 2-1) is ticketed for a nonregional match-up at Wiesbaden on April 29, and a Region III tilt at home the following day against Hohenfels.
In other girls' games of note on season-resumption weekend:
Ramstein 7, Baumholder 0: Saturday at Baumholder, Tori Coleman and Josie Seebeck each scored twice to help the Lady Royals to their third victory in as many games.Ramstein (3-0 overall, 2-0 in Region II) has outscored its opponents by a combined score of 15-1 this season. The Lady Royals are scheduled to host Lakenheath on Friday and Mannheim on Saturday.Baumholder (0-5, 0-3) is scheduled to host Bitburg on Saturday.Naples 2, Vicenza 2: Saturday at Vicenza, the Lady Wildcats remained unbeaten despite committing an own goal.
Isabella Lucy and Sofia Cianciaruso scored the goals that allowed Naples to escape with a Region IV tie; Tracie Robinson was the lone player to crack the scoring column for the Lady Cougars.
Naples will take a 4-0-1 record into its next game, at home May 7 against Marymount International School of Rome. Vicenza (2-1-1) is next scheduled to host the International School of Florence girls on Saturday.
Brussels 5, Alconbury 2: Saturday at Sterrebeek, Belgium, Ali Defazio registered two goals, and Alexandra McVicker scored two goals and assisted on two others in a game tied 1-1 at halftime.
According to Brussels athletic director Mark McVicker, Lady Brigands coach Jacob Myers cited his team's "unselfish ball movement, ball distribution and continuous tough team play" for the victory which allowed Brussels to even its overall and Region I records at 2-2.
Alconbury fell to 1-2 overall and 0-2 in the region despite 12 saves by first-time keeper Kayla Gray.
Both teams are scheduled for this weekend's Region I small-schools round-robin tourney at Alconbury, where they'll be joined by Rota and Menwith Hill.
Lakenheath 2, Bitburg 0: On Saturday at Lakenheath, the home team claimed the nonregional showdown between teams which had yet to win this season.
According to Lakenheath coach Jennifer Russell, Rose Liston set up both scores, finding Chloe Cox-Carter for a first-half strike and Melissa Enriquez for the second Lady Lancers tally.
Keepers Kelli Fleming, who left the game with an injured wrist, and Roxanne Manuelito combined to record the shutout, Russell said.
Lakenheath will take a 1-2 record into Friday's game at Ramstein. The Lady Lancers are then to move on to a game at Kaiserslautern on Saturday.
Bitburg (0-4-0) is to host AFNORTH on Friday and journey to Baumholder on Saturday.
Aviano 3, Sigonella 0: On Saturday at Aviano, Aviano defenders McKenzie Roers, Mara Lauzon and Hanna Schmidtman were the anchors of a shutout-pitching defense which allowed goals by Cheryl Craver, Giulia Silvi and Madeline O'Brien to stand up, according to their coach, Steve Stanley.
Aviano (2-1-1) is to travel to Marymount International School of Rome this Saturday; Sigonella (0-4-0) is to host the American Overseas School of Rome on the same day.
Wiesbaden 3, Mannheim 0: Friday at Mannheim, Gabby Mejia scored twice, and the Wiesbaden defense held Mannheim without a shot on goal, according to Mannheim coach John Crockett.
Mannheim (1-3 overall, 0-2 in Region II) next is scheduled to play at Ramstein on Saturday. Wiesbaden (3-1, 2-1) is to host defending European D-I champ Patch on Friday.