Harlem Ambassadors wrap up Pacific tour by delighting Oasn fans
---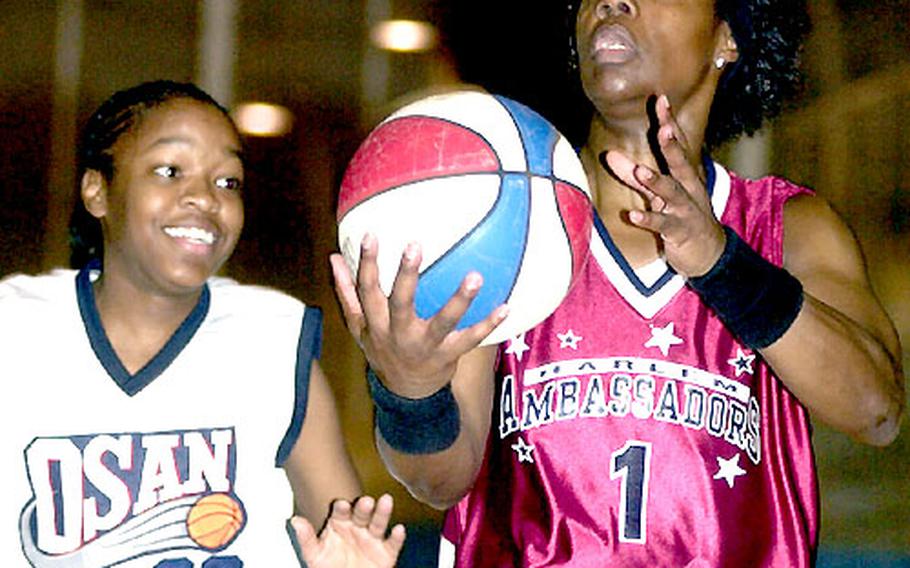 OSAN AIR BASE, South Korea — "Just a minute. Hey. Hey you. Stop right there," Harlem Ambassadors show player Lade Prophete said, stepping in front of three airmen in battle dress uniforms.
"You know you're late? You know what happens to people who are late?" she asked the three, who shook their heads and looked at each other.
They had entered the Osan Sports & Fitness Center well after player introductions, the national anthems and posting of the colors prior to the start of Wednesday's exhibition game against the Osan Defenders base team.
The trio awaited its fate as the player better known as Lade Majic stood before them, her face one of mock seriousness.
"Drop and gimme 10," she directed.
Without a word, the three performed 10 push-ups each, to the audience's delight.
Nearly 500 people gathered Wednesday for a pre-Christmas stocking stuffer of hoops and hijinks by the Ambassadors, with Osan the last stop in a three-week Pacific-region tour.
In their Pacific tour, the Ambassadors had logged quite a few miles, traveling to bases on Okinawa, Japan, the South Pacific and Alaska before stopping at a variety of Army and Air Force installations in Korea.
The three airmen ordered by Lade Majic to do the push-ups were honor guard members who had posted the colors.
"I didn't expect to do push-ups when we walked in," said 1st Lt. Tom Oziemblowsky, who hit the deck with Senior Airmen Michael Sinon and Michelle Tabayoyong. "But it was fun."
The evening featured stunts and gags, poking fun at referee Jesse "Jay Z" Zitrin and the opposing Defenders, similar to those made popular by the Ambassadors' forerunners, the Harlem Globetrotters.
After committing a foul, Lade Majic immediately dashed toward the seats and mugged with Army Capt. Shawn East, his wife, Jennifer, and their 4-year-old son, Brandon.
"I've been sitting right here," Lade Majic told the befuddled referee. Gazing at Jennifer next to her, she added, "I'm sitting here with my cousin and if you mess with me, my cousin's gonna get you. Now cousin, you go tell the referee that I didn't foul him."
Blushing and laughing, Jennifer — who's due to deliver a child in three weeks — arose. "She did not foul him!" she barked at the referee, to a titter of laughter from the stands.
"She's impressive. She's funny," Jennifer East said of Lade Majic. "That was a little embarrassing, but it's all for fun."
Much of the fun involved spectators.
A game of musical chairs, for example, netted 9-year-old Peter Therriat, an Air Force dependent, a T-shirt signed by the Ambassadors.
"I was surprised," he said of being one of 11 youths tapped to play. "I was a little scared. My legs were shaking. I wasn't expecting to do that. But I had a good time."
A little later, several youths were tapped for a contest in which they ran to one part of the court, donned a jersey, then to another to put on basketball shoes, grab a ball and run to the other end of the court to sink a lay-up.
Then much of the entire crowd joined the Ambassadors and Defenders in several minutes of line dancing to the popular "Cha Cha" dance instructional recording made popular last year.
Maj. Bob Edmondson, commander of Osan's 51st Services, joined the dancing with Lade Majic, a smile on his face the entire time as she patiently tried to show him dance steps.
"Fun. That's the main goal," Edmondson said. "Get the kids out here and get them excited about competing in sports. That's what it's about."
---
---
---
---