H.S. teams roughed up in MLK
by
Dave Ornauer
January 19, 2003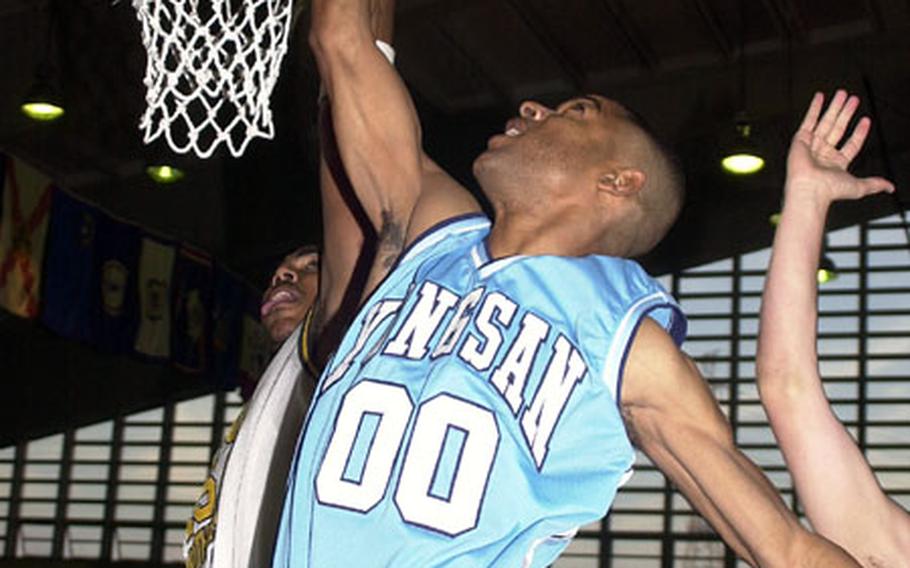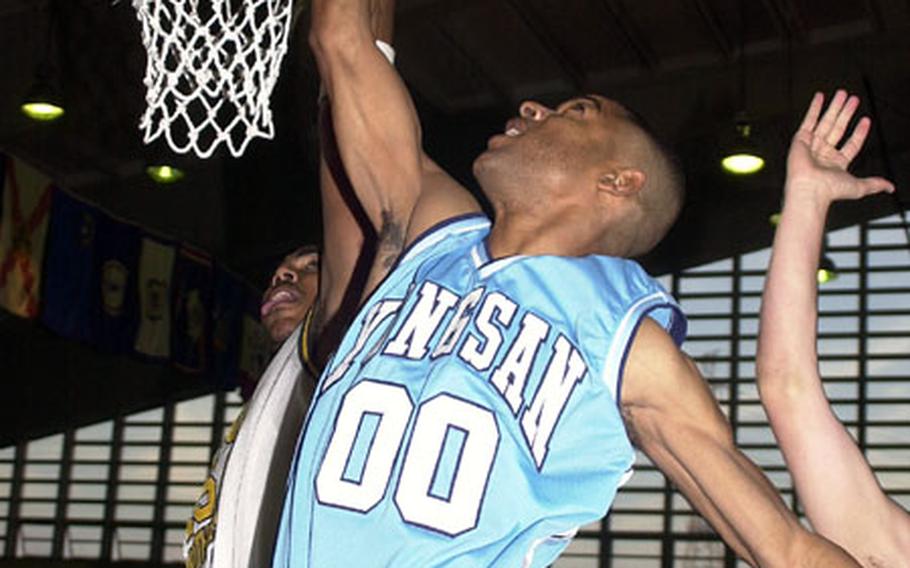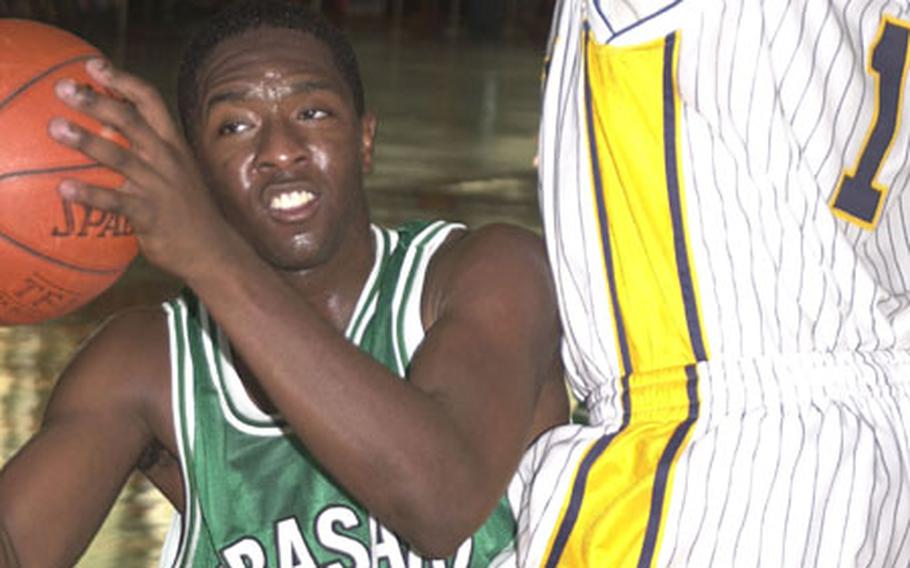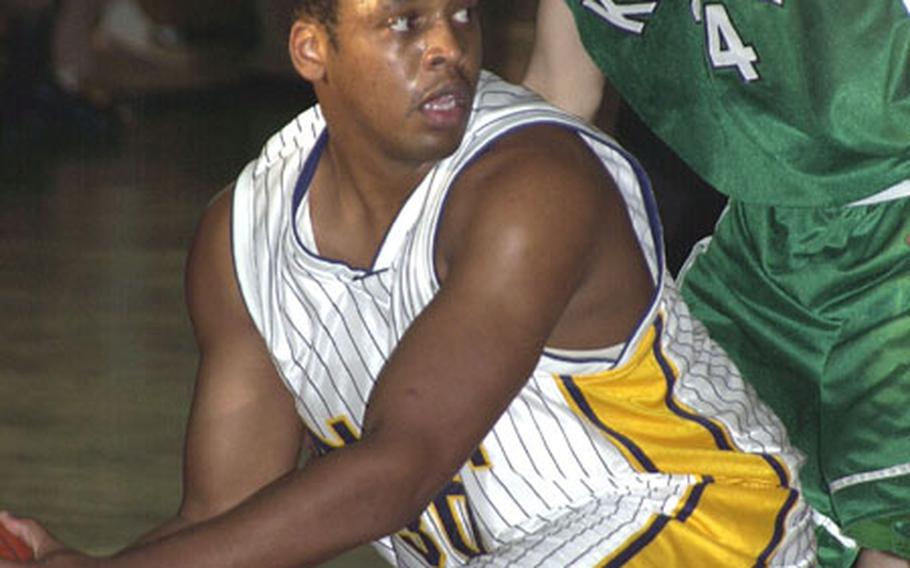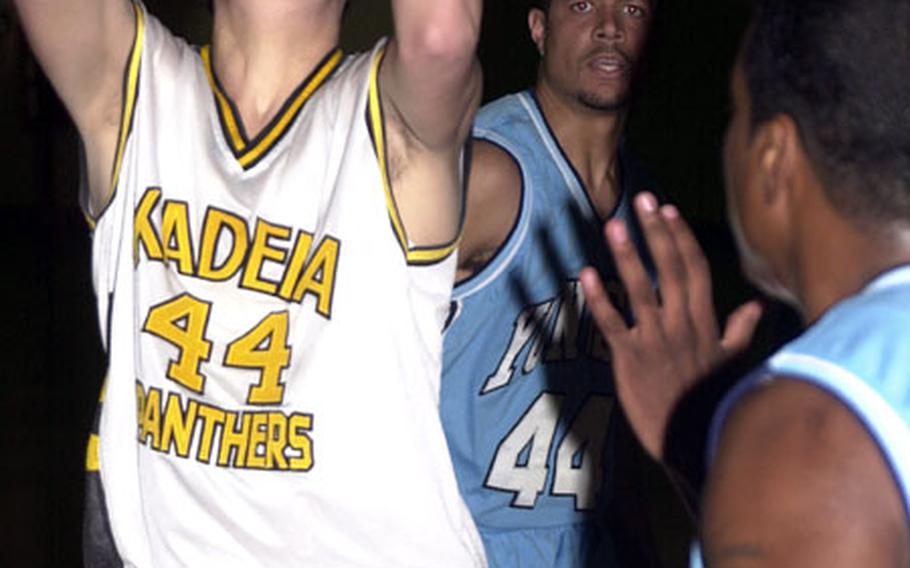 CAMP FOSTER, Okinawa — It seemed like a simple request.
"Be nice to us," Kubasaki girls basketball coach Greg Dejardin said to Robin Szilagyi as she got set for a warmup shot.
Szilagyi's Okinawa Queens open varsity team was gearing up for its opening game in the 12th Martin Luther King Invitational Basketball Tournament — against Dejardin's high school team.
"Hey, we're here to help you prepare for Far East," Szilagyi said, smiling, before she turned and drove to the hoop for a practice layup.
It turned out to be quite a lesson, as the Queens gave the Lady Dragons a rough go in the prep team's first taste of interservice tournament basketball, beating them 40-22.
The Queens fell behind 4-0 but went ahead to stay with a 10-0 run. Then, they scored the first nine points of the second half, when Szilagyi had eight of her 10 points. Trancye Foster ended with a game-high 14.
It was one of four defeats for the four high school teams from Kubasaki and Kadena in Thursday's opening games:
• Kadena's girls fell 48-30 to the Osan Lady Defenders of South Korea. Osan's Nicole Bowman was the game's high scorer with 18 points. Jasmonae Holt and Katie LaGrave of Kadena tallied six each.
• Kubasaki's boys trailed from the opening tip in an 80-38 loss to the Kinser Kings of Okinawa. T.J. Bostick led the Dragons with nine points, while the Kings got 18 points from Reginald Brown.
• The Panthers, meanwhile, hung in the longest, grabbing a seven-point advantage in the first half before fading 45-36 against Okinawa's Disciples of Christ. Kadena's James Williams led all scorers with 14 points.
For Szilagyi, a reading tutor at Lester Middle School and assistant coach for Kubasaki's girls soccer team, it was difficult facing players she knows, including standout Erin Foote.
"It's hard, but I'm a player, too, just like them. And when I come on the court, I have to give it 100 percent," said Szilagyi, whose Queens have gone up against prep teams in interservice competition before. They pounded Osan American of South Korea 65-26 last month in the Osan Pacificwide Invitational and went on to capture the tournament title.
"It's competition," said Szilagyi, an all-tournament selection in the Osan tournament who played two years at Texas A&M. "When we walk onto the court, we're all players. Everybody's come to play, to do better and to win."
Foote was also around last year when the Lady Dragons became just the sixth high school squad since the MLK tournament began allowing prep teams to play in 1997 to qualify for the double-elimination playoffs. They were also the first to win a playoff game.
Still, MLK success is rare for the high school teams — the four went a combined 6-16 in last year's tournament — but they are in the field for other reasons, Foote said.
"It helps our endurance. You run for a full 20 minutes, instead of eight-minute quarters," Foote said, adding that grown women play a more "physical game. They're stronger. They push you around more."
Excluding the Kinser-Kubasaki encounter, each contest involving high schools took on a pattern: Kubasaki and Kadena briefly hung with their military foes before the GI teams pulled away with big runs.
"Very impressive. They played great defense," Bowman said of the Lady Panthers. The game was tied at 14 with 6:25 left in the first half before Osan outscored Kadena 25-4 over the next 16 minutes.
"This is a great opportunity for them," added Bowman, an airman first class who played at Woodrow Wilson High in Camden, N.J., and Fairleigh Dickinson University before joining the Air Force.
"It's good preparation. It's good learning. That's what the tournament is all about for us," added Kadena girls coach Ken Hudson.
And the four are hoping to reap dividends in next month's Far East Class AA Tournament, which defending girls champion Kubasaki hosts Feb. 17-22. "It helps us prepare for the week-long grind of Far East," Foote said.