Guam star reaching higher: IIAAG champ Gadsden wants Far East title
by
Dave Ornauer
March 11, 2010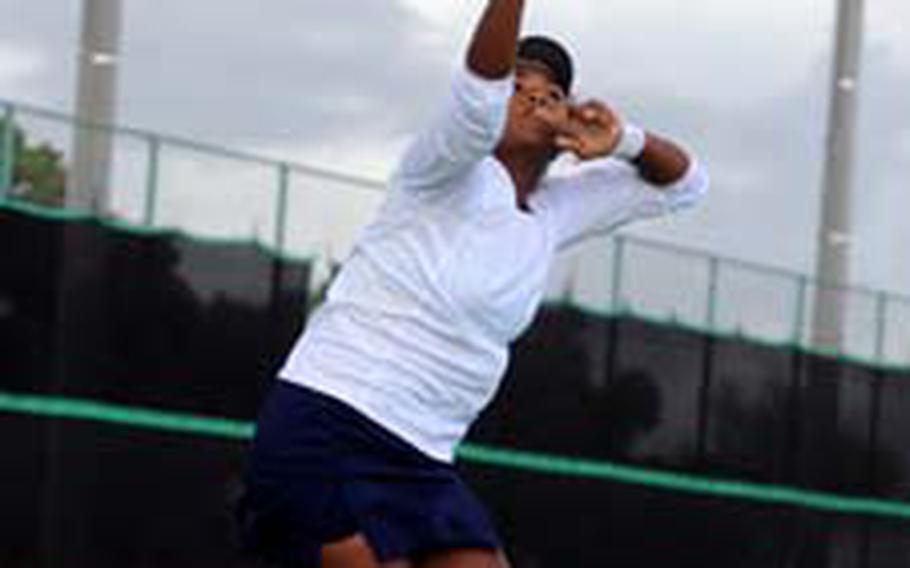 AGANA HEIGHTS, Guam — On the surface, it would seem Amber Gadsden is living the high life of a champion high school tennis player.
The junior just completed the finest singles season in Guam High history. Twelve victories in as many matches. A school-first perfect 9-0 regular season and an Independent Interscholastic Athletic Association of Guam tournament title for the girls.
But below the surface, not all is rosy in Gadsden's tennis life. There's one plank missing in her résumé — a large one, one that can only be filled next November — a DODEA Pacific Far East Tournament singles title.
"That's all that's on my mind," said Gadsden last Friday, a day before the IIAAG Tournament at Hagatna's Ninete Tennis Center. "That's my No. 1 goal. My goal, absolutely. Oh, I gotta get it, gotta get it."
Twice in the past two years, Gadsden came close to that coveted gold, only to fall short, and both times against Seoul American's Kennedy Allen. Allen beat Gadsden 8-3 in the 2008 quarterfinals, then routed Gadsden 6-2, 6-1 in the 2009 semifinals; Gadsden finished third.
But rather than dwell on defeat, Gadsden says even before she steps off the court after a loss, "I look at what caused me to lose."
Clinically, using videotape to break down her strokes and computer Web technology to learn ways to improve, Gadsden works with her father, Michael, an FBI agent on Guam, who sort of serves in a role similar to that of Richard Williams to daughters Serena and Venus — not a player, but an instructor.
"My father is very intelligent and very good at explaining things," said Amber, who also works with a private swing coach and plays in as many tournaments as Guam holds locally off post.
She first picked up a racket when she was 5 years old, "but that was on and off, just so my father could get me off the couch," Amber said.
Born at Yokosuka Naval Base, Japan, Amber and the family hopscotched to Los Angeles and San Diego, then to Hawaii, where, Amber says, she got serious about the sport in the fourth grade.
Her father's dream of Amber getting a college scholarship is one main reason for her playing, "but I love it," she said. "It's so much fun. You get to meet so many different people, and when I travel, it's great because I can expand my level of play."
She played in a number of U.S. Tennis Association tournaments in Hawaii. Two years ago, the family moved to Guam, where she continues to play year-round.
"Amber projects a very serious and very ambitious attitude going into the court," Guam High coach Juana Aguon said. "She goes in to try to win, with the thought that she's not the best, but she's going to try her best and try to come out with the best, which is with the win."
Even though his star the past three years, Allen, had her way with Gadsden, Seoul American coach Robert Victoria sees signs that Gadsden could be on the verge of a Far East breakthrough.
"She's really composed," Victoria said. "She doesn't try to rush points, tries to play them out patiently. She has very nice groundstrokes, all her strokes are smooth and technical, her dad works with her and is very encouraging, gets her the instruction she needs."
If there is any room for improvement, Victoria said, it's "getting up to the net. If she can improve her approach shots, when to come in, when to stay back, she'll be strong. She's a very patient player, waits for that shot to come her way and isn't afraid to take it."
So, what will it take for Gadsden to leap that last hurdle? Dedication, for starters, Gadsden said.
"You have to have focus. You can never give up and you have to be willing to make mistakes and learn from those mistakes," Gadsden said.
She must also work twice as hard and twice as smart as she did before. "I'm going to be practicing every day," Gadsden said, adding that she'll be attending local camps as well as "playing like crazy."
Toughening up her mental and physical games are also vital, Aguon said, and she, her father and her other coaches plan to double both her physical and mental training, the latter "both on and off the court," Aguon said.
"She's going to dedicate herself to a strict regimen of commitment. … She has to tell herself that in order to get that Far East gold, she has to go into a training that is so intense, both mentally and physically, so she can aim toward that goal," Aguon said.
Victoria feels the stars might align for a Far East title for Gadsden, with Allen graduating, most of reigning team champion Kadena's squad departing and Gadsden's solid season giving her a mental boost.
"I think when she gets to being more confident, and after that season she might have boosted her confidence, she's going to be a really tough person to beat," Victoria said. "I'd say she'll be up there."