S&S Players of the Year: Pacific tennis
Guam High's Gadsden finished her business
by
Dave Ornauer
November 28, 2010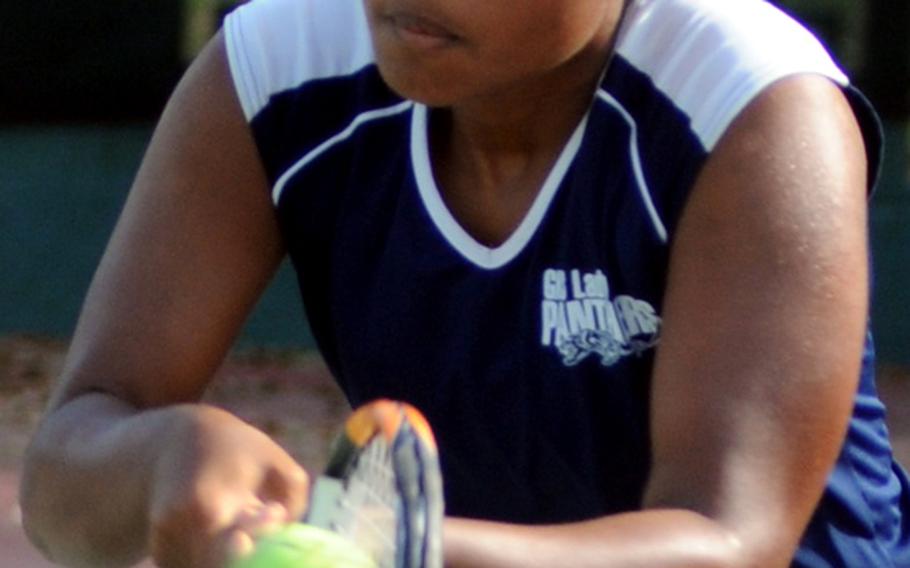 KADENA AIR BASE, Okinawa — Amber Gadsden could have been forgiven had she wore a t-shirt that read: "Unfinished business" to the Far East High School Tennis Tournament.
The Guam High senior went unbeaten during Guam's tennis regular season in February and March, even won the island's Player of the Year award. But in two previous appearances at Far East, she'd come in sixth place in 2008 and finished third in 2009.
The unfinished business was taken care of as Gadsden captured both the girls singles and doubles titles on Nov. 11 at Kadena's Risner Tennis Complex.
"Amber Gadsden led the Lady Panthers through match after match, setting the stage for victory," coach Juana Aguon said.
"She produced winning points on the court that resulted from a stubborn mind looking to achieve game, set and match. She has set a remarkable record and staged future challenges for all Guam High athletes."
For her feats, Gadsden is the female tennis Player of the Year.
Gadsden survived a first-set tie-breaker to defeat Yokota's Erika Ettl 7-6 (7-4), 6-2 in the singles final, then teamed with her freshman sister Chloe to grab the girls doubles title, beating Kadena's Erika Youngdahl and Christin Gentz 4-6, 6-0, 6-1.
"Anybody who wins singles and doubles deserves it," Kadena coach Robert Bliss said, noting that Gadsden did what his own Elissa Mason did a year ago. "And with her sister, (Gadsden) made an awesome combination. They're serious about the game."
Freshman Kent Shikama of St. Mary's International also won the Far East boys singles and doubles titles, and is the boys Player of the Year.
Just as the Gadsdens rallied from a set down to win the doubles, Shikama, battling a sore calf muscle the entire week, rallied from near-certain defeat to edge Kadena's Arlo Taylor 6-3, 5-7, 7-6 (7-5) for the boys singles title.
Shikama later teamed with senior Stefan Byland to beat Seoul American's Russell Midomaru and Jay Han for the doubles title 6-3, 6-4.
"We never expected him to do that well," St. Mary's athletics director Tomas Molina said. "He's a very humble young man. Very consistent and very strong mentally. He's a valuable addition to our program."
"He showed a lot of resolve," Bliss said of Shikama's singles performance. "He hung in there when Arlo had him on the ropes. He pulled out a great championship."
---
---
---
---