Guam High reaches Class AA boys hoop quarterfinals
---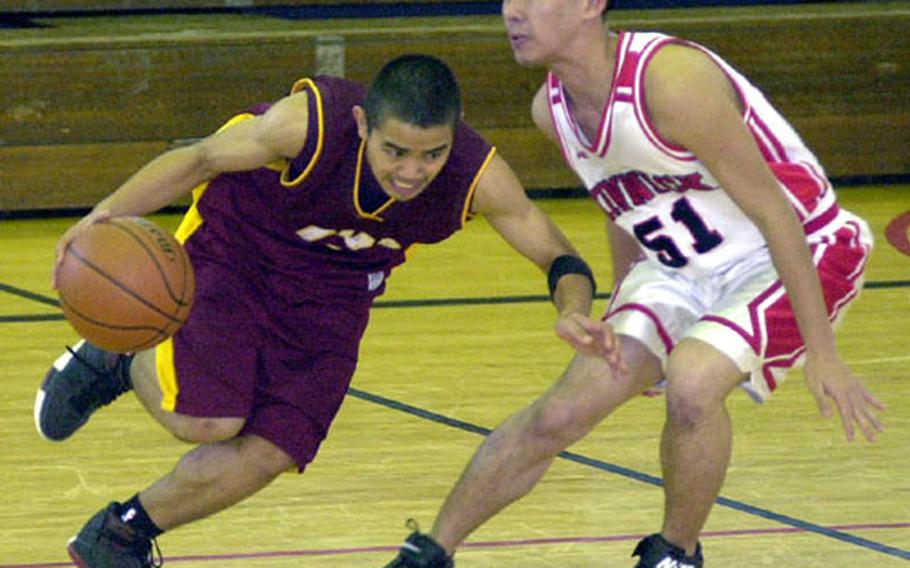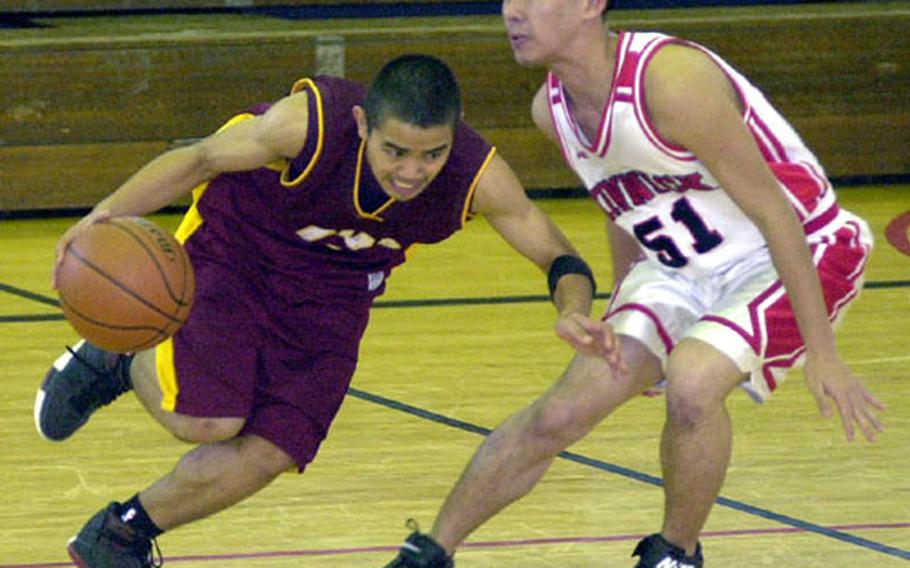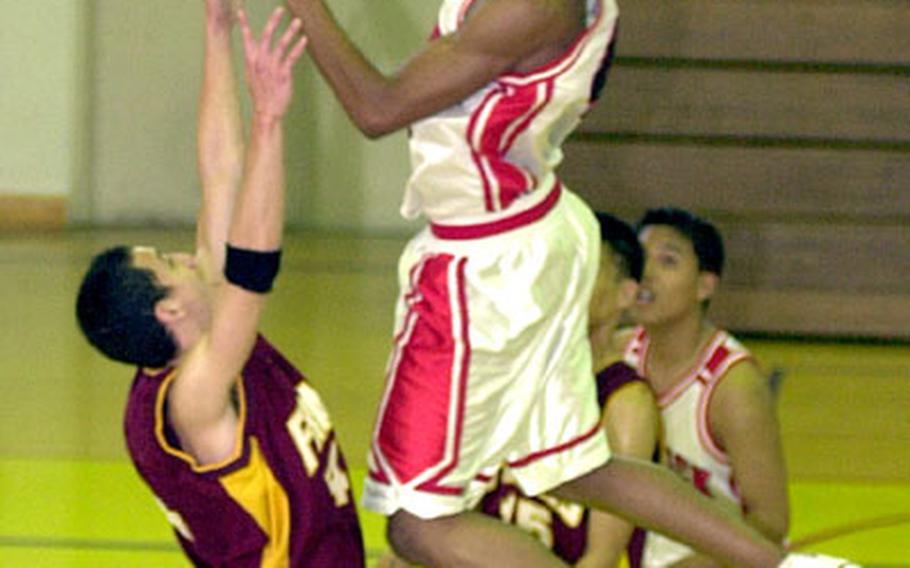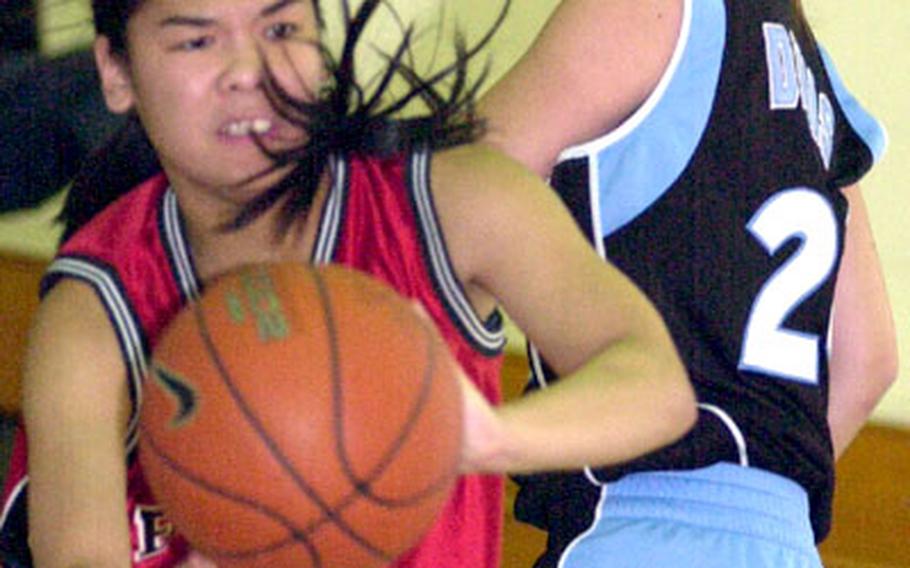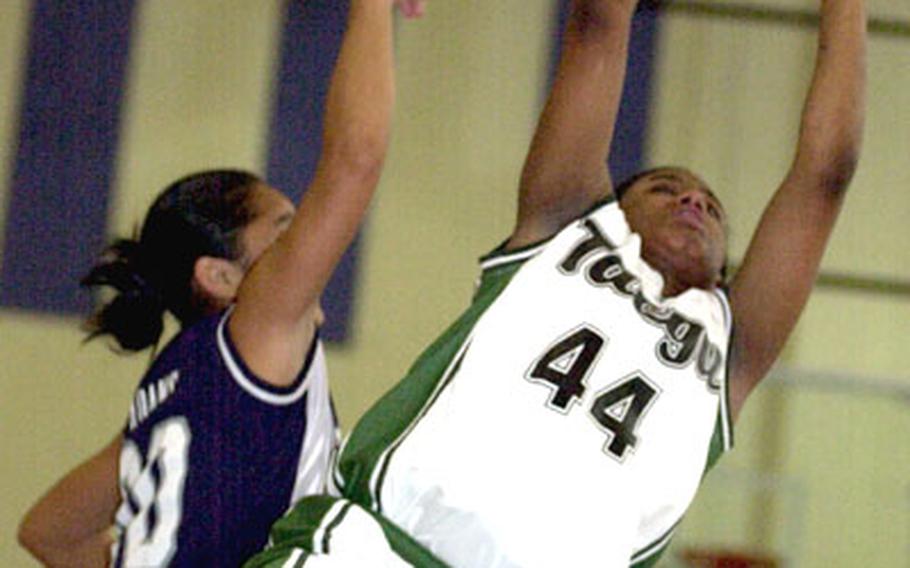 (Click here for tournament standings and summaries)
An ecstatic Gene Macadagum might have counted some 10,000 things he wanted to tell his Guam High Panthers … but he simply could not articulate a single one of them.
After two years of rebuilding, the Panthers took their biggest step in six years on Wednesday in a Far East High School Boys Class AA Basketball Tournament. They reached the quarterfinals for the first time since finishing fifth in 1999 by beating Christian Academy In Japan 50-44.
"Can you believe it?" Magadagum said after the contest at Okinawa's Kubasaki High School.
"I went into the locker room, the boys were waiting, and I couldn't say anything," he said. "I'm really happy. We've stuck with the game plan, we've played really hard, everything I've asked them to do, they did it."
Guam High became the second of the four Independent Interscholastic Athletic Association of Guam teams in the tournament to reach the final eight. Father Duenas Memorial was the other, upsetting Nile C. Kinnick 52-50.
But while the Friars stand third on Guam, the Panthers have had a much tougher season. They're seventh in the nine-team league, 3-11 overall.
"But we've always been within three or four points in the waning moments," said Macadagum, who in January replaced Roger Dequina, who had coached the team since 1997.
"We've not let anything sway us," Macadagum said. "We'll go back to Guam a much different team."
Road to finals cluttered with wide-open fields
Even after three days of action, there don't appear to be clear favorites in three of the four Far East tournaments:
¶ Korea's Osan American Cougars, Japan's E.J. King Cobras and Guam's St. Paul Christian Warriors finished pool play with identical 4-1 records in the Girls Class A tournament, with Osan earning the top seed due to superior point differential.
Faith Academy of the Philippines went unbeaten in the other pool.
The top two finishers in each pool earned a first-round bye in the single-elimination playoffs, which were to start Thursday.
"It makes it a lot easier," said Cougars senior Mina Davis. "We'd have had a tougher road if we had lost this."
Those four teams, as well as Taegu American — second to Faith in its pool — have the goods to make a title drive, said Taegu coach Michelle Chandler.
"It's a tossup," she said. "It depends on who shows up to play in the playoffs."
¶ Boys Class AA co-host Kubasaki learned that missing out on a top seed can be costly. That tournament features 16 teams, with no byes in the single-elimination playoffs.
The Dragons won their first playoff game — and their reward was a Thursday showdown with two-time defending champion Seoul American.
"A knockout game right away. We have our work cut out for us," Sullivan said, adding that he believes the title is "wide open for about four or five teams."
¶ Yokota and Kinnick of Japan, meanwhile, remained unbeaten through Wednesday's action in a battle for the top seed out of Pool A in the Girls Class AA tournament at Seoul American High School.
The Panthers, who beat the Red Devils twice in Japan's regular season, were to square off Thursday morning. The winner would earn a first-round single-elimination playoff bye.
Only the Boys Class A tournament at Japan's Iwakuni Marine Corps Air Station appeared to have teams that stood above the crowd — Faith and St. Paul, the defending champions.
---
---
---
---