Greeks used basketball to bond at SHAPE
by
Rusty Bryan
February 22, 2007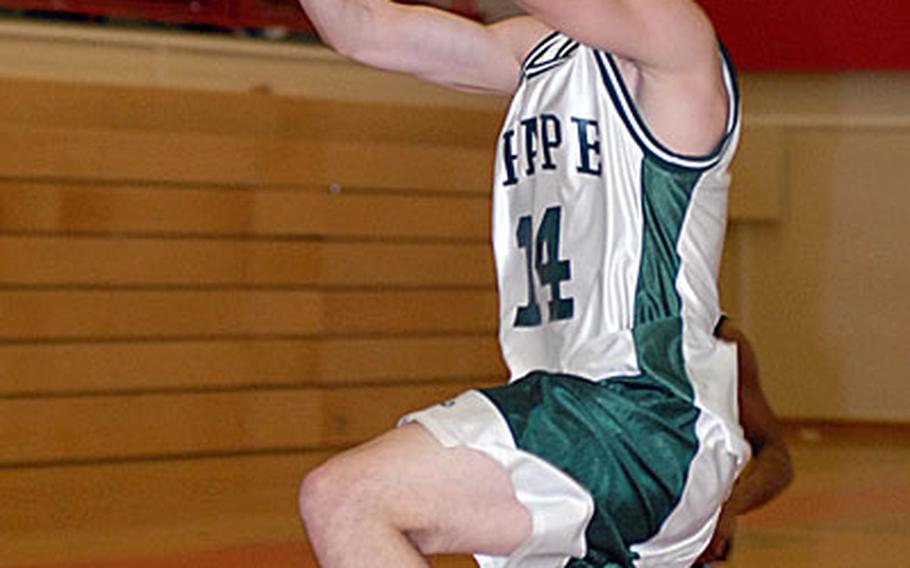 Twenty games or so into a so-far perfect SHAPE basketball season, the Spartans' opposition has come to be wary of Greeks with basketball gifts.
George and Michael Konidaris, sons of Greek navy captain Spyridon Konidaris, enrolled in the American section of the SHAPE International School in 2005, and immediately bridged any cultural gap there might have been with their ability to play basketball.
"It was a big change," said George, a senior who's averaging just under 11 points, three rebounds, three steals and an assist per game. "We were not used to that kind of school. We had never been out of Greece before. It was a challenge."
And adapting to the new situation required more than getting the lay of a new land, he added.
"The hardest thing about adjusting to the American school was the language," he said. "The classes are almost the same classes as we would have in Greece."
Michael, a junior who's averaging slightly more than seven points per game, agreed with his brother about adjusting to the vernacular of the American teen.
"The language was hard at first, but we got used to it," he said.
Even with the challenge of an entirely new environment, George said the family welcomed its move to Belgium.
"We wanted to come here," he said.
And the rest of the Spartans team has been glad to have them. According to coach Steve Richardson, acceptance of the two came easily.
"They have such charm and charisma," Richardson said of the duo he's coaching for the second season. "The community reached out and accepted them right away, and they reached out to the community."
Michael agreed that having the common bond of basketball with his new classmates helped the process.
"Playing basketball helped them accept us quickly, but they might have done it anyway," he said.
Both brothers began playing basketball in their hometown of Kallithea, a suburb of Athens.
"I didn't like it a first," Michael recalled. "But after three or four months I loved it."
According to Richardson, the brothers add more to his team than just their skills.
"They're great athletes, but on top of that they bring a calmness to the entire program," he said. "Win or lose, high or low, they always have the same demeanor."
That calmness was evident in Wednesday's European Division II tournament game, a 60-34 victory over AFNORTH that kept the Spartans unbeaten for the season — which includes games against international foes as well as DODDS teams. Michael scored 11 points and George eight as SHAPE got everyone plenty of playing time.
"We don't think about it," Michael said about the streak. "We just go out and play. We'll see about it at the end of the tournament."
The end of the tournament will end the brothers' career together, at least for the time being. But that's no cause for alarm, either.
"It will be the first time in seven years we haven't played together," Michael said. "But it will be OK."
---
---
---
---