Girls soccer AOY
Grabski finds another satisfying challenge in leading Zama to title
---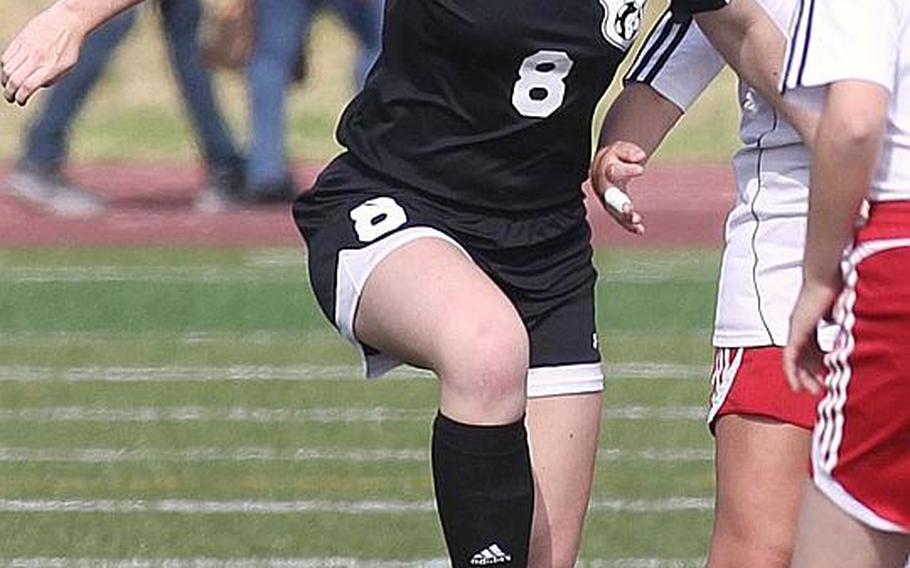 Siobhan Grabski clearly loves a challenge, her coach Manny Duarte says.
It shows in her first loves on the athletic field of play (soccer) and the career path she's chosen for herself (classical music).
The specific position she plays on the pitch, midfield, and the instrument she plays, the French Horn, each have a high degree of difficulty.
"Were it on a piano, you can look at the note and play it, but with the French Horn, you have to have an idea of what the note sounds like in order for it to come out correctly," said Grabski, a Zama senior.
Same holds true for being a midfielder, she said. "The creativity in being a midfielder can be similar; you have to see the play in your mind before you can construct it."
Grabski and her teammates constructed quite a few good plays, which led to one of the best seasons in Trojans girls soccer history – an 18-3-2 record, including a runner-up finish in the DODEA-Japan and a school-first title in last month's Far East Division II Tournament.
Along the way, Grabski recorded 16 goals and 18 assists, figuring in 34 of the Trojans' 104 goals, and as defensive midfielder, she helped hold down opponents to a .74 goals-against average, 17 goals in 23 matches.
For all that, Grabski has been named Stars and Stripes Pacific girls soccer Athlete of the Year.
Grabski noses out a very tight field of nominees led by Maggie Donnelly, a sophomore who had 35 goals and 19 assists and led Nile C. Kinnick to its second Division I title in three years.
Grabski, a four-year varsity starter, was responsible for far more than goals, assists and defense, Duarte said.
"She has the skills and experience, but the differentiating factor was her leadership, on and off the field," he said.
Grabski was responsible, Duarte said, for reinforcing coaches' instructions and strategies. She would always provide positive motivation, "always uplifting and supporting" and leading by example, whether during a practice or match or just being there as a friend.
Similar to her school band practices, much of the Trojans' success on the pitch involved study and repetition, Grabski said.
"There are elements you can practice beforehand, things we can construct in practice as a team," she said. "Looking at what you have and deciding the best avenues and options. Doing it over and over again until you do it right."
Such were the contributions that made Grabski "invaluable" to Zama's title effort, Duarte said.
Despite the team's successes throughout the season, Grabski said she and her teammates didn't take a thing for granted until the final whistle had blown on the title match, which the Trojans won 3-0 to dethrone defending champion Yokota.
"It was surreal that the last whistle blew and we were Far East champions," Grabski said. "I couldn't believe that was the last game we had to play. I was so much in game mode, I had to talk to myself and realize there wasn't another match to play for. It was done."
Pacific All-Far East soccer team Nile C. Kinnick – Maggie Donnelly, Ella Eisenhardt, Megan Thomas, A'anna Taylor; Zama – Kayesha McNeill, Siobhan Grabski, Chloe Sterling; American School In Japan – Ava Vander Louw, Shuly Zuo; Yokota – Caleigh Garcia; Kadena – Megan Kirby, Korina Radel; Matthew C. Perry – Micayla Feltner; E.J. King – Gabi Shultz; Humphreys – Arelle Stickar.
---
---
---
---