Girls soccer AOY
Goodman couldn't be stopped - and neither could Warriors
---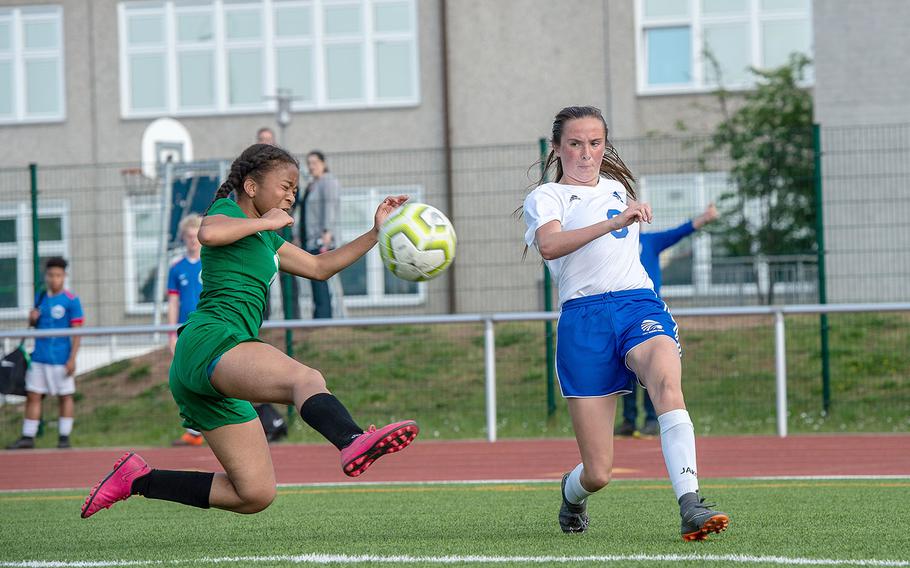 Erin Goodman certainly has the skills and statistics for individual stardom. But that's not her priority.
"I never heard her talk about all of the goals she scored this season," Wiesbaden coach Nicole Angel said. "Instead she would always say how great the team was."
As it turned out, there was plenty of greatness to go around. The Warriors won the 2019 DODEA-Europe Division I girls soccer championship, and now Goodman is the Stars and Stripes girls soccer Athlete of the Year.
Goodman turned in one of the most overwhelming offensive seasons in DODEA-Europe history this spring. She totaled 42 goals in 14 combined regular-season and postseason matches, a per-game average that works out to a three-goal hat trick. She scored 38 of those goals against Division I competition, and 12 of them in the European tournament. Finally, Goodman added nine assists to those prodigious goal-scoring totals.
But not even those impressive numbers can take precedence over Goodman's status as a member of the triumphant Warriors.
"We're just so tight-knit, we have such a bond. It's unbreakable," Goodman said. "We are a family; we always say that."
To that end, Goodman also served as a team co-captain and one of the Warriors' primary leaders, both by word and by example.
"She motivated the team when they were down and her energy level was always at the highest level," Angel said. "Her work ethic is second to none. As soon as she stepped onto the pitch during practice or a game she gave 100 percent and never any less."
That approach has now earned Goodman and the Warriors two European titles in the past three seasons, with perhaps another to follow. Angel said Goodman, in the days following Wiesbaden's 2019 title win, was already looking forward to returning for another run as a senior next spring.
"She's a true Warrior to her core," Angel said.
broome.gregory@stripes.com Twitter: @broomestripes
---
---
---
---