Glover's teams square off in Osan basketball tourney
---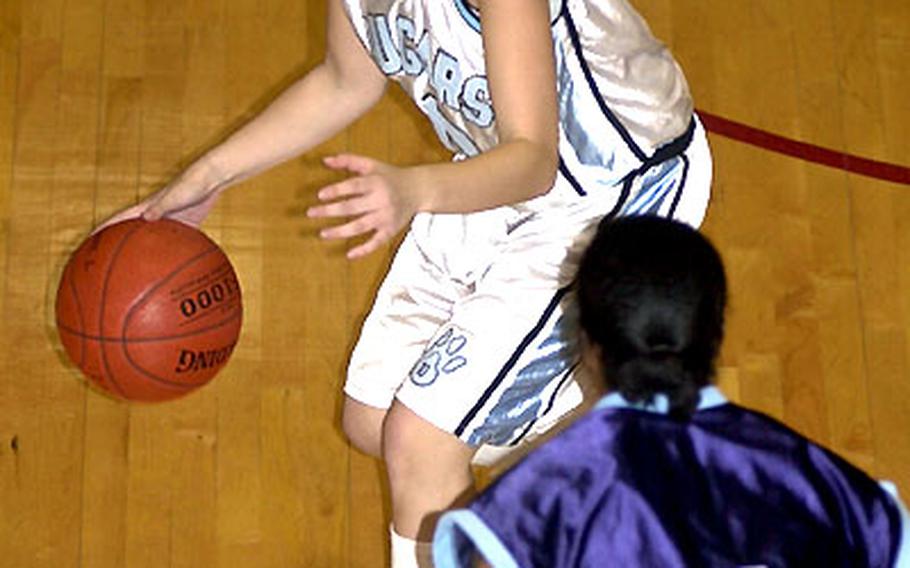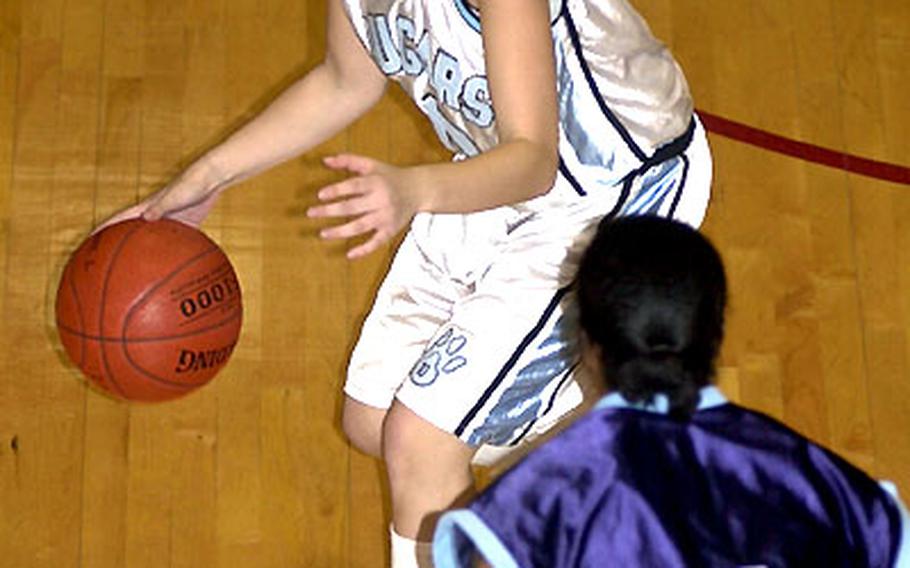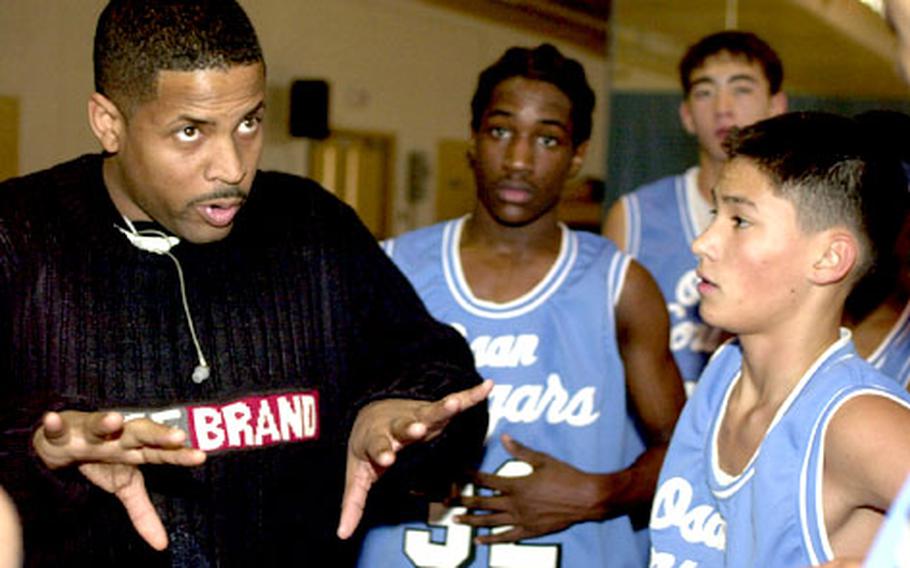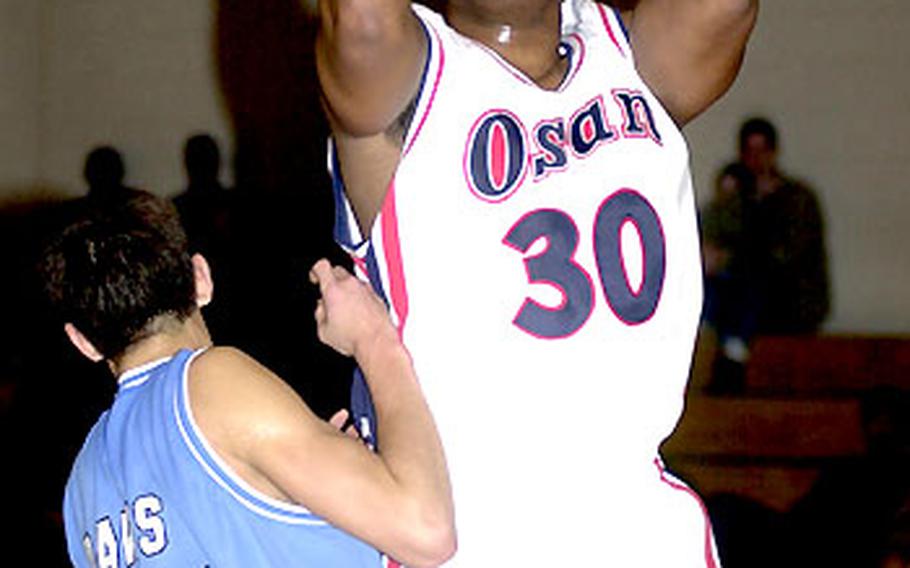 ¶ Tuesday's game summaries at end of story.
OSAN AIR BASE, South Korea — Dietrick Glover's loyalties were surely divided Tuesday when the Osan Defenders base team and Osan American Cougars high school team took the floor in the Osan Pacificwide Invitational Basketball Tournament.
Glover is an assistant coach for both teams.
"I love them both the same," said Glover, an Air Force staff sergeant who seems to be as much about basketball as his military speciality, law enforcement.
The Defenders won the game 88-64.
The 30-year-old from New Brunswick, N.J., has played or coached base-team basketball throughout his 12-year Air Force career, from Ramstein Air Base in Germany to Malmstrom Air Force Base in Montana. He arrived at Osan about 18 months ago.
Immediately, he joined the staff of longtime Defenders head coach Tony Jones, who calls Glover his "right arm." But Glover had another goal upon arrival.
"My first goal is to be a high school coach. My next is to coach college ball after I retire from the Air Force," he said. Besides helping Jones, he's also an assistant for Cougars head coach Greg Rosenberger.
Glover works behind the scenes to advance high school and military players onto the college level, perhaps beyond. He has brought Cougars high school players into Osan's summer intramural leagues to improve their skills.
He initiated a program in which a Defender is assigned a high school player in a corresponding position "in a mentoring role," Glover said.
At the military level, through a series of contacts, he arranged for a scout from Texas Christian University to check out former Defenders forward Demario Daniels, now at Langley Air Force Base, Va.
Jones and Rosenberger say they're glad to have Glover's help.
"It's rare that you can have somebody like that at your side who you can trust to give your team over to," Jones said. "I could go on vacation for a month, come back and nothing changes. He's not too big for his britches, he backs me up in everything I do."
Glover's role with the high school program doesn't bother Jones. "I want him to do that and give him the time he needs to do that, because in the long run, I know he'll do the same for me," Jones said.
Glover "is a great tactician, he works well with the kids, and they respect him," Rosenberger said. "He's the reason the Osan basketball program has taken a step up."
Glover emphasizes, however, that he coaches for the players. "I do it for them," he said, "not for the recognition."
Tuesday's summaries
Men
Camp Humphreys 106, Andersen 100 (OT)
Tony Roberson scored eight points in overtime as the Bulldogs outscored the Bombers, 12-6. Roberson finished with 19 points, Jamaal Jackson added 28 and Marquis Holmes 25 for Humphreys. Marlowe Grimsley hit three three-pointers and finished with 31 points for Andersen.
Suwon 88, Osan American High 68
Thang Vo's shot with 4:53 left in the third put the Trail Blazers up to stay after they trailed the Cougars by 12 in the second period. Patrick McMillian had 23 points, and Vo finished with 21. Jon Piekarczyk had 21 points and Steve Davis 19 for Osan.
Osan Defenders 92, Camp Humphreys 90
Briane Rock's lay-in with 4:39 left capped a 10-0 run that put the Defenders on top for good in a game featuring 16 lead changes. Darrell Harmon led Osan with 27 points. Marquis Holmes scored 25, Derrick Porter 15 and Jamaal Jackson 14 for Humphreys.
Yongsan 139, Suwon 73
The Runnin' Rebels hit 21 threes and used a press-and-transition game to score 81 second-half points. Mordecai Jackson scored 40 points, connecting on nine three-pointers, and Robert Batiste hit seven threes and finished with 28. Patrick McMillian paced the Blazers with 34 points, including four threes.
Osan Defenders 88, Osan Am. High 64
Asi Oba scored 22 points and Eric Johnson added 18 for the Defenders, who broke away with an 11-0 first-quarter run and led by as many as 28. A.J. Scott topped the Cougars with 22 points, while Jon Piekarczyk added 20.
Women
Okinawa 65, Osan American High 26
Robin Szilagyi netted 18 points, and Vernita Handsbourough scored 13 of her 17 in the first half for the Queens. Mina Davis led the Lady Cougars with 10 points.
Camp Humphreys 65, Suwon 35
Apeleila Pereza poured in 21 points for the Lady Bulldogs. Calathia Hazel paced the Lady Panthers with 15.
Yongsan 53, Osan Defenders 49
Jennifer Opuko's layup from the right baseline with 3:01 left snapped a 43-43 tie and put the Lady Runnin' Rebels in front to stay. Krystal Hardy scored 23 points, including four threes. Nicole Bowman led the Lady Defenders with 16 points.
Yongsan 55, Osan American High 29
Krystal Hardy and Michelle Barksdale each netted 11 points. Osan's Kim Gulley led all scorers with 12.
Osan Defenders 65, Camp Humphreys 43
The Lady Defenders led by as many as 25. Nicole Bowman had 17 points, and Mary Seaberry scored 12 of her 14 in the first half. Apeleila Pereza led the Lady Bulldogs with 14.
---
---
---
---