Girls soccer roundup: Unbeaten Patch keeps rolling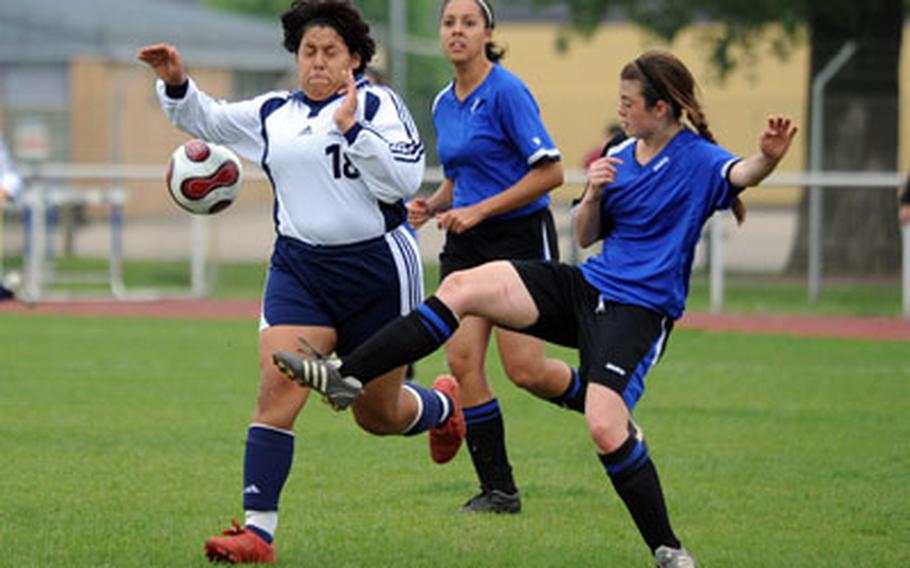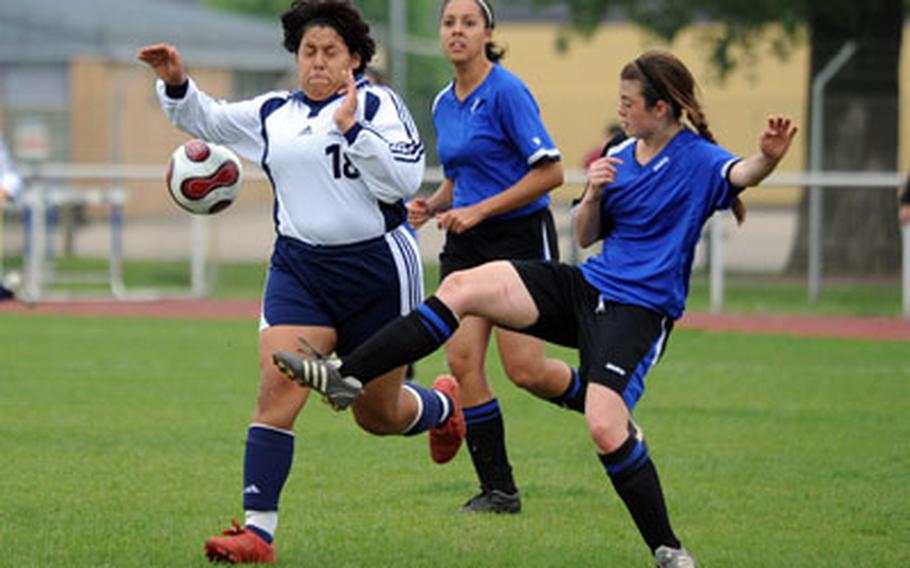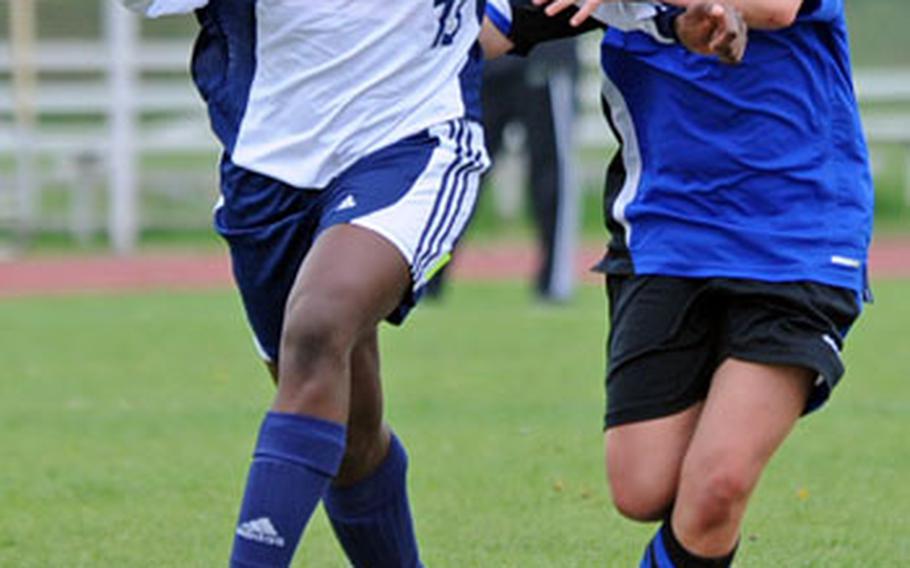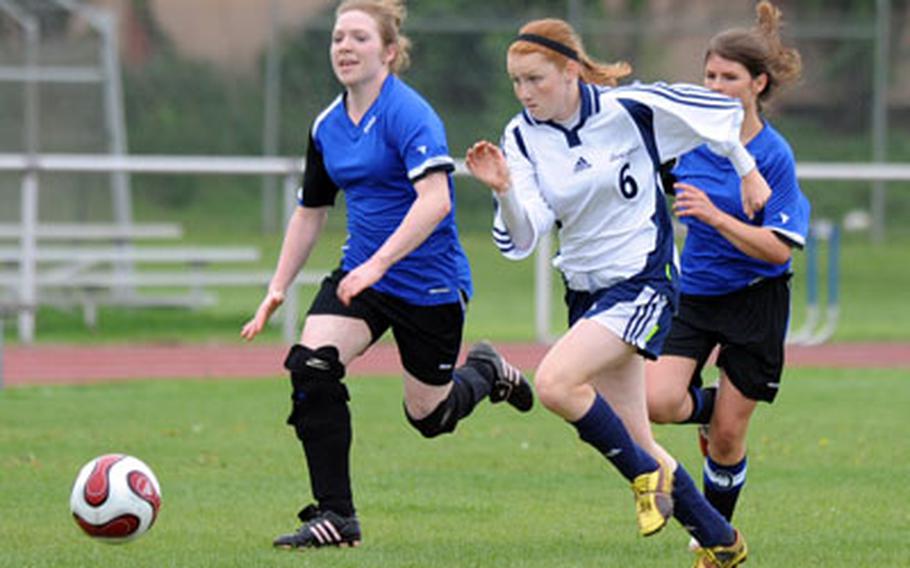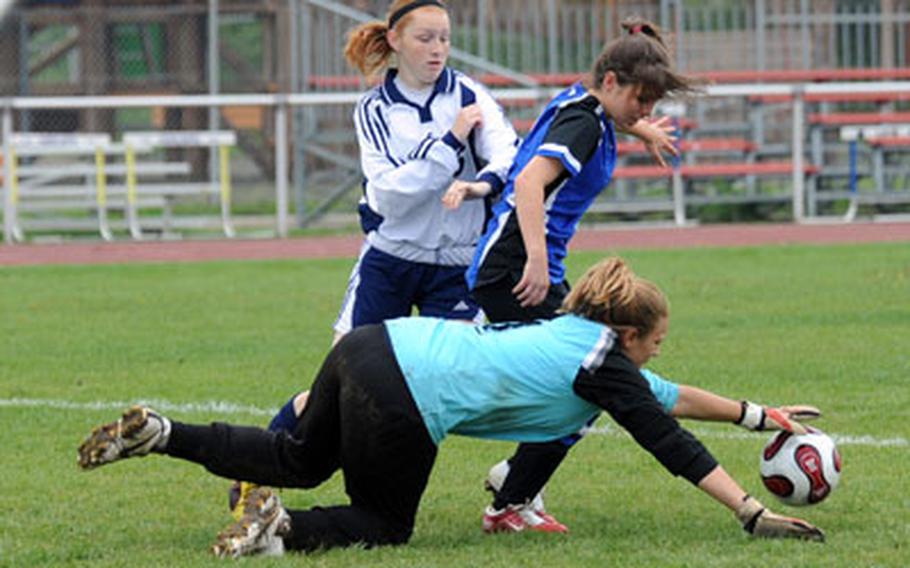 Ten Lady Panthers scored Saturday as Patch remained unbeaten with a 10-1 romp over the visiting Bamberg Lady Barons.
All-Europe striker Nelly Loney, who was one of the 10 scorers, recorded a save as one of three goalkeepers for Patch.
Patch, which clinched the Region III championship the previous week with a 4-1 victory over visiting Black Forest Academy, closes its regular season at home this Saturday against winless Ansbach. The Lady Panthers appear headed on a collision course against unbeaten Ramstein in the European Division I tournament May 19-22 in Ramstein.
In other girls games of note:
Ramstein 7, Kaiserslautern 1: Friday at Kaiserslautern, the Ramstein defense surrendered its first goal of the year, yet romped behind newcomer Josie Seebeck's hat trick.
But the end of the goal-less streak still stung, Ramstein coach Ricardo Buitrago said Saturday in an e-mail.
"Ramstein seemed a bit disoriented and disorganized after being scored upon," he wrote, adding that the Lady Royals' adjustment to the new status wasn't helped by the spirited play of Kaiserslautern midfielder Olivia McQuail. "She moved, handled and dribbled the ball well," Buitrago reported.
Ramstein (6-0-0 overall, 4-0-0 in Region II) got two goals from Mikaella Herron and forced Kaiserslautern goalkeeper Katie Jackson to make 17 saves.
Kaiserslautern played a scoreless tie at SHAPE on Saturday to take a 2-2-2 overall record into this Saturday's regular-season finale against visiting Mannheim.
Heidelberg 3, Hohenfels 0: Saturday at Heidelberg, Stephanie Miller put two shots into the Lady Tigers' net to lift Heidelberg to a 3-2-1 overall mark and a 3-1-1 record in Region III.
Naples 5, Sigonella 0: Saturday at Naples, Demi Holbrook scored three times and Haylea Witz twice to lift the Lady Wildcats to their fourth straight victory. Naples (3-2-1) is scheduled to host American Overseas School of Rome in its regular-season finale Saturday. Sigonella hosts Marymount this Saturday as both teams close the regular season and prepare for the DODDS-Europe tournament.
Aviano 5, AOSR 2: Saturday at Rome, Cheryl Craver scored three times, and Chelsey Bayne had three assists to help Aviano (3-3-0) even its record at the expense of the American Overseas School of Rome (0-4-1).
Wiesbaden 1, Bitburg 0: Saturday at Wiesbaden, Celina Ponte provided the only goal of the game, and the Wiesbaden defense, led by Andy Thomas, made it stand up.
Wiesbaden advanced to this Saturday's showdown game at Ramstein with the Region II title on the line. The Lady Warriors are 5-0-1 overall and 4-0-0 in the region, tied with Ramstein for the regional lead.
Wiesbaden, along with Ramstein and Patch, are unbeaten in Division I into the final game of the regular season. All will vie for the European D-I tournament title the following week.