Girls soccer roundup: Lady Royals alone atop D-I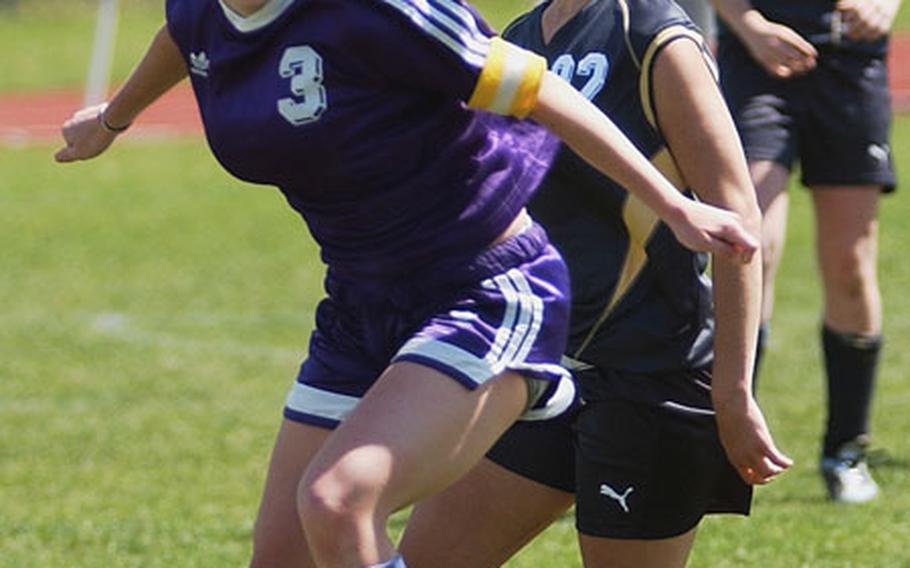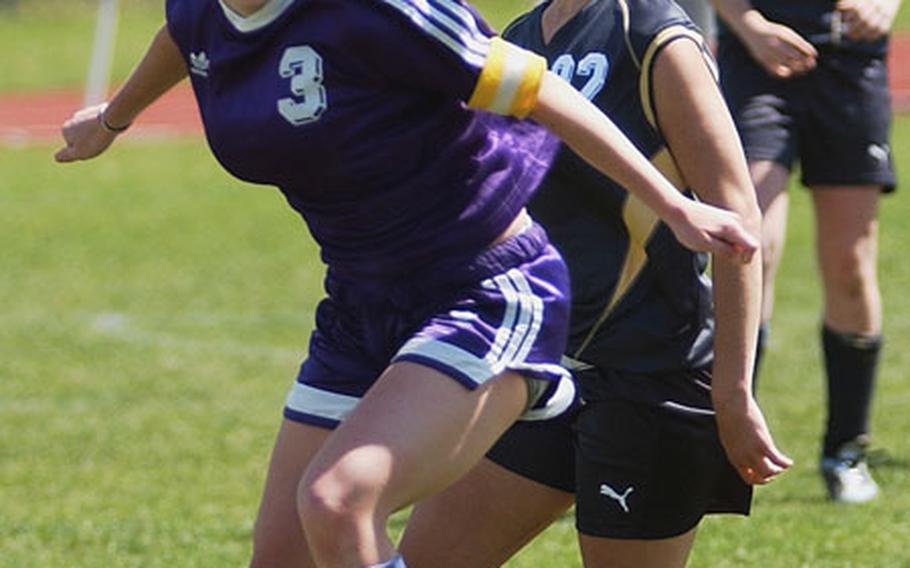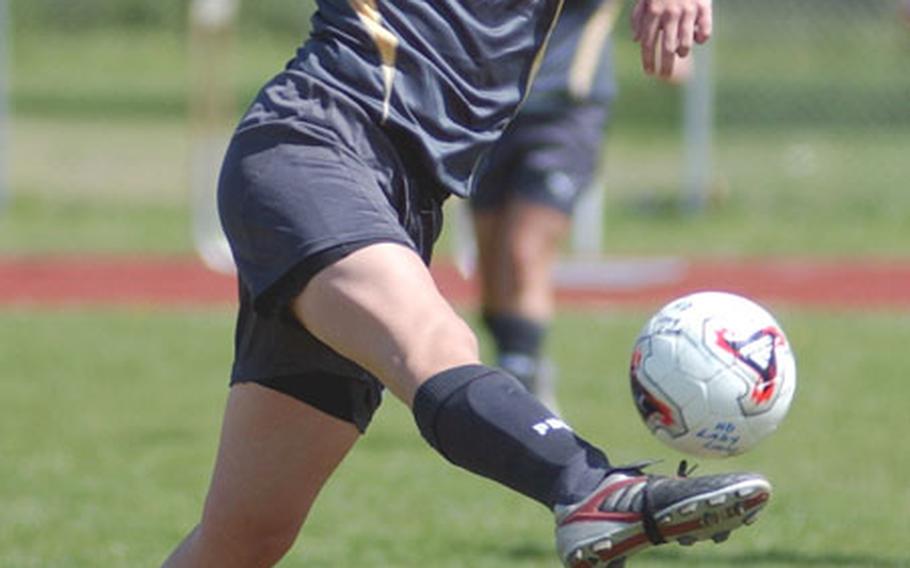 RAMSTEIN AIR BASE, Germany — It might be lonely at the top, but the Ramstein Lady Royals wouldn't have it any other way.
Ramstein surrendered its first goals of the season in Saturday's 4-2 victory over the visiting International School of Brussels Raiders. But they improved to 5-0 (4-0 in league play) and claimed sole possession of first place in the Division I race.
Scoring for the Lady Royals were Heather Harvey, with an assist from Mari Shakir; Melissa Hirzel, off a feed from Harvey; Jennie Rindfleisch, and Collette Bannister. Stephanie Sullivan anchored the defense.
ISB's Brazilian sophomore Paula Oliveira got the first shots of the season past Ramstein's All-Europe goalkeeper Andra Vanderneck, who had posted four previous shutouts. But with Hirzel organizing the midfield, the Raiders weren't able to keep pace with Ramstein, according to Royals coach Bill Belmear.
ISB's Canadian sweeper Michelle Kilian did all she could to aid ISB keeper Sophie Helsham, who made 11 saves, but the Raiders still fell to 2-1 overall and in the Division I race.
ISB will host Wiesbaden next Saturday, then closes out the regular season with consecutive road games at Lakenheath and Kaiserslautern. Ramstein hosts neighborhood rival Kaiserslautern next weekend and closes out with a home game against Würzburg on May 15.
In other girls' games Saturday:
Aviano stays perfect
AVIANO AIR BASE, Italy — In another race-defining battle of the unbeatens, Aviano turned back visiting Naples 3-1.
Aubrey Mariz and Alexa Wan scored first-half goals to answer Laura Keating's strike for Naples, and the Saints' defense made sure the home team didn't need the own-goal Naples donated to them after intermission.
Aviano is 4-0 in the American Schools in Italy League race with two league games remaining. Naples fell to 4-1 and plays its final regular-season game of the season at home May 8 against Vicenza.
Mannheim ends drought
MANNHEIM, Germany — Hanna Merkes took a pass from Tina Weekly and broke away for the goal that gave Mannheim a 2-1 victory over Vilseck, the Lady Bison's first victory since the 2001 season.
Kelsey Chavarria scored the other goal for Mannheim, which improved to 1-3 in the D-II race. Vilseck fell to 1-2 and will host Patch next Saturday. Vilseck ended Patch's record 48-game wining streak last season.
SHAPE, Hanau tie
SHAPE, Belgium — Erin Agron and Charlotte Grimstad answered a pair of goals by Hanau's Kyri Bye-Nagel, but the Spartans lost a chance for the victory by missing a penalty kick try.
Hanau will take a 2-1-1 record into its next outing, a home game next Saturday against Bitburg, while SHAPE, which plays at Mannheim next Saturday, is 1-1-2.
Patch blanks AFNORTH
BRUNSSUM, Netherlands — Sabrina Silver banged home a pair of goals, and Ashlee McConnell tacked on a goals and an assist as the four-time defending European Division II champions stopped AFNORTH 5-0.
It was the second shutout road victory in two days for Patch, which blanked SHAPE 3-0 on Friday behind two goals from McConnell and one from Silver. Heather Hall guarded the net flawlessly in both outings as Patch improved its D-II league-leading mark to 4-0.
Heidelberg rebounds
HEIDELBERG, Germany — The three-time defending European Division I champion Lady Lions, who endured 6-0 and 5-0 defeats their last two times out, blanked Würzburg 2-0.
Ariel Heath and Marcella Ruffo scored for youthful Heidelberg, 2-2 overall and 1-2 in D-I. The Lady Lions start four freshmen.
Würzburg, which couldn't solve the Heidelberg defense led by veteran Megan Brousseau and Denisse Rivera, is 3-2 overall and 2-2 in league play.
Robinson paces Ansbach
ANSBACH, Germany — The Asnbach Lady Cougars rode three goals off the foot of Caroline Robinson to a 3-2 victory Saturday over the Baumholder Lady Bucs.
Sara Herold had two assists, and Alison Hazen the third as Ansbach improved to 4-1 overall and 1-1 in the III-South race.
Jill Cannizzo and Katie Otterstedt scored for Baumholder.
---
---
---
---