Girls Far East Class AA: Falcons getting chance to soar at home
---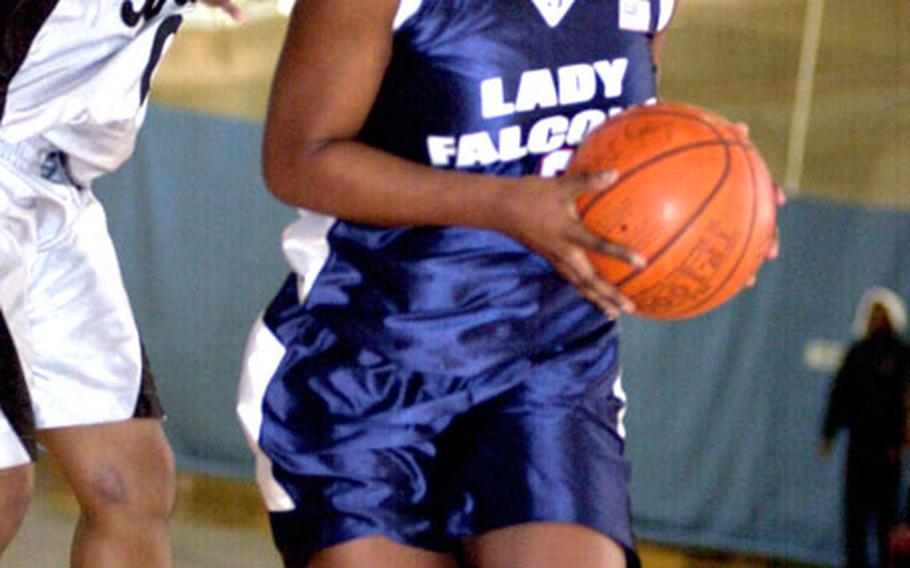 Every year since 1998, the host team has reached center court in the Far East High School Girls Class AA Basketball Tournament. The last three won the title, too.
Coach Charlotte Hicks is hoping Seoul American will be next — after taking her team on the road every year since she began coaching the Falcons in 1987, she at last gets to host the large-schools tournament.
She thinks her team's chances are good, but stopped short of predicting a championship banner to join the three that the Falcons' boys have earned.
"We'll be in the Final Four," said Hicks, whose girls have finished third every year since 1998. "I think we'll come through. I have a good feeling. The kids aren't verbalizing it, but they're playing that way."
She has good reason to feel that way. Through Wednesday's games, the Falcons (16-5) were 14-0 in the league, with the weekend's Korean-American Interscholastic Activities Conference tournament left to prepare for Class AA.
It's typical for a Falcons team that has won KAIAC every season since 1993 but has come up short in the Class AA tournament.
But playing in their gym, before their fans, will make a big difference, Hicks said, starting with her coaching mind-set.
"I'll be more of a coach this year and less of a mother, babysitter, chaperone and teacher," she said. "My frame of mind is so different than in years past."
While traveling, Hicks and her players would be gathering travel papers, taking care of grade eligibility sheets and homework assignments, plotting places to ensure the players would eat right while on the road and meet the nightly 10 p.m. curfew.
"It's so relaxed," Hicks said. "It's so nice to be able to say I'm going to be home. I've already told the kids they'll be going to class, to keep their routines. They'll eat right. They'll get enough sleep."
They'll also have the home crowd.
"When we're on the road, we're it. It's just us," Hicks said. "Just coming out on the floor, they'll know they're at home and they'll have people cheering for us. And because they're home, they really want to do well."
Since 1986, the girls' host team has reached the final 13 times and won it eight. On the boys side, 16 host teams have made it to center court since 1982, with 10 winning, including Seoul American the last two years.
Falcons' fans will be pulling for a team that, while short on height, has tried to overcome that with speed and hustle. Playing a handful of games against Korean teams, and also in the Osan Pacificwide tournament in December against military teams, has helped.
The Falcons still will have to fend off many a contender for the championship.
Yokota, with its veteran squad complemented by newcomer Andrevia Thomas, has led Japan most of the year, but Zama American, with its transfer star Tiffani Wright, and Nile C. Kinnick have taken turns beating Yokota and each other all season.
While the past two champions, Kubasaki and Kadena, have lost much of their talent base, they've built around their remaining veterans, Dragons guard Erin Foote and forward Ka'leen Mathieu and Panthers forward Liz Cotto and guard Dianne Abel, and appear primed for another run.
But the senior-laden Falcons, including point guard Amy Bakameyer and post players Whitney Smith and Janel Daniels, have had enough of being the "best in Korea" and third-best at Class AA and hope to prove it.
"They're not leaving [Korea] this year being unbeaten and expecting wonderful things," Hicks said. "We're not coming in as green as we have in years past. Once we get to bracket [play], brass tacks, we'll get to it."
Far East Girls Class AA Basketball Tournament
Dates: Feb. 21-26, 2005.
Host: Seoul American High School.
Sites: Collier Field House and Seoul American High School Falcon Gym, South Post, Yongsan Garrison, South Korea.
Participants: Nile C. Kinnick Red Devils, Yokosuka Naval Base, Japan; Hong Kong International Dragons, Hong Kong, China; Kadena Panthers, Kadena Air Base, Okinawa; Kubasaki Dragons, Camp Foster, Okinawa (defending champion, titles in 1978-80, 1985-86, 1990, 1993 and 2002); John F. Kennedy Islanders, Upper Tumon, Guam; Seoul American Falcons, Yongsan Garrison, South Korea; Yokota Panthers, Yokota Air Base, Japan; Robert D. Edgren Eagles, Misawa Air Base, Japan; Zama American Trojans, Camp Zama, Japan; Seisen International Phoenix, Tokyo; Christian Academy In Japan Knights, Tokyo; American School In Japan Mustangs, Tokyo; Guam High Panthers, Nimitz Hill, Guam; Seoul American junior varsity.
Returning All-Tournament players: First team, Erin Foote, Kubasaki. Second team, Lualhati Johnson, Nile C. Kinnick. Third team-Janel Daniels, Amy Bakameyer Seoul American.
Format: 3½ days of round-robin play, 14 teams divided into two pools of seven teams each, followed by 2½ days of modified single-elimination playoffs.
Schedule: Opening ceremony to be determined. Round-robin games begin at 10:30 a.m. Monday at Falcon Gym and 4:30 p.m. at Collier. Skills competitions, three-point, free-throw and team relay to be determined. Playoffs begin at 4 a.m. Thursday at Collier and Falcon. Championship at 12:30 p.m. Saturday at Falcon. Closing ceremony to follow.
---
---
---
---