Girls' All-Europe soccer team returns five from 2004
---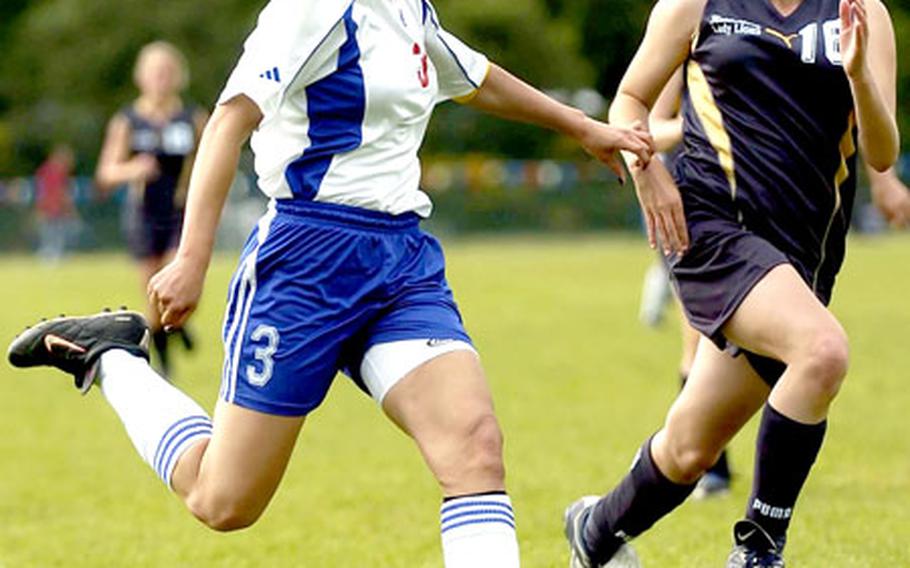 Patch sweeper Jessica Russell kept her streak alive by being named to the All-Europe high school girls soccer team's first team for the third straight season.
Russell, a senior, is one of five repeat first-teamers on the all-star squad selected by a panel of coaches, joining teammate Kylie Marchant, a sophomore striker; Hanau senior striker Kyri Bye-Nagel; senior sweeper Tracy Light of Naples and senior midfielder Mari Shakir of Division I champion Ramstein as first-team holdovers.
Although Russell is the only three-time first-teamer chosen, Light achieved the distinction of being named All-Europe four times. She was a second-teamer her freshman and sophomore years.
Two freshmen, Heidelberg sweeper Ana Anger and Aviano midfielder Anna Schrader — a 14-goal scorer — put themselves into position for a four-season run by making the top 15 in their first varsity seasons.
For Anger, talking by telephone from New Jersey on Friday, the selection marked the high point of a season that far exceeded her expectations.
At the start of the year, "I was actually worried about just playing for the team," said Anger, who at 14 is still too young to participate in the Olympic Development Program most of the elite high school players attend during the summer. "It made me feel good."
Sophomores on the team include Patch's Marchant, Ramstein sweeper Katee Norris, Kaiserslautern striker Paris Cervantes and Sigonella striker Whitney Lynch. The junior class is represented by Bye-Nagel, a 16-goal scorer who made the All-Europe second team as a freshman in 2003; AFNORTH sweeper Tauree Blankenship, and Ramstein midfielder Melissa Hirzel, up from last year's second team.
Girls' All-Europe soccer
First team
Player Grade Position School Stats or coach's comment
Ana Anger 9 Fullback Heidelberg 3 goals, 1 assist
Tauree Blankenship 11 Sweeper AFNORTH Opponents: 1.25 goals/game
Allyson Bunch 12 MF/SW Kaiserslautern "Skills of highest level"
Kyri Bye-Nagel 11 Forward Hanau 16 goals, 2 assists.
Paris Cervantes 10 Forward Kaiserslautern "Speed and superior control"
Bethany Fountain 12 Sweeper Wiesbaden 20 stops/game; 2 assists
Alison Hazen 12 Midfield Ansbach 11 goals, 3 assists
Melissa Hirzel 11 Midfield Ramstein 8 goals, Euro tourney MVP
Tracy Light 12 Sweeper Naples 2nd in scoring on 9-2-1 team
Whitney Lynch 10 Forward Sigonella 12 goals, 8 assists
Kylie Marchant 10 Striker Patch 12 goals, 3 assists
Katee Norris 10 Sweeper Ramstein In every minute of 10-0 run
Jessica Russell 12 Sweeper Patch D-2 foes: 1 conference goal.
Anna Schrader 9 Forward Aviano 14 goals, 7 assists.
Mari Shakir 12 Midfield Ramstein Team's 2nd leading scorer
Second team
Goalkeeper—Melodie Duperval (Bitburg).
Defenders—Samantha Beatty (Patch), Keke Johnson (Ansbach), Anna Hrushka (Kaiserslautern), Laura Ingold (Patch), Kelly Scott (Heidelberg).
Midfielders—Alycia Higgins (Ansbach), Caitlin Laingen (Alconbury), Amanda Mastrian (Würzburg), Erin McConaughey (Heidelberg), Jennie Rindfleisch (Ramstein), Miriam Townsend (Black Forest Academy).
Forwards—Liana Knight (Kaiserslautern), Lacey Wallen (Vilseck), Tiara Walz (Hohenfels).
Selection panel—Ricardo Buitrago (Ramstein), Tom Manuel (Patch), Shawn McCarthy (Sigonella), Bruce Satterlund (Ansbach)
---
---
---
---