Ghana native Owusu a fast force on the mat for Baumholder
---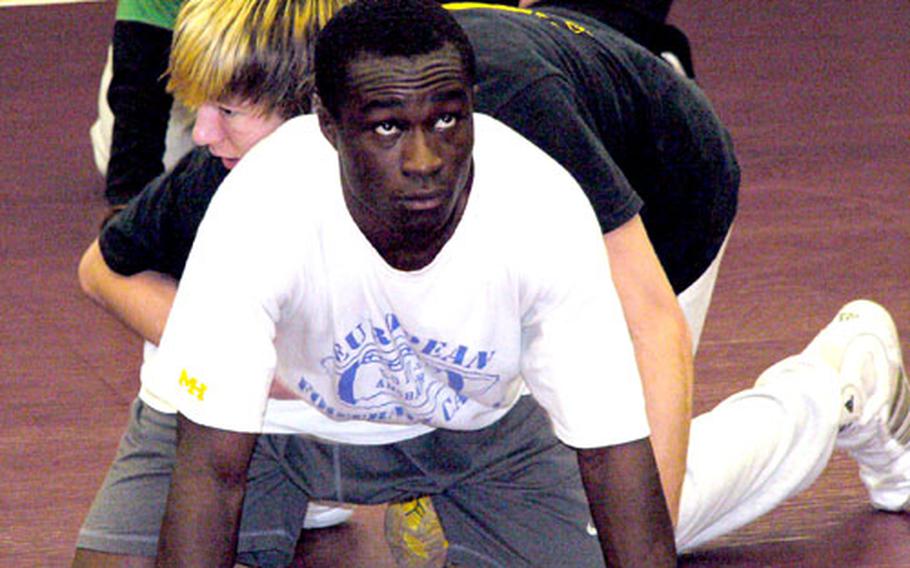 As befits an athlete whose speed and quickness have helped raise him to the top levels in three DODDS-Europe sports, Baumholder junior Prince Owusu is a quick study.
Want proof?
Last season, in his first try at wrestling, Owusu, a native of Ghana, finished fifth in Europe at 140 pounds. This year, he's expected to do even better.
"He's progressed so much," Baumholder coach Glenn Pilarowski said Tuesday. "He should easily make the finals this year."
Nothing really comes easily in wrestling. But Owusu, 16, has committed himself to fulfilling his coach's expectations, which would take him light years from where he began as a sophomore.
"When I went to the [preseason] meeting," recalled Owusu, who had already made a name for himself as a running back and defensive back in football and defender in soccer, "everybody said, 'What are you doing here?' "
Although he didn't say so, Owusu, undefeated in two five-team matches this season, might have been asking himself the same question.
"It made no sense to me at all," he said about his first days on the mats. "It was confusing. You can't think. You just have to move."
Owusu, whose speed on the mat is one of the keys to his success, chose wrestling and its demands over basketball as the best way to transition his athletic year from football in the fall to his first love, soccer, in the spring.
"In Ghana, there's not much to do, just go to school and play soccer," he said about his youth in West Africa. "We played soccer all the time."
That changed for Owusu when his family emigrated first to Virginia and then, seven years ago, moved to Baumholder.
"I was excited," Owusu said of the big step from Ghana to the U.S. "I was even more excited about coming here. I knew I'd have a chance to play German soccer."
All of the moves — geographical and selecting wrestling over basketball — paid off handsomely. Owusu settled into playing German club soccer and becoming the lone sophomore to crack the 2009 All-Europe high school soccer team. He also became a formidable wrestler.
"I was surprised," he said of his ascent from neophyte to No. 5 in the European championships, "but I put in a lot of hard work and got to work in practice with guys like Ethan (Montang, the reigning European 130-pound champ). He really helped me."
And vice versa.
"It's not fun," Montang said Tuesday about going up against an athlete of Owusu's quality every day in practice. "It means I have to wrestle harder. But that makes both of us better."
The Montang-Owusu mutual-improvement society illustrates the team aspect of wrestling that might not be obvious to the casual observer who sees 13 individuals walk out in succession in individual contests. Still, it's the on-your-own aspect that Owusu said he likes best about his winter sport.
"The fun part about wrestling is that you're one-on-one on the mat," he said. "It's like fighting. In other sports, you can depend on your teammates to help you out."
Owusu, who's taking two advanced placement classes this year, said soccer will be his game on the next level. In fact, he said, wrestling might not even make the cut his senior year. Classroom demands and the departure of Pilarowski might intrude.
"I'll be taking four AP classes next year," he said, "and I don't know who the coach will be."
This season, though, wrestling dominates Owusu's winter schedule.
"My goal is for Baumholder to win the Division II title and for me to become the best wrestler I can," he said. "I want to win the 140-pound European championship."
---
---
---
---